Posted 15th Feb 2022
"Pride is overwhelming emotion" as Blue & Gold record impressive win at Leeds Rhinos ahead of Superleague homecoming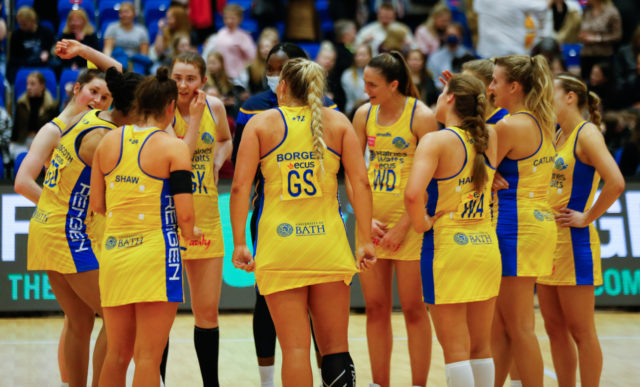 Team Bath Netball will go into their first home Vitality Superleague match for two years this week off the back of a fantastic victory at Leeds Rhinos that proud coach Anna Stembridge says epitomises the club's culture and ethos.
The Haines Watts-sponsored Blue & Gold travelled to Yorkshire on Monday without their regular coaching team due to Covid and missing several experienced players through injury and illness.
The squad stepped up to the plate, though, to produce a brilliant performance and record an impressive 67-47 victory over last season's fellow semi-finalists – the perfect response to a challenging week and a great springboard for Friday's eagerly-anticipated homecoming against Surrey Storm at the Team Bath Arena (7.30pm centre-pass, click here to buy tickets).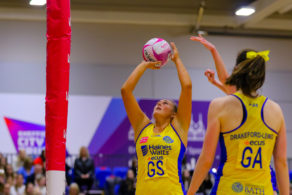 Team Bath Netball Superleague Head Coach Stembridge said: "Pride is definitely the overwhelming emotion after that performance. The work and effort that went into the match and the whole week building up to it was incredible and it shows the culture we have within the group.
"We are always striving to have a leaderful group of players and that really came to the fore as they not only delivered their own performances but they got the best out of each other. That was the case in training too, with us coaches planning the sessions and the players running them. Everyone was adaptable and agile in dealing with the situation and there was so much to be proud of."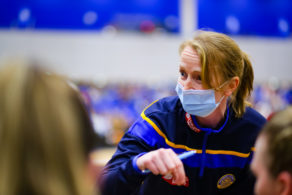 Stembridge was also keen to thank Jo Vann, who returned to the Army full-time after last season but stepped back into her coaching role for Monday's match and travelled to Sheffield with the team.
"We are incredibly lucky to have people like Jo as part of our Team Bath family," said Stembridge. "She is a true Team Bath legend and I couldn't have asked for anyone better to take on that role this week."
Leeds Rhinos had gone into their first-ever home match at EiS Sheffield off the back of Friday's win at Strathclyde Sirens but it was Team Bath who quickly told hold of the proceedings.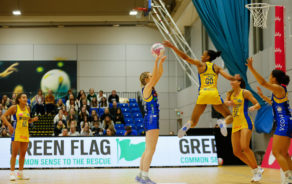 Player of the match Imogen Allison and fellow defenders Layla Guscoth and Tash Pavelin were in dominant form from the off, winning plenty of ball that Jess Shaw and Kirsty Harris – playing her first full Superleague match – used brilliantly to provide a constant supply to Kim Borger and Sophie Drakeford-Lewis.
The home defence struggled to get to grips with the attacking duo's clever movement throughout and their clinical finishing saw Team Bath race into an 12-4 lead midway through the first quarter which was stretched to 34-22 at half-time.
Lily-May Catling came on for her Team Bath Superleague debut and helped the Blue & Gold continue to pull away, with the gap increasing to 49-35 at the end of the third quarter before they wrapped up an impressive 20-goal success.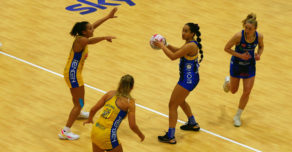 Molly Hole also gained more court time, while fellow teenager Lily Jones was on the bench alongside her U21 coach and training associate Anya Le Monnier who stepped up to the Superleague squad for the first time.
Attention is now turning to Friday's match against Surrey Storm, the first chance for Team Bath – who are also backed by Rengen – to run out in front of their home fans since March 2020.
"We are all so excited at the thought of finally playing a home match again," said Stembridge. "We are so lucky to have had fans travelling to cheer us on at the Copper Box Arena in the back end of last season and then Birmingham for this year's Season Opener but nothing beats playing in front of your home crowd. It's going to be a great night, we can't wait!"
Tickets for Friday's match and the seven other home fixtures at the Team Bath Arena during the 2022 season are on sale now. Click here for more information.