Posted 6th Mar 2020
Sensational second half sees Blue & Gold turn five-goal deficit into big win over Wasps in Vitality Superleague
A stunning second-half performance saw Team Bath Netball turn a five-goal deficit into a 63-51 victory over Wasps as they continued their impressive start to the 2020 Vitality Superleague season.
A capacity 1,400-strong crowd were on their feet as the Blue & Gold went toe to toe with an excellent Wasps side – finalists for the past three seasons – in a high-quality encounter before storming away in the final stages.
The visitors managed to open up a five-goal advantage late in the first quarter and maintained that during a tight-fought second period but, inspired by some outstanding play right across court, Team Bath grabbed the upper hand during a fantastic third period.
They ended it with a narrow 44-42 lead and then saw off some early Wasps pressure in the final period before racing away, scoring the last nine goals of a tremendous match – sponsored by Prior Park College – to wrap up an eye-catching victory, their third of the season.
Superleague Head Coach Anna Stembridge said: "I felt we planned particularly well for tonight's game and the girls stuck to task. It was a real team effort but I thought Imogen Allison and Rachel Shaw were absolutely sensational, their ability to make decisions while in the air allowed us to open up the attack.
"The crowd were absolutely brilliant tonight, you could feel the atmosphere and that makes such a difference for us."
Genuine Car Services Player of the Match Tash Pavelin added: "It was amazing to have that crowd supporting us and it really felt like we had an eighth player on court, it really helped us push that score out.
"We're just keep learning from each game and hopefully have more performances like this."
Both teams went into the match on the back of good wins in round two and there was nothing to choose between them in the opening ten minutes as they went goal for goal.
Wasps eventually managed to capitalise on a rare turnover to edge into a three-goal lead and they finished the quarter strongly, the unerring accuracy of Rachel Dunn helping them open up a 15-10 advantage.
Team Bath made a change for the second period, Allison moving to centre and Fi Toner coming on at WD for her Superleague home debut in Blue & Gold.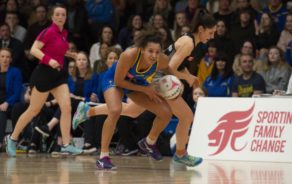 The margins remained razor thin between the two sides, with Team Bath quickly closing the gap to two and then finding themselves five adrift again before fantastic interceptions from Summer Artman and Pavelin helped them cut the lead once more.
Back came Wasps, though, as a highly-entertaining second period ended all square and the visitors restored their five-goal cushion to lead 32-27 at the interval.
The visitors rang the changes for the third quarter, bringing on Katie Harris at GA and Josie Huckle at GK and moving Hannah Knights and Fran Williams to GD and WD respectively.
However, they soon found themselves under intense pressure from a determined Team Bath side who stormed back into the contest. Roared on by the capacity crowd and fired up by some outstanding defending from Artman, Pavelin and Toner, they put together a tremendous seven-goal burst to turn a 35-31 deficit into a 38-35 lead.
Allison, Shaw, Sophie Drakeford-Lewis and Kim Commane were on fire in attack as the hosts moved further clear but Wasps are renowned for their tenacity and fought their way back into the game, cutting the gap to 44-42 going into the final quarter.
Wasps again made defensive changes as Amy Flanagan came on at centre and Jade Clarke, Williams and Knights moved back to WD, GD and GK respectively.
The Team Bath defence was in fine form and Artman turned over the Wasps centre-pass to put the hosts on the front foot from the restart, then produced another magnificent interception at full-stretch after Wasps had got the nerves jangling by once again closing to within two.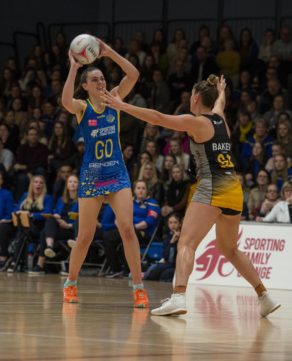 Allison and Drakeford-Lewis epitomised Team Bath's whole-court pressing game as they also forced important turnovers to help the hosts maintain breathing space between themselves and Wasps.
The visitors' challenge was finally broken and, roared on by an appreciative crowd, Team Bath decisively pulled clear in the last five minutes – scoring nine unanswered goals – to secure their first win against Wasps since 2017.
Up next for the Blue & Gold is another home match as London Pulse visit the Team Bath Arena on Monday, March 16. Centre-pass is 7.30pm and tickets are available by clicking here.
Team Bath Netball is partnering with local charity Sporting Family Change in 2020 to help make a difference through sport. Centurion Chartered Financial Partners are Team Bath's people development partner and Rengen Developments also support the netball programme as part of their overall partnership with Team Bath.
Match stats
Team Bath Netball starting 7: GS Kim Commane, GA Sophie Drakeford-Lewis, WA Rachel Shaw, C Khanyisa Chawane, WD Imogen Allison, GD Tash Pavelin, GK Summer Artman. Replacements: Abi Robson, Fi Toner, Betsy Creak.
Changes: Q2: Allison – WD to C; Toner – bench to WD; Chawane – C to bench.
Wasps Netball starting 7: GS Rachel Dunn, GA Alexia Baker, WA Iona Christian, C Jade Clarke, WD Amy Flanagan, GD Fran Williams, GK Hannah Knights. Replacements: Katie Harris, Josie Huckle, Sienna Rushton.
Changes: Q3: Huckle – bench to GK; Knights – GK to GD; Williams – GD to WD; Karris – bench to GA; Baker – GA to bench; Flanagan- WD to bench. Q4: Williams – WD to GD; Knights – GD to GK; Clarke – C to WD; Flanagan – bench to C; Huckle – GK to bench.
Quarter-scores: Q1 10-15. Q2 27-32 (17-17). Q3 44-42 (17-10). Q4 63-51 (19-9).
Attendance: 1,400.
Genuine Car Services Player of the Match: Tash Pavelin.