Posted 4th Feb 2022
Anna Stembridge expecting ultra-competitive Superleague campaign as Team Bath Netball start 2022 with Season Opener double header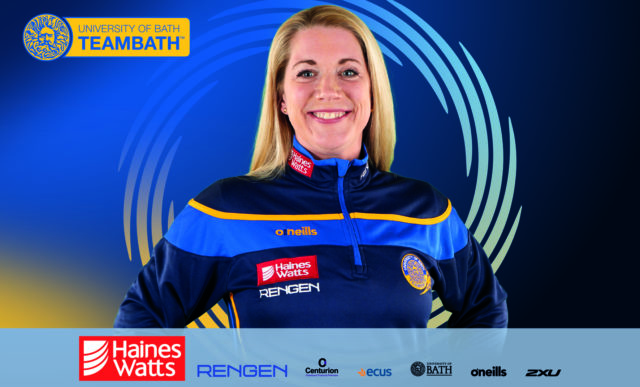 Team Bath Netball Superleague Head Coach Anna Stembridge believes the 2022 Vitality Superleague will be the most competitive yet as her team prepare to face two aspiring top-four challengers during an intriguing Season Opener weekend.
An exciting Haines Watts-sponsored Blue & Gold squad will take to the court at Resorts World Birmingham on Saturday and Sunday (5th and 6th February) to face Strathclyde Sirens (1.45pm) and London Pulse (2.30pm) respectively. The matches will be broadcast live on Sky Sports and streamed live on YouTube – see the links below.
It promises to be a strong early test for 2021 finalists Team Bath against Scottish franchise Sirens, who have strengthened their squad since finishing just outside the top four last term, and a Pulse outfit boosted by the appointment of former Australia coach Lisa Alexander as Performance Director.
"I'm really excited for the new season, I think there are so many teams who could challenge for the top four this year," said Stembridge. "The calibre of athletes and coaches we see across the board just gets better and better, and I think teams have done very well in terms of both recruitment and promoting through their age groups.
"Sirens have always pushed us historically, they are usually close and hard-fought games when we play them. Similar to us, they have retained the core group of their athletes from last year which was a breakthrough season for them. They got some outstanding results against the top four teams in the league and can never be underestimated. Their work ethic and tenacity in defence is a real testament to their coaches and I'm really looking forward to our girls fronting up against them in what I'm sure will be a brilliant game.
"Then we have Pulse the next day. They have some of the most exciting young English talent coming up through their ranks and with Lisa at the helm I think they are going to be a team to watch. Any team can take any team on their day and that is what's going to be really exciting this season."
Team Bath legend and England Netball captain Serena Guthrie agreed, saying: "It feels like the competition has got stronger. Everyone is going to be pushing for a top-four spot and it's great to see big international names coming back into the Superleague. It's exciting and a little unknown in a way because teams have got to work out connections, so there are lots of challenges for the players and coaches to get the best out of their teams.
"It will be an intense few months, with games coming thick and fast, but this is a pinnacle year for our sport and playing Superleague in the build-up to a home Commonwealth Games is going to be really exciting."
Team Bath have eight home matches at the Team Bath Arena, the first against Surrey Storm on Friday 18th February (7.30pm centre-pass). Tickets for all matches are on sale now, along with season tickets for the home fixtures – visit netball.teambath.com/tickets for more information.