Posted 16th Dec 2021
South West's rising stars ready to shine bright for Team Bath Netball at U17 and U18 level in 2022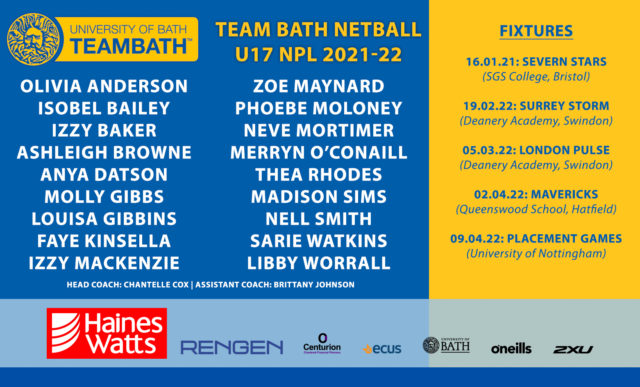 Team Bath Netball have named 35 of the South West's most promising young netballers in their U17 and U18 squads for the 2022 season.
Many of the players selected supplement their club training by attending a Team Bath Netball Academy Development Centre in their local area, with ADCs situated in each region from Gloucester in the north to Cornwall in the south. The talent-development network is supported by Haines Watts, Team Bath's principal partner.
The U17s, coached by Chantelle Cox and assistant Brittany Johnson, will play four regionals NPL matches in the New Year against Severn Stars, Surrey Storm, London Pulse and Saracens Mavericks before competing in the end-of-season placement games at the University of Nottingham.
For the second successive season, Team Bath have selected a U18 talent development squad to provide a link between the U17 and U19 age groups. Led by Maddie Heywood and assistant coach Hazel Davidson, they will play a series of matches during the year.
Team Bath age-group squads
Team Bath Netball U17: Olivia Anderson, Isobel Bailey, Izzy Baker, Ashleigh Browne, Anya Datson, Molly Gibbs, Louisa Gibbins, Faye Kinsella, Izzy Mackenzie, Zoe Maynard, Phoebe Moloney, Neve Mortimer, Merryn O'Conaill, Thea Rhodes, Madison Sims, Nell Smith, Sarie Watkins, Libby Worrall.
Head coach: Chantelle Cox. Assistant coach: Brittany Johnson.
Fixtures: 16th January – Severn Stars (SGS College, Bristol); 19th February – Surrey Storm (Deanery Academy, Swindon); 5th March – London Pulse (Deanery Academy, Swindon); 2nd April – Saracens Mavericks (Queenswood School, Hatfield); 9th April – Placement games (University of Nottingham).
Team Bath Netball U18: Eleanor Allen, Alice Barnes, Sarah Bromfield, Olivia Busher, Lucy Chatwin, India Finch Hatton, Isla Harvey, Catriona Huntley, Grace Kellett, Trinity Lango, Roisín O'Rourke, Lareesa Parrott, Lily Rogers, Poppy Sawyer, Bevin-Mae White, Jennifer Wilson, Ffion Windsor.
Lead Coach: Maddie Heywood. Assistant Coach: Hazel Davidson.