Posted 21st Sep 2021
"A festival of netball" as nearly 200 rising stars from South West compete in first-ever Team Bath Academy tournament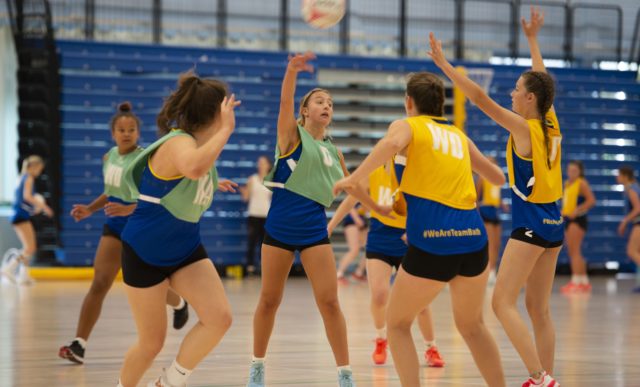 Nearly 200 talented netballers aged 14-18 from across the South West of England competed in the first-ever Team Bath Netball Academy tournament at the University of Bath on Sunday.
Fourteen teams, two from each of the seven regional Academy Development Centres, got to experience playing in the Team Bath Arena, home to the Blue & Gold's Vitality Superleague squad, during the day-long competition supported by Haines Watts, Team Bath's principal sponsor.
Fifteen coaches from the centres – based in Bristol, Cornwall, Devon, Dorset, Gloucester, Somerset and Wiltshire – also got to work with their players in a competitive match-play environment ahead of the new netball season.
Team Bath Netball Academy Director Natalie Roddy, who devised and organised the tournament, said: "Sunday was a genuine festival of netball, an opportunity for all of our players to feel connected. We are such a far spread region, so it was amazing to bring the whole Team Bath Academy together.
"It was an opportunity to bond and compete in a way that we have never done before. We also got the chance to see how much exciting talent there is in our region. The event was a huge success and one we hope to replicate at the end of the season."
It was a positive experience all round for the players, many of whom will be returning to the Team Bath Sports Training Village this weekend to trial for Team Bath's U19 and U21 NPL squads.