Posted 12th Jul 2021
Creativity, resilience and determination celebrated as Blue & Gold Academy Development Centres reflect on season like no other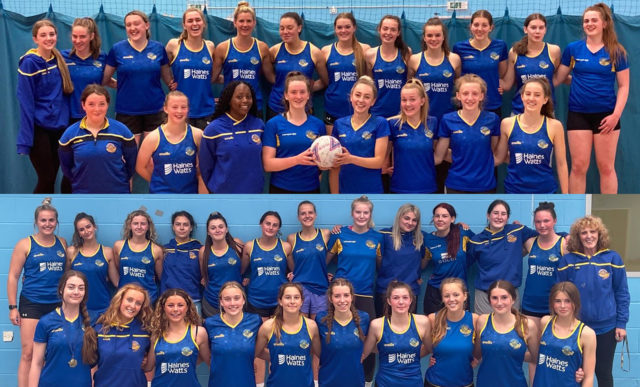 The rising young stars of Team Bath Netball's regional Academy Development Centres (ADC) and their coaches have been reflecting on a campaign unlike any other during their end-of-season awards.
After a spring and summer of lockdown, trials for the seven ADCs located across the South West of England – including new ones at Hartpury College, The Maynard in Exeter and Bishop Wordworth's School in Salisbury – were able to take place during October before in-person training was put on hold again by the pandemic.
The players and coaches adapted brilliantly, though, first moving sessions online to stay in touch before returning to training when lockdown restrictions were eased again in April.
Team Bath Netball Academy Head Coach Natalie Roddy said: "It was a year that no one anticipated, full of challenges and unpredictability, but we continued to successfully train and play. That success can be attributed to two things – our coaches and our athletes.
"Back in September we spoke with all our coaches about what this year could bring and that the word for the year would be 'adaptability'. That was an understatement but at every turn our amazing coaches found solutions to the problems we faced. Not only were they incredibly adaptable, they were creative, resilient and determined.
"Our athletes have epitomised Team Bath's ethos of excellence, 'being the best we can be with what we have in any given moment'. Their unwavering enthusiasm, adaptability and energy has been an inspiration."
Click here to find out more about the Team Bath Netball Academy Development Centre network, which is supported by Haines Watts, Team Bath's principal sponsor, and allows nearly 200 aspiring netballers aged 14 to 18 to benefit from top-class coaching plus lifestyle and sports science support.
ADC Award winners 2020-21
Blandford ADC, Dorset: Players' Player – Isobel Bailey; Coaches' Player – Eve Stickland; Most improved – Isobel Bailey.
Bristol ADC: Players' Player – Roisin O'Rourke; Coaches' Player – Hannah Jackson; Most improved – Laila Akenzua Al-Kareem.
Exeter ADC, Devon: Players' Player – Kitty Sampson; Coaches' Player – Alice Bickley; Most improved – Eden Robinson.
Glastonbury ADC, Somerset: Players' Player – Ella Williams; Coaches' Player – Izzy Mackenzie; Most improved – Alice Clark.
Gloucester ADC: Players' Player – Tash Englefield, Marsha-May Townsend and Rose Orgill; Coaches' Player – Fearne Maine and Marsha-May Townsend; Most improved – Megan Lawrence and Rebecca Moore.
Salisbury ADC, Wiltshire: Players' Player – Jasmine Antunovic-Fry and Abigail Moss; Coaches' Player – Phoebe Moloney; Most improved – Olivia Anderson.
Truro ADC, Cornwall: Players' Player – Jennifer Wilson; Coaches' Player – Holly May; Most improved – Bryher Croker and Mia Rickwood.