Posted 11th Jun 2021
Blue & Gold legend Mia Ritchie returns to Team Bath Netball squad for crucial last month of 2021 Vitality Superleague season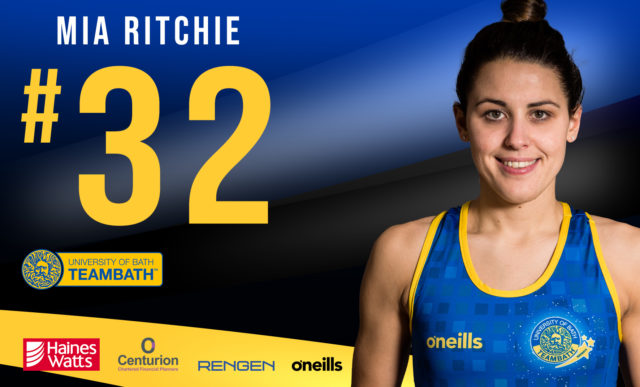 Team Bath Netball legend Mia Ritchie has returned to the Blue & Gold for the final month of the 2021 Vitality Superleague season after being named as an injury replacement for Jess Shaw.
The vastly-experienced mid-courter, dubbed the 'pocket rocket', was a key player for Team Bath for 11 consecutive Superleague seasons before taking time out this year to focus on personal and professional development off court.
She has been back in training since April, though, and is today confirmed in the Haines Watts-sponsored Blue & Gold's 15-strong squad for the two remaining rounds of the regular Superleague season – against Saracens Mavericks on Sunday (4pm) and Loughborough Lightning on June 21 – plus the Finals Weekend on June 26-27.
Anna Stembridge, Team Bath Netball's Superleague Head Coach, said: "We are delighted to welcome Mia back into the squad and to be able to call on her experience and expertise at such an important stage of the season.
"We have followed a really thorough and robust return to training programme with Mia, although she has been keeping fit during her time out and is looking in really good shape. She has returned seamlessly, reigniting connections with players like Imogen Allison and Kim Borger.
"Mia is Blue & Gold through and through, she understands what we are about as a club and she knows what she can bring to the squad in the coming weeks. She knows there is no guarantee she will be selected for our match-day 12 as the squad has been performing well, connections have built and a number of younger athletes have really flourished this season. However, Mia's attitude is, and has always been, 'team first' and 'I am here if you need me', and for that we are really lucky to have her as part of our squad again."
Stembridge was also keen to praise training associates Georgia Jenkins, Anya Le Monnier and Elisha New for their contribution to Team Bath's impressive season, saying: "Their commitment and contribution to our training environment has been outstanding, they've played a huge part in our success to date."
Rengen-backed Team Bath return to London's Copper Box Arena on Sunday to face a Mavericks side locked in a four-way battle for the last remaining place in the end-of-season semi-finals (4pm centre-pass).
"These are the kind of games we want at this stage," said Stembridge. "Mavs have everything to play for and we know first-hand what a threat they can be, having beaten us earlier on in the season. They brought their A game that day and deserved the win but I think we have really built since then and are really enjoying the brand of netball we are playing.
"Like every week, we have done our analysis and have looked at the key areas of the game we need to address, and to be honest, one of the things that I am most proud of this year is how the team owns the game plan as much as the coaches. This gives them confidence and clarity on match day to execute our plan on court."
The Mavericks game will be live-streamed on Sky Sports YouTube, watch here:
Team Bath Netball is supported by its Principal Partner, chartered accountants Haines Watts, who are also a pathway partner, and by Rengen and Centurion Chartered Financial Planners. O'Neills are Team Bath's official kit supplier and 2XU are their compression wear suppliers.