Posted 3rd Sep 2019
'One-club woman' Mia Ritchie proud to sign up for 11th Superleague season in the Blue & Gold of Team Bath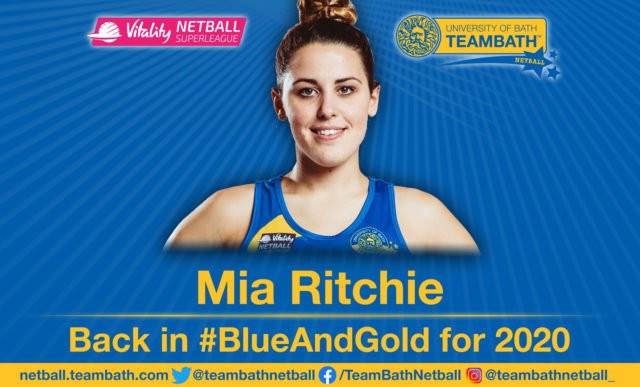 Mid-court dynamo Mia Ritchie says she is proud to remain a 'one-club woman' after becoming the third player to recommit to Team Bath Netball for the 2020 Vitality Superleague season.
It is an 11th successive season in Blue & Gold for Ritchie, who first wore the famous colours while combining netball and study at the University of Bath. She has been vastly influential on and off the court since then and is determined to get her hands on the Superleague trophy again in the league's 15th anniversary season.
"It was my dream to play Superleague netball when I first came to the University of Bath and I probably wouldn't have believed it if you said I'd still be in the squad 11 years later," said Ritchie, who is sponsored by Genuine Car Services.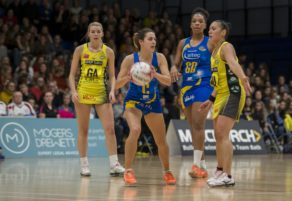 "The Team Bath dress has such a legacy and history. You never take wearing it for granted and I am delighted to have the chance to do so again in 2020. It's the only team I have played for in the Superleague and I pride myself on being a one-club woman.
"I'm looking forward to working with the coaches and my team-mates, inputting my knowledge and experience, and hopefully we can go at least one step further than last season by reaching the final. We are determined to challenge for the title and reward the fans for their support because we all know they are the best in the league."
Ritchie – Head of Girls' Games at Monkton Combe School in Bath – is the third long-established Team Bath player to recommit to the club for the 2020 season, joining Eboni Usoro-Brown and Rachel Shaw in bringing vast experience and leadership to the Blue & Gold squad.
Team Bath Netball Superleague Head Coach Anna Stembridge said: "I am so pleased that Mia is part of our team for the 2020 campaign, her service to the club is remarkable and I am really looking forward to working with her again this year.
"Mia is a pocket rocket on the court and a fantastic person who leads by example. She gives everything week on week in training to ensure that not only is she in the best form but that her team-mates are ready too."
Team Bath season tickets for the 2020 Superleague campaign will be going on general sale shortly. Click here to sign up to the newsletter and receive the information first.
Team Bath Netball is partnering with local charity Sporting Family Change in 2020 to help make a difference through sport. Centurion Chartered Financial Partners are Team Bath's people development partner.