Posted 29th Mar 2021
Dominant defensive display and Superleague debut for Hannah Passmore make it another super Sunday for Blue & Gold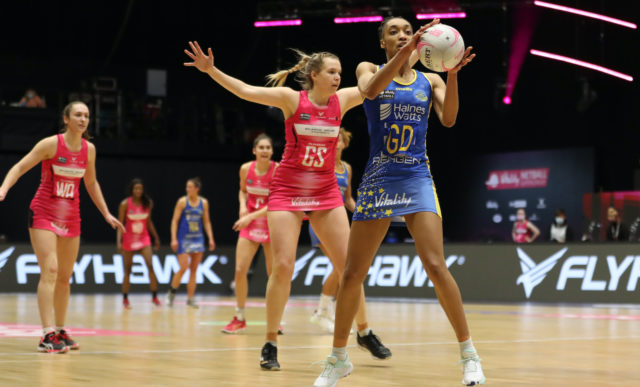 A superb full-court defensive display laid the foundations for another impressive 2021 Vitality Netball Superleague victory on Sunday as Team Bath Netball beat London Pulse 51-29 in Wakefield.
The Haines Watts-sponsored Blue & Gold restricted a talented Pulse side to just eight goals during a dominant first half, inspired by a Player of the Match display from England defender Layla Guscoth.
With a 27-8 lead under their belts, Team Bath Superleague Head Coach Anna Stembridge was able to give court time to all 12 of her match-day squad with University of Bath sporting scholar Hannah Passmore becoming the 79th player to wear the famous Blue & Gold colours in the Superleague when she came on for her debut.
Watch match highlights here:
Stembridge said: "We need to know we have options – if Plan A doesn't work, we have a Plan B, Plan C and Plan D. We need to know we have different ways to win and that's what I'm really pleased with today.
"I thought Layla was outstanding today. A couple of rounds ago I thought you could start to see the old Layla back and she has taken such strides forward. We know she is prolific defensively but her attacking was great today as well.
"Layla and Ebs [Eboni Usoro-Brown] were really commanding in the defensive area and demanding what they wanted out in front of them but it shouldn't go unsaid that our goal-attacks, wing-attacks and goal-shooters all really build that defensive pressure from the front."
Goal-defence Guscoth, who ruptured her Achilles during the 2019 Netball World Cup, is back for her second spell in Blue & Gold after two years with Adelaide Thunderbirds in Australia and is loving the atmosphere within the squad.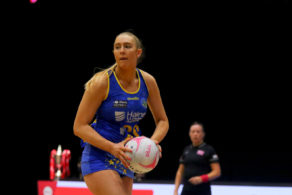 "It's a really great environment to be in and I'm happy to be part of a squad that is so united," said Guscoth, who recorded ten turnovers, seven interceptions and six deflections against Pulse.
"It's a long journey back from injury and I haven't quite felt like myself over the past 12-18 months but these past few weeks I've started to feel like I did before. It helps playing with all those guys, it's such a solid squad and everyone gets on really well.
"It was a tough game today, one of those ones where we came off at half-time and didn't feel like the score reflected the match. It was a feisty encounter and we were happy to keep Pulse to eight goals in the first half but it certainly wasn't easy."
Next up for Rengen-backed Team Bath is an Easter Sunday match against fellow top-four contenders Saracens Mavericks (6pm centre-pass).
Team Bath Netball is supported by its Principal Partner, chartered accountants Haines Watts, who are also a pathway partner, and by Rengen and Centurion Chartered Financial Planners. O'Neills are Team Bath's official kit supplier.
Match stats
London Pulse starting 7: GS Sigi Burger, GA Kira Rothwell, WA Ashleigh Dekker, C Ellie Rattu, WD Funmi Fadoju, GD Zara Everitt, GK Halimat Adio. Replacements: Lefebre Rademan, Assaindey Olivia Tchine, Lindsay Keable, Michelle Drayne, Monique Thompson.
Team Bath Netball starting 7: GS Kim Borger, GA Sophie Drakeford-Lewis, WA Rachel Shaw, C Serena Guthrie, WD Imogen Allison, GD Layla Guscoth, GK Eboni Usoro-Brown. Replacements: Summer Artman, Tash Pavelin, Jess Shaw, Betsy Creak, Hannah Passmore.
Quarter scores (London Pulse first): Q1 4-14; Q2 8-27 (4-13); Q3 11-14 (19-41). Q4 10-10 (29-51).
Player of the Match: Layla Guscoth (Team Bath Netball).