Posted 22nd Mar 2021
Blue & Gold dig deep to see off Strathclyde Sirens and go top of 2021 Vitality Superleague with seventh straight success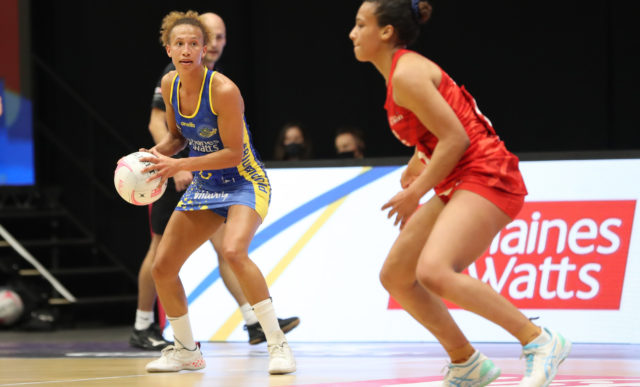 Team Bath Netball returned to the top of the 2021 Vitality Superleague table on Monday after extending their unbeaten start to the season to a super seven games with a 47-36 victory over Strathclyde Sirens.
Fresh from Sunday's 50-30 success against Surrey Storm, the Haines Watts-sponsored Blue & Gold certainly did not have it all their own way against an impressive Sirens side who showed the form that has put them just outside the top four this season.
A terrific match saw Team Bath open up eight-goal leads during the second and third quarters but have those advantages cut both times as Sirens fought relentlessly, and it wasn't until the closing stages that they were finally able to put the game to rest.
Anna Stembridge, Team Bath Netball Superleague Head Coach, said: "Sirens have been playing some brilliant netball and they caused us headaches at times but I really felt like we brought it tonight, we loved it and it was a brilliant game. We had to show a bit of grit and I'm really pleased to come away with the win."
Rengen Player of the Match Serena Guthrie added: "We knew it was going to be hard and I'm super-proud of the team's performance. There are no easy games and some of the scorelines we've had may look big but that's been down to good passages of play. Today we didn't get as many long passages as we've had before and you'd expect nothing less against Sirens, they're a fantastic team.
"We're top but we've got such a long way to go in this competition and we're not getting carried away."
A breathless opening quarter saw both sides apply tremendous defensive pressure, with Towera Vinkhumbo excelling for Sirens and Eboni Usoro-Brown, Layla Guscoth and Guthrie producing several flying interceptions for Rengen-backed Team Bath.
It went goal for goal during the early exchanges but the Blue & Gold were able to edge into a mini lead midway through a thoroughly-entertaining quarter and went on to take an 11-8 advantage into the second period.
A double-tap interception from Imogen Allison within a minute of the restart set the tone as Team Bath imposed themselves on the game, quickly pulling away into an 18-10 lead. Guthrie was pulling the strings at centre as she and Rachel Shaw provided slick, accurate feeds into the attacking duo of Sophie Drakeford-Lewis and Kim Borger.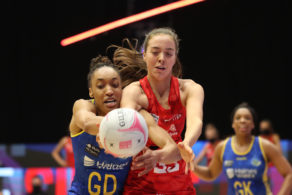 Sirens have been in excellent form this season, though, and began to disrupt Team Bath's flow as the quarter progressed. Strong defending forced errors which they capitalised on well to cut the gap to just 22-18, with goal shooter Emma Barrie calmly netting on the buzzer.
Niamh McCall came on at goal attack for Sirens at the start of a third period that followed a similar pattern to the second, with Team Bath regaining their fluidity in attack to once again open up an eight-goal lead only for their stubborn opponents to reel them back during the closing stages.
The advantage was just 34-29 going into a fourth quarter that saw Tash Pavelin come on at goal defence for Team Bath, who were finally able to both build and maintain some clear ground between themselves and their opponents. They eventually came away with an 11-goal victory to move back to the league summit, three points clear of Loughborough Lightning.
Team Bath are back in action on Sunday, March 28 against London Pulse (2pm centre-pass) in a match being shown live on Sky Sports Mix and Sky Sports YouTube. Links can be found at netball.teambath.com/fixtures.
Team Bath Netball is supported by its Principal Partner, chartered accountants Haines Watts, who are also a pathway partner, and by Rengen and Centurion Chartered Financial Planners. O'Neills are Team Bath's official kit supplier.
Match stats
Team Bath Netball starting 7: GS Kim Borger, GA Sophie Drakeford-Lewis, WA Rachel Shaw, C Serena Guthrie, WD Imogen Allison, GD Layla Guscoth, GK Eboni Usoro-Brown. Replacements: Summer Artman, Tash Pavelin, Abi Robson, Jess Shaw, Betsy Creak.
Changes: Q4: Pavelin – bench to GD; Guscoth GD to bench.
Strathclyde Sirens starting 7: GS Emma Barrie, GA Bethan Goodwin, WA Bethany Dix, C Gia Abernathy, WD Taylor Cullen, GD Emily Nicholl, GK Towera Vinkhumbo. Replacements: Niamh McCall, Nicola McCleery.
Changes: Q3: McCall – bench to GA; Goodwin GA to bench; Dix – WA to C; McCleery – bench to WA; Abernathy – C to bench.
Quarter scores (Team Bath first): Q1 11-8; Q2 22-18 (11-10); Q3 34-29 (12-11). Q4 47-36 (13-7).
Rengen Player of the Match: Serena Guthrie (Team Bath Netball).