Posted 21st Mar 2021
Blue & Gold overcame tough challenge from Surrey Storm to make it six wins from six in 2021 Vitality Netball Superleague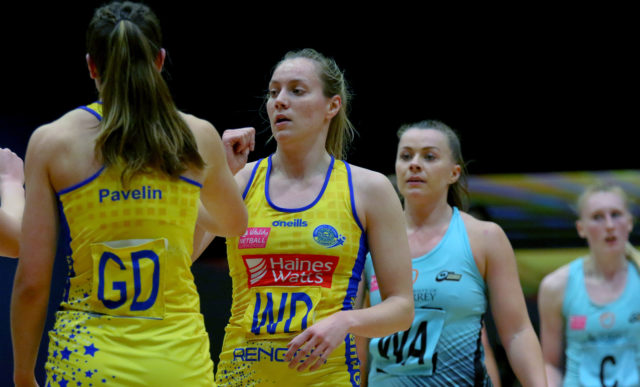 Team Bath Netball came through a well-contested match against Surrey Storm with their 100 per cent record intact on Sunday as they made it six wins from six in the 2021 Vitality Superleague.
Storm made the Haines Watts-sponsored Blue & Gold work hard for their 12-9 lead at the end of a tight first quarter and it continued to be well contested during the second period, although Team Bath were able to stretch their advantage to 24-16 going into the break.
A strong third quarter from Team Bath, which they won 16-9, ensured the points would be in the bag and Superleague Head Coach Anna Stembridge was able to give all 12 of her match-day squad court time ahead of Monday's match against Strathclyde Sirens (5.15pm centre-pass, watch live and for free on Sky Sports).
Watch highlights of the 50-30 victory over Storm here:
"It was a good game and we're glad to get the win and build in terms of scoreline," said Stembridge after Sunday's win. "It's always a close game against Storm and credit to them for the way they came out at us, I actually think they caused us more headaches in the second quarter than the first."
University of Bath sporting scholar Sophie Drakeford-Lewis, who was named Player of the Match after converting 92 per cent of her shots, added: "It was definitely a shift but we were also having a lot of fun out there and that's something we want to bring to the season, it is a really tough one but we want to enjoy it.
"We pride ourselves on the strength we have in our squad and all 15 players were here today, cheering us on. We can make those changes and that's going to be really beneficial come the end of the season."
It's a quick turnaround for the Rengen-backed Team Bath who return to court at the centralised venue in Wakefield at 5.15pm on Monday to face a Sirens side who played out a thrilling 32-32 draw with Wasps on Sunday and sit just outside the top four after an excellent start to the season. Watch the game live and for free on Sky Sports Mix (channel 416) or via this YouTube link:
Team Bath Netball is supported by its Principal Partner, chartered accountants Haines Watts, who are also a pathway partner, and by Rengen and Centurion Chartered Financial Planners. O'Neills are Team Bath's official kit supplier.
Match stats
Surrey Storm starting 7: GS Karyn Bailey, GA Francesca Wells, WA Yasmin Parsons, C Mikki Austin, WD Niamh Cooper, GD Leah Middleton, GK Alima Priest. Replacements: Felisitus Kwangka, Emma Magee, Grace Sullivan, Ellie Kelk, Nicole Humphrys.
Team Bath Netball starting 7: GS Kim Borger, GA Sophie Drakeford-Lewis, WA Jess Shaw, C Serena Guthrie, WD Imogen Allison, GD Layla Guscoth, GK Eboni Usoro-Brown. Replacements: Summer Artman, Tash Pavelin, Abi Robson, Rachel Shaw, Betsy Creak.
Quarter scores (Surrey Storm first): Q1 9-12; Q2 16-24 (7-12); Q3 25-40 (9-16); Q4 5-10 (30-50).
Player of the match: Sophie Drakeford-Lewis (Team Bath Netball).