Posted 12th Feb 2021
Inspirational trio Eboni Usoro-Brown, Kim Borger and Serena Guthrie named as Blue & Gold leadership group for 2021 Superleague season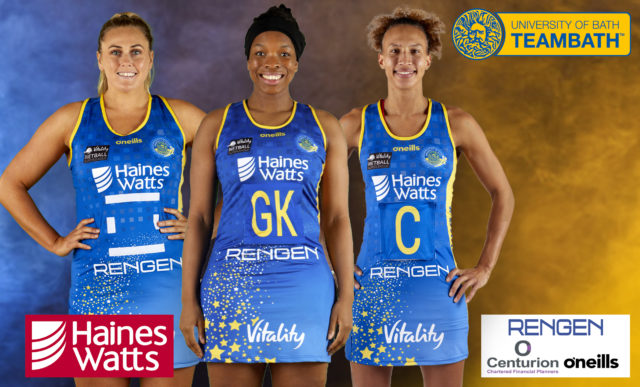 Eboni Usoro-Brown, Kim Borger and Serena Guthrie have today been named as Team Bath Netball's leadership group for the 2021 Vitality Superleague season, which starts this weekend.
The inspirational trio, who have a vast amount of top-flight experience between them, have all previously captained the Blue & Gold and will share the responsibility during the forthcoming campaign which begins with back-to-back matches against Celtic Dragons on Saturday (4pm) and Loughborough Lightning on Sunday (2pm).
Anna Stembridge, Team Bath Netball Superleague Head Coach, said: "We are in a very fortunate position to have such wonderful leaders within our squad. Eboni, Serena and Kim are all exceptional athletes and natural leaders who work well together, share our club values and provide leadership across the three areas of the court – defence, mid-court and attack.
"We hope that all three will be available for every match but in these unprecedented times and with such an intense run of fixtures ahead, we know there will be games where one or two might not start so having three captains to call on will also help provide continuity.
"We will have an on-court captain for each game to ensure clarity for the officials and umpires but this is a system that has worked well for the US women's soccer team, who also have a three-player leadership group, and these players really epitomise leadership at its finest. I know they are going to get the best out of each other and the best out of the team.
"In previous years we have had a captain, vice-captain and wider leadership group, and it is important that we continue to develop the other leaders we have within the squad so we will invite other players into leadership sessions during the season."
Usoro-Brown and current England co-captain Guthrie have both won Commonwealth gold and World Cup medals with the Roses, while Australian shooter Borger has made a big impact on and off court during her three seasons with the Blue & Gold.
Both matches this weekend will be live-streamed on YouTube – watch via the links below.
Team Bath Netball is supported by its Principal Partner, chartered accountants Haines Watts, who are also a pathway partner, and by Rengen and Centurion Chartered Financial Planners. O'Neills are Team Bath's official kit supplier.