Posted 9th Feb 2021
Blue & Gold stars cannot wait to get going as Vitality Netball Superleague returns with opening weekend double-header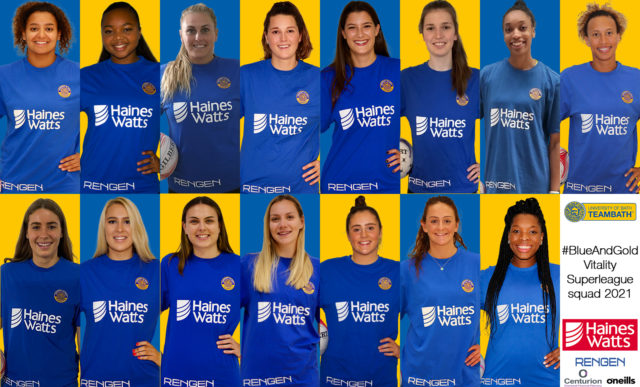 Almost exactly 11 months after they last took to the court for a Vitality Superleague game, Team Bath Netball begin their 2021 campaign with two matches in 24 hours this weekend – and all 15 players are buzzing to finally get started.
The Haines Watts-sponsored Blue & Gold face Welsh franchise Celtic Dragons in their opening fixture on Saturday (4pm centre-pass) before renewing rivalries with Loughborough Lightning the following afternoon (2pm).
Both matches are being played at a central location in Wakefield, Yorkshire – as are all ten scheduled Superleague games on the opening weekend – and will be broadcast live on Sky Sports, either on TV or YouTube, for Team Bath fans to enjoy at home.
England star Serena Guthrie, who is back in Rengen-backed Blue & Gold this season after taking a year out of the sport, said: "All the games being shown live is huge for the sport and everyone is responsible for making it as exciting as it can be. All we can do is hopefully give the fans plenty of entertainment, some close-fought games and more importantly some really good quality netball."
Like Guthrie, Sophie Drakeford-Lewis has experience of playing behind closed doors having been part of the England squad that faced the Superleague All Stars in an entertaining three-match series last month.
"There is certainly a different dynamic without the fans there but we need to make sure we are creating the atmosphere for ourselves and playing as if there were thousands in the crowd," said the University of Bath student, who is supported by a Bill Whiteley Sports Scholarship.
Santander Scholar Hannah Passmore agrees, saying: "It's hard out there in a game so you need that noise, support and motivation from the bench. Everyone will have a role to play in providing that atmosphere."
Fellow shooter Betsy Creak added: "We've always been really good at supporting each other on and off the court, and we have some loud voices in the squad so hopefully that can cheer us on."
Defender Chartie Curtis said: "The teams that really come together in this difficult time are going to be the ones that do well. We saw that in Suncorp Super Netball in Australia, Melbourne Vixens were so united and clearly there for each other. We need to replicate that to get success in this league."
Curtis, Creak and Passmore are among the many young players who have enjoyed plenty of court-time during a pre-season where the England squad members have been away for long periods and matches have been limited to internal games to reduce travelling.
"The training partners, U21s and the players coming through the Pathway have really stepped up in the internal matches," said defender Tash Pavelin. "We've had the opportunity to put lots of different combinations out and that is going to be so important during the season with so many back-to-back games."
England Futures player Jess Shaw, who is back at Team Bath after two seasons with Lightning, added: "The season is going to be very intense and there are going to be a lot of people taking to the court, so it's been really good to get those combinations going.
"We've limited how much we play against other teams but that's quite exciting because not many teams will have seen what we can do."
Wing-attack Kirsty Harris, ahead of her first Superleague season, said: "Being able to go out on court with a lot of different combos has been really important, especially for a young player like me coming into the squad."
The depth of talent excites the more established Team Bath players, with England legend Eboni Usoro-Brown saying: "There is such a bounce and a buzz within the group and the calibre of athletes we have – the training partners, the NPL and the Superleague squad – makes it one of the best training environments in the UK."
Aussie shooter Kim Borger added: "We have a magnificent squad and a huge variety of options we can go to. [Head Superleague Coach] Anna Stembridge is very confident in the depth we have and will use that to our advantage, to change things up when we need to and give exposure to our younger players coming through."
Rachel Shaw said: "This is a special squad. The number of players we have retained bodes well for the season, there are a lot of cemented combinations, but we also have Serena, Layla (Guscoth) and Jess back. They have all previously been involved with Team Bath, so they know what we're about and the culture and values of the club. "
Versatile defensive mid-courter Abi Robson added: "I think this year we have a really strong bond as a team, everyone knows their role. We're also playing for something bigger than ourselves – Serena said it well, we have a job not just to do for the team but for the sport of netball."
A sixth title is the target but the players know it will be a tough challenge, with Summer Artman – part of the Superleague All Stars squad last month – saying: "That series just showed the depth of quality within the Superleague. It is going to be a competition like no other but I can't wait for Team Bath to hopefully come out on top."
Fellow England defender Layla Guscoth, who has spent the past two years playing in Australia, added: "One of the strengths of the Superleague is it is really diverse, there is lots of great English talent but there are some amazing international players too. The strength of all the squads is much better than it was five years ago."
The first 11 matches of the 2021 season will be played in Wakefield, just 15 minutes away from the family home for England star Imogen Allison.
"I obviously love Yorkshire and going home is always fun but it's going to be a bit different this time, I'm going home to play," she said. "It's great that we've found a central venue and I think we'll soon get used to the travelling. Everyone is excited to see how the season goes."
Team Bath Netball is supported by its Principal Partner, chartered accountants Haines Watts, who are also a pathway partner, and by Rengen and Centurion Chartered Financial Planners. O'Neills are Team Bath's official kit supplier.
Links to all the Sky Games this weekend
Here are all the links that you need to watch all the opening weekend's matches. We are first in action on Saturday at 4pm, followed by Sunday at 2pm.