Posted 2nd Feb 2021
Blue & Gold ready for the challenge of a season like no other as 2021 Vitality Netball Superleague fixtures are confirmed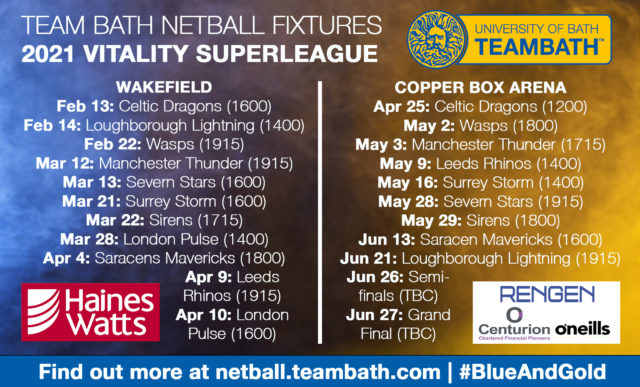 It will be a season unlike any other but Anna Stembridge is confident that Team Bath Netball are ready 'physically, technically and tactically' for the 2021 Vitality Superleague campaign, which will begin in mid-February.
England Netball has today confirmed that the season will be played at two central locations – the first 11 games at Wakefield in Yorkshire and the remaining nine at the Copper Box Arena in London. Venues for the semi-finals and final are yet to be decided.
In order to reduce travel time, a number of matches will be played on successive days – including those on the opening weekend of the season as the Haines Watts-sponsored Blue & Gold face Celtic Dragons on Saturday, February 13th and Loughborough Lightning the following afternoon.
Quarters have been reduced from 15 minutes to 12, with four-minute breaks after the first and third quarters and a 12-minute half-time interval.
Matches will initially be played behind closed doors but all will be broadcast live by Sky Sports, either on TV or YouTube, and there are plans for Team Bath fans to be able to join fellow supporters at online viewing parties hosted by Blue & Gold special guests.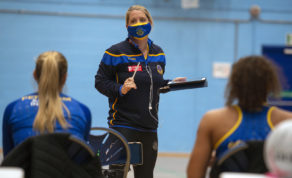 Team Bath Superleague Head Coach Stembridge said: "We are obviously going to really miss having our amazing Team Bath fans with us in the arena but we know they will be roaring us on from home and we are determined to give them plenty to cheer this season.
"Safety has been the overwhelming priority in planning for this season and there has rightly been a lot of discussion and work behind the scenes involving all parties to get to this stage. We are thankful to our staff, England Netball and our fellow Superleague clubs for doing everything they can to provide safe environments where we can showcase our sport."
All players, coaches and support staff will require a negative Covid test before travelling to the central playing venue and they will be tested again 24 hours before a fixture.
With back-to-back matches and an additional two fixtures on this season's schedule following the addition of Leeds Rhinos to the Superleague, Stembridge says all 15 members of her squad plus training associates Georgia Jenkins, Anya Le Monnier and Elisha New will have vital roles to play during the next five months.
"It will very much be a squad game this season and that's why it has been so important in our practice matches for all the players to get plenty of court time and gain a real clarity of what their role is and what contribution they can make," she said.
"We have staged back-to-back training sessions to replicate playing games on successive days and, as a squad, it will be a case of making sure we are diligent in terms of recovery. This season is going to challenge us like no other so attention to detail is paramount.
"It's been truly a club effort to get to this point and I'd like to thank everyone – the players and coaches, our U21s and U19s and their coaches Nikki Lloyd and Natalie Roddy, and behind-the-scenes staff like Alicia John and Louise Rose – for their unwavering commitment and dedication during these unprecedented times."
Details of the live-streamed matches and how to access the fans' viewing parties will be available at netball.teambath.com.
Team Bath Netball is supported by its Principal Partner, chartered accountants Haines Watts, who are also a pathway partner, and by Rengen and Centurion Chartered Financial Planners. O'Neills are Team Bath's official kit supplier.
---
Team Bath Netball 2021 Vitality Superleague fixtures
Part 1: To be played at Wakefield.
Sat 13th Feb: Team Bath v Celtic Dragons (1600).
Sun 14th Feb: Team Bath v Loughborough Lightning (1400).
Mon 22nd Feb: Wasps v Team Bath (1915).
Fri 12th Mar: Team Bath v Manchester Thunder (1915).
Sat 13th Mar: Team Bath v Severn Stars (1600).
Sat 21st Mar: Surrey Storm v Team Bath (1600).
Mon 22nd Mar: Team Bath v Sirens (1715).
Sun 28th Mar: London Pulse v Team Bath (14.00)
Sun 4th Apr: Saracen Mavericks v Team Bath (1800).
Fri 9th Apr: Leeds Rhinos v Team Bath (1915).
Sat 10th Apr: Team Bath v London Pulse (1600).
Part 2: To be played at Copper Box Arena, London.
Sun 25th Apr: Celtic Dragons v Team Bath (1200).
Sun 2nd May: Team Bath v Wasps (1800).
Mon 3rd May: Manchester Thunder v Team Bath (1715).
Sun 9th May: Team Bath v Leeds Rhinos (1400).
Sun 16th May: Team Bath v Surrey Storm (1400).
Fri 28th May: Severn Stars v Team Bath (1915).
Sat 29th May: Sirens v Team Bath (1800).
Sun 13th Jun: Team Bath v Saracen Mavericks (1600).
Mon 21st Jun: Loughborough Lightning v Team Bath (1915).
Semi-finals: Sat 26th Jun (venue TBC).
Grand Final/third-place play-off: Sun 27th Jun (venue TBC).