Posted 16th Jan 2021
Blue & Gold continue build-up to 2021 Superleague season with friendly visit to West Country rivals Severn Stars – watch on YouTube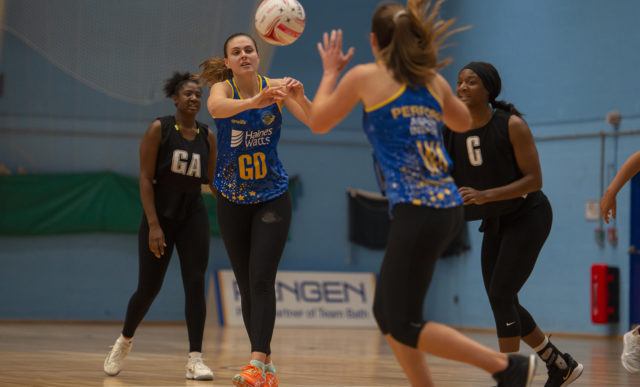 Team Bath Netball will continue their build-up to the 2021 Vitality Superleague season with a West Country derby on Saturday as they visit Severn Stars for a pre-season friendly being live-streamed on YouTube (12pm centre-pass).
Blue & Gold Superleague Head Coach Anna Stembridge says the match will be another good opportunity for the 12 players travelling for the match to gain valuable court time in a match-play environment.
"Our England players are away at the moment preparing for the Vitality Legends Netball Series, so we have a reduced squad for the Stars match but it is a great chance for everyone to get extended periods on court," she said.
"Squad depth is going to be so important this season and it is great that all the players will have had more opportunities to be involved in match play and building partnerships."
Rachel Shaw and Kim Borger will sit out the match on a precautionary basis and Eboni Usoro-Brown continues to follow her post-partum return to training schedule but all three are close to a return to play.
The travelling squad includes newly-confirmed Team Bath U21 co-captain Molly Hole, who skippered England U17s last season, and fellow 2021 Roses Academy long-squad member Lily Jones.
Saturday's match at Worcester University will be live streamed on the Severn Stars YouTube channel – click here to watch.
Team Bath Netball is supported by its Principal Partner, chartered accountants Haines Watts, who are also a pathway partner, and by Rengen and Centurion Chartered Financial Planners. O'Neills are Team Bath's official kit supplier.
Team Bath squad to face Severn Stars: Chartie Curtis, Tash Pavelin, Molly Hole, Abi Robson, Anya Le Monnier, Betsy Creak, Elisha New, Georgia Jenkins, Hannah Passmore, Jess Shaw, Kirsty Harris, Lily Jones.