Posted 17th Dec 2020
Inspirational Blue & Gold star Layla Guscoth named among Daily Telegraph's Sportswomen of the Year after joining fight against Covid with NHS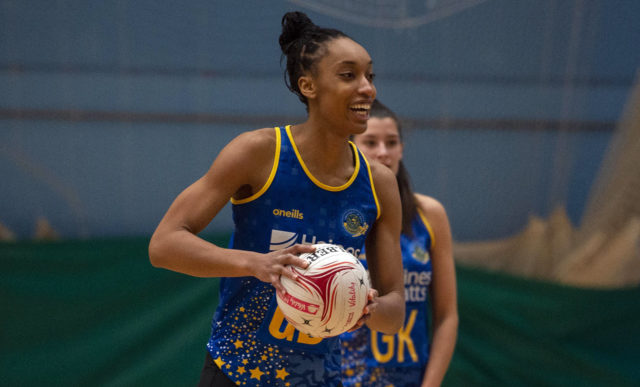 Team Bath Netball and England defender Layla Guscoth has been named among the Daily Telegraph's 2020 Sportswomen of the Year in recognition of her off-court work with the NHS in the fight against Covid-19.
Guscoth has returned to Bath after two years playing professionally in Australia as she wants to concentrate on her dual careers of netballer and doctor, having completed her two-year Foundation postgraduate medical training programme during her previous spell with the Blue & Gold.
Earlier in the year, at the height of the initial Coronavirus outbreak and in the wake of Adelaide Thunderbird's Suncorp Super Netball season being delayed, Guscoth flew home from Australia to her native Birmingham to work in the Queen Elizabeth Hospital.
Anna Stembridge, Team Bath Netball's Superleague Head Coach, said: "That said everything about Layla's character, she saw what was happening and felt she should come back to do what she could. She is a great netballer but, first and foremost, a fabulous person."
Guscoth went back to Australia for the rescheduled Super Netball season before returning to the UK and Team Bath in late October. She is currently doing locum work at hospitals in Bristol and Swindon before starting a new role at the Royal United Hospital (RUH) in Bath in the new year.
How cool. Thanks @WomensSport !! https://t.co/N2H29D2Di6

— Layla Guscoth (@LaylaGuscoth) December 17, 2020