Posted 2nd Jun 2020
Anna Stembridge keen to celebrate the class of 2020 as Blue & Gold start preparing for the future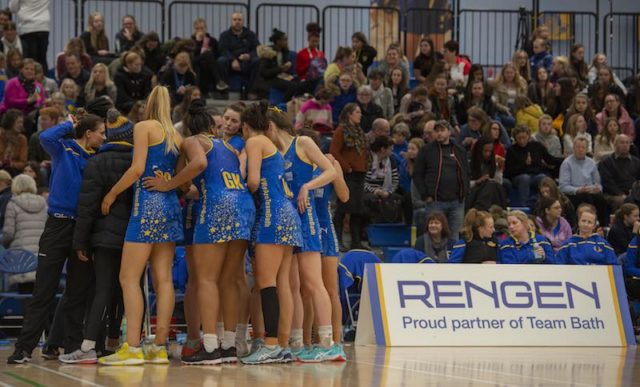 The 2020 Vitality Superleague season may have been all too brief but Team Bath Netball coach Anna Stembridge says it is important to still celebrate it as part of the building process for 2021.
The Blue & Gold were only able to play three times before the league's initial suspension in March but they won all of their matches in style, playing some outstanding netball right across the court and scoring 206 goals in the process.
England Netball's decision last week to void the season due to the continued impact of the coronavirus pandemic means that Team Bath and their fellow franchises can now start planning for the future but Superleague Head Coach Stembridge says a crucial part of that is reflecting on the lessons and achievements of the past few months.
"We'll definitely being reviewing the on-court performances and preparations that we did, so that we can take them forward, but it's also important that we celebrate this season rather than it just end," she said. "We're looking at ways we can do a virtual end-of-season celebration as a group, otherwise you are left in a bit of limbo.
"For some of the girls like Betsy Creak, Fi Toner and Khanyisa Chawane, it was the first time they had played in the Blue & Gold and that is a special occasion that we have to mark. Others really exploded onto the scene this year, like Tash Pavelin who was outstanding in all three matches. It's really gutting for someone who has started so well for the season to just end like that and it would be a real shame if we didn't celebrate it."
Stembridge believes that England Netball had no realistic option other than to void the season but is confident that the sport will bounce back strongly from this setback.
"It's obviously so disappointing, particularly with the hard work preparing for the season and the momentum we were building, but I totally understand the decision," she said.
"I honestly believe the sport will come back bigger and better. We had such fantastic momentum coming off the back of the 2018 Commonwealth Games gold medal and hosting the World Cup in 2019, so I think we'll find that everyone will get behind the sport and play their part.
"Ultimately we'll have to take time as clubs to ensure we move forward but I am sure we will come back with a bang – we'll be better and we'll be stronger for this experience."
Team Bath Netball is partnering with local charity Sporting Family Change in 2020 to help make a difference through sport. Centurion Chartered Financial Partners are Team Bath's people development partner and Rengen Developments also support the netball programme as part of their overall partnership with Team Bath.