Posted 15th Nov 2019
Laura Rudland ready to take her game to the next level with Blue & Gold during 2020 Netball Superleague season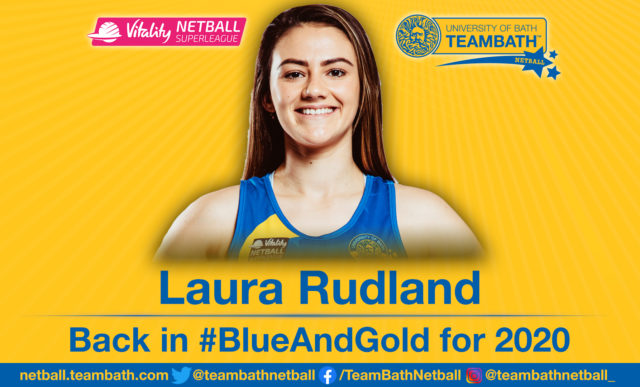 Laura Rudland is ready to "hit the ground running" after committing to Team Bath Netball for the 2020 Vitality Superleague campaign.
It will be the talented attacker's second successive Superleague season in Blue & Gold – her third in total – and she is looking forward to building on her impactful performances from 2019.
"This is the first time I have done two consecutive seasons with the same club and I think that will really help me hit the ground running," said Rudland, who first wore the Blue & Gold while studying Sports Performance at the University of Bath.
"I am looking to develop my leadership skills this year as well as build on my on-court performances from last season.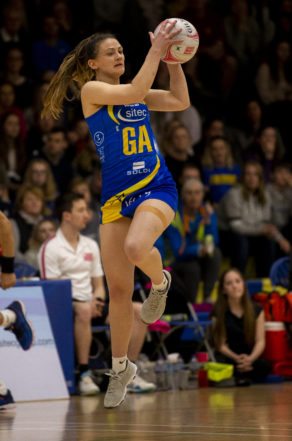 "We have retained a large number of last year's squad so it will be good to continue building on connections as well as working with some new exciting recruits. I can't wait to get started!"
There has been a change off court for Rudland since last season and she is now the Performance Netball Coach for Millfield School, which has strong links to Team Bath as it hosts the Somerset Hub for the Futures player development programme.
"I've been at Millfield since August and it going great," said Rudland, whose other Superleague experience came with Severn Stars in 2018. "It has been very busy but I am enjoying it."
Team Bath Netball Superleague Head Coach Anna Stembridge said: "I'm so pleased that we have been able to retain Laura for 2020. She developed some promising connections and had a great impact in many of our games last season, in particular at home to Loughborough Lightning at GA and away to Surrey Storm at WA.
"The fact that she is a fantastic utility player who can play across the line at both GA and WA is a real asset to us, particularly with match-day squads going down to ten in the new season.
"She is also someone who brings a sense of maturity, smarts and calmness to our attack end, skills that you want from your attackers and more senior players. I'm looking forward to Laura taking her game to the next level and building upon already established connections, as well as seeing her work with some of our newer players."
Rudland is the 12th confirmed member of Team Bath's 2020 Superleague squad and joins Kim Commane, Sophie Drakeford-Lewis, Hannah Passmore and Rachel Shaw so far announced in a dynamic attacking unit.
Team Bath supporters will have chance to see the new-look squad in action during The BiG Showdown, a two-day netball tournament being staged at the Team Bath Arena on December 7&8 2019.
Saracens Mavericks, Severn Stars, Strathclyde Sirens and Surrey Storm will also be taking part along with Knights, the UK's leading men's netball team. Tickets are on sale now – click here for full details.
Team Bath Netball is partnering with local charity Sporting Family Change in 2020 to help make a difference through sport. Centurion Chartered Financial Partners are Team Bath's people development partner and Rengen Developments also support the netball programme as part of their overall partnership with Team Bath.