Posted 8th Oct 2019
Celtic Dragons await in opening round as Blue & Gold name exciting squad for 2019 British Fast5 All-Stars Championships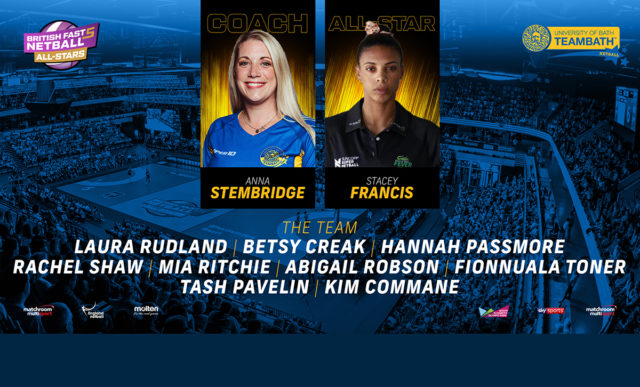 New Team Bath Netball Head Coach Jo Vann says she is looking forward to her first experience of the British Fast5 Netball All-Stars Championships, which are taking place in London this weekend.
Vann will be on the bench as assistant to Superleague Head Coach Anna Stembridge for the first time since her return to the club she served so well as a player when the Copper Box Arena hosts the fast-paced, short-form version of the game on Saturday, October 12 (1-6pm).
The ten-strong Team Bath squad includes Blue & Gold legend Stacey Francis, who is returning as a Worldwide All-Star pick for the second successive year, and new signing Fionnuala Toner.
Betsy Creak, who made her senior debut for Wales this summer, and University of Bath student Tash Pavelin are also in the squad along with 2019 Superleague players Kim Commane, Hannah Passmore, Mia Ritchie, Abi Robson, Laura Rudland and Rachel Shaw. Lois Jackson is also among the coaching team, Tracey Phillips is team manager and Rhianon Stidever is physio.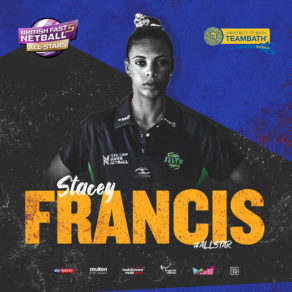 It is the third edition of the Fast5 Championships, an exciting addition to the annual netball calendar, and Vann cannot wait to get going in her new role alongside Stembridge.
"I'm really looking forward to my first appearance as a coach for Team Bath and it's going to be at Fast5, which is so exciting," she said. "There are a lot of tactics involved which are different to the traditional game and it is brilliant to watch. Anna has great experience of the event, so I can't wait to work alongside her and the team."
It is the third year that Team Bath will contest Fast5, where matches are just 12 minutes long and a five-point line rewards those willing to brave a shot from distance. A Golden Buzzer also offers teams the chance to double their points during a two-minute Power Play.
Team Bath Netball Superleague Head Coach Stembridge said: "It's fast, it's furious, it's really good fun and tactically I think it challenges both the coaches and athletes.
"The power plays and the ten-pointers mean the momentum can change so quickly and it's just brilliant, I love it."
Commane, who will captain the Blue & Gold, added: "I've been furiously practicing my three and five-pointers! It's a very different kind of game – normally as a shooter I'd want to get closer to the posts but this time I need to get as far away as possible. It's just so fast and very competitive."
Team Bath have been drawn against Welsh side Celtic Dragons in their opening match. The double elimination format means that each of the eight teams competing will play at least twice on the day.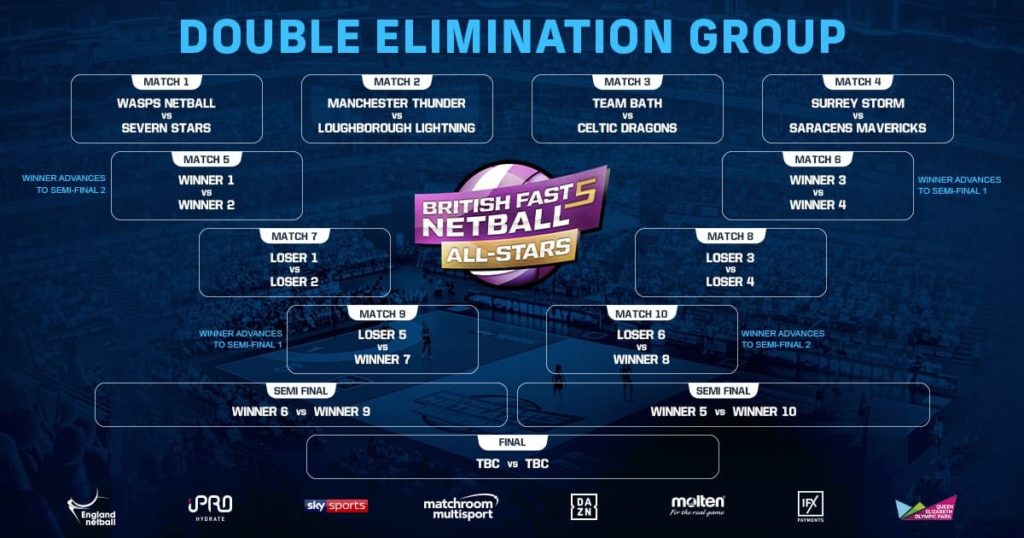 Fast5 ticket information is available at www.fast5allstars.com – the matches will also be shown live on Sky Sports.
Team Bath Netball is partnering with local charity Sporting Family Change in 2020 to help make a difference through sport. Centurion Chartered Financial Partners are Team Bath's people development partner.