Posted 15th Sep 2019
"Coach's dream" Abi Robson celebrates 21st birthday by being named in Blue & Gold Vitality Superleague squad for 2020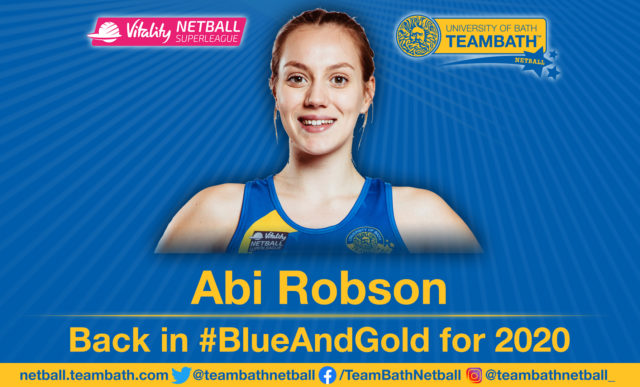 Rising star Abi Robson has received the perfect 21st birthday present – a place in the Team Bath Netball squad for the 2020 Vitality Superleague season.
It is a third successive Superleague season in the Blue & Gold for the talented young defensive mid-courter, who is celebrating her milestone birthday today (September 15), but she has worn those famous colours for much longer.
Robson first played for Team Bath's junior section in the 2012-13 season and progressed through the performance pathway before making her Superleague debut in 2018.
She gained more big-game experience last season with a number of impactful performances off the bench and also demonstrated her leadership potential by captaining Team Bath's U21s in the NPL (Netball Performance League).
"I'm really excited to have the opportunity to be back playing with Team Bath for my third Superleague season and I can't wait to get going," said Robson, who is a Geography student at the University of the West of England in Bristol.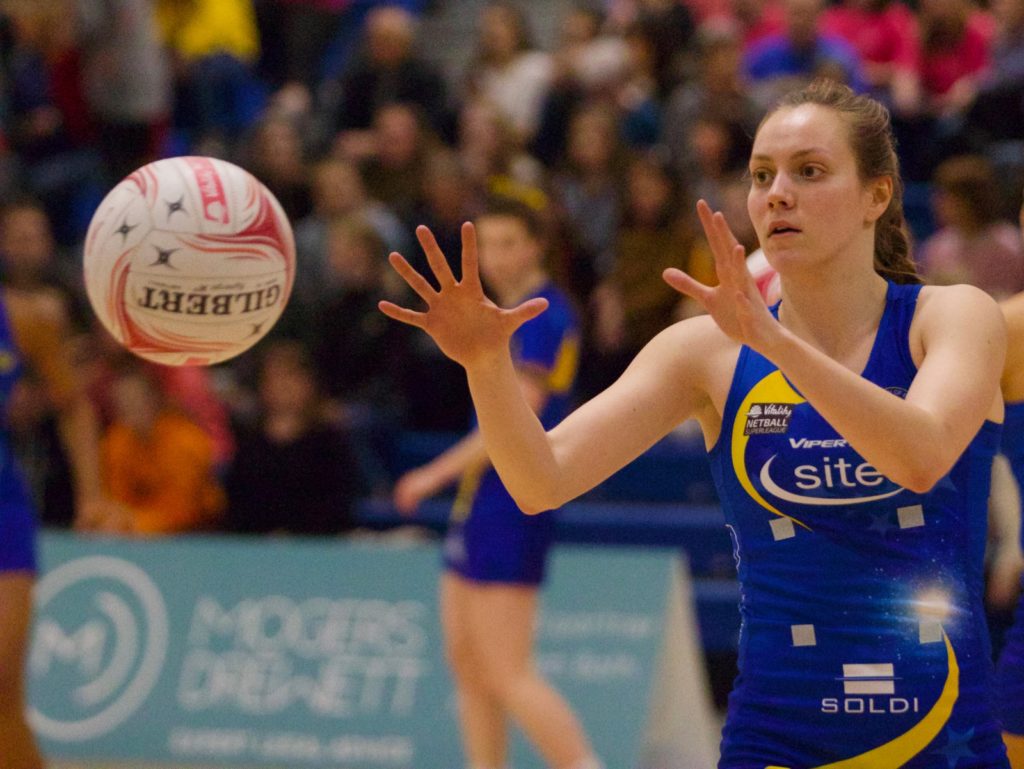 "It's such a privilege to play among such experienced players week in and week out which has massively helped my game. The facilities are world class and it's an amazing training environment – the people here have created a great culture which is amazing to be a part of."
Robson has international age-group experience with England, helping both the U17 and U21 teams to victory in Netball Europe competitions and touring New Zealand with the Roses at U19 level, and Team Bath Superleague Head Coach Anna Stembridge is excited to see how her star continues to rise.
"Abi is truly Blue & Gold and she will absolutely be one of our future leaders," she said. "She just has something about her and is a coach's dream to work with thanks to her willingness to go that extra mile.
"She has a brilliant 'team first' attitude and even when she isn't playing she gives everything she has to ensure those who are on court are in the best place possible.
"Abi leads by example and irrelevant of what bib you give her or who she is up against, she will give it her all. She takes on board information and sticks to task exceptionally well, which is why she has such great impact wherever and whenever she is on court."
Robson is the fifth player confirmed in Team Bath's Superleague squad, joining Imogen Allison, Mia Ritchie, Rachel Shaw and Eboni Usoro-Brown. A sixth player – a new face to the Blue & Gold who played at this summer's Netball World Cup – will be announced on Tuesday as the countdown to 2020 ramps up.
Season tickets are now on general sale for the 2020 campaign, which gets under way in February and will see Team Bath play nine home matches, one more than in 2019. The price per fixture has remained the same and among the other perks for season-ticket holders is an invite to an exclusive reception to celebrate the Superleague's 15th anniversary. Click here to find out more.
Team Bath Netball is partnering with local charity Sporting Family Change in 2020 to help make a difference through sport. Centurion Chartered Financial Partners are Team Bath's people development partner.