Posted 2nd Jan 2019
Shooting star Hannah Passmore completes Blue & Gold Superleague squad ahead of Super 10 season opener against Celtic Dragons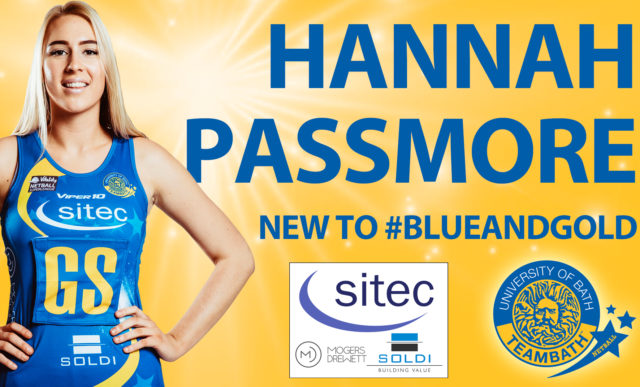 Young shooting star Hannah Passmore has been named as the 15th and final member of the Team Bath Netball squad for the 2019 Vitality Superleague season, which gets under way this weekend.
Passmore, a student at Millfield School in Somerset who celebrated her 18th birthday in December, has been with the squad throughout pre-season as a Training Partner and has now been fully promoted to the senior ranks after impressing with her maturity and desire to learn.
She completes an exciting Blue & Gold squad that will begin their 2019 Superleague campaign against Celtic Dragons on Saturday (11am) in the opening match of the day-long Super 10 season opener at Arena Birmingham – click here for ticket information.
Passmore has been part of the Team Bath programme for a number of years and is the latest in a long line of players to progress through the Pathway and into Superleague.
"I feel very honoured to be a part of Team Bath Superleague and I was blown away by the warm welcome I received from the players and the coaches," said Passmore.
"I'd like to thank Jess Thirlby and Anna Stembridge for giving me this amazing opportunity and believing in me, and all of my team-mates for being extremely encouraging, kind and supportive. I'm really looking forward to the season ahead."
Team Bath Netball Head Coach Thirlby added: "Hannah is a real up-and-coming talent and is a great final addition to our Superleague squad for the 2019 season.
"She has already settled into the squad and will learn so much in the months ahead. Hannah has the ability and temperament to thrive at this level and should the opportunity arise to feature in a Superleague match, we know she would take it with both hands."
Lois Jackson, Academy Head Coach, said: "It's fantastic to see Hannah develop through our Pathway up to Superleague. She has shown real maturity for her age and it is great to see her asking questions and wanting to learn more from the experienced players in the Superleague team.
"Hannah is an exciting player who is certainly one to watch for the future and I can't wait to see her progress in the coming years."
Passmore will also be part of Team Bath's U21 squad in the 2019 Netball Performance League (NPL), having played a pivotal role when they won bronze in the league and silver in the NPL Tournament last season.
Her promotion to the Superleague ranks is another demonstration of Team Bath's ongoing commitment to helping develop young players to their full potential.
Seven of the 15-strong Blue & Gold Superleague squad are aged 21 and under – Passmore, Imogen Allison, Summer Artman, Chartie Curtis, MJ Church Ambassador Sophie Drakeford-Lewis, Abi Robson and Leila Thomas.
Commonwealth champions Eboni Usoro-Brown and Serena Guthrie are co-captains of an exciting squad that also includes fan favourites Mia Ritchie and Rachel Shaw, returning duo Laura Rudland and Amanda Varey, and Australian attackers Kim Commane and Beryl Friday.
The first match of the season sees Team Bath take on Celtic Dragons in the opening fixture of the Super 10 event when all of the franchises will be in action at Arena Birmingham on Saturday, January 5 (11am).
Team Bath Netball are sponsored by Sitec and supported by partners Mogers Drewett, Soldi and Netball South West. Centurion Chartered Financial Planners are supporting the team's performance analysis and people development capabilities, Viper 10 are their Sportswear Supplier and Skins provide the team with compression wear.