Posted 12th Dec 2018
Christmas comes early for netball fans as Blue & Gold tri-tournament is broadcast live on BBC Sport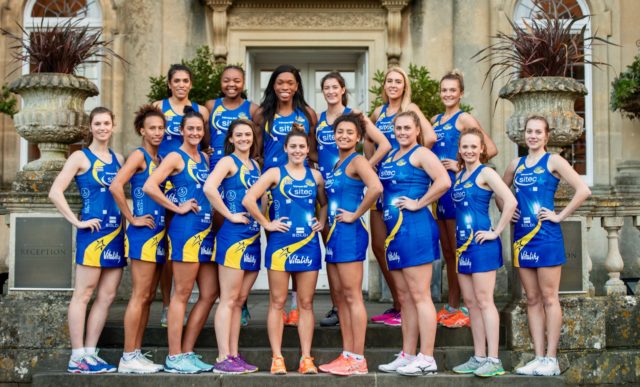 Team Bath has teamed up with BBC Sport to deliver an early Christmas present for netball fans ahead of a massive 2019 for the sport.
The annual Blue & Gold tri-tournament – taking place at the Team Bath Arena on Saturday (December 15) – will, for a second successive year, be broadcast to a national audience on the BBC Sport website (click here to watch) and app.
The full event, which sees an exciting new-look Team Bath squad take on benecosMavericks and Surrey Storm, will then be available to watch again in full on BBC iPlayer for the following 30 days.
Team Bath Netball Head Coach Jess Thirlby said: "It is fantastic to be working with the BBC again to provide netball with such a great platform ahead of what is sure to be a memorable 2019.
"Not only do we have what looks set to be an ultra-competitive Vitality Superleague season to look forward to in the new year but there is the Netball World Cup in Liverpool, which is also being shown live on BBC Sport.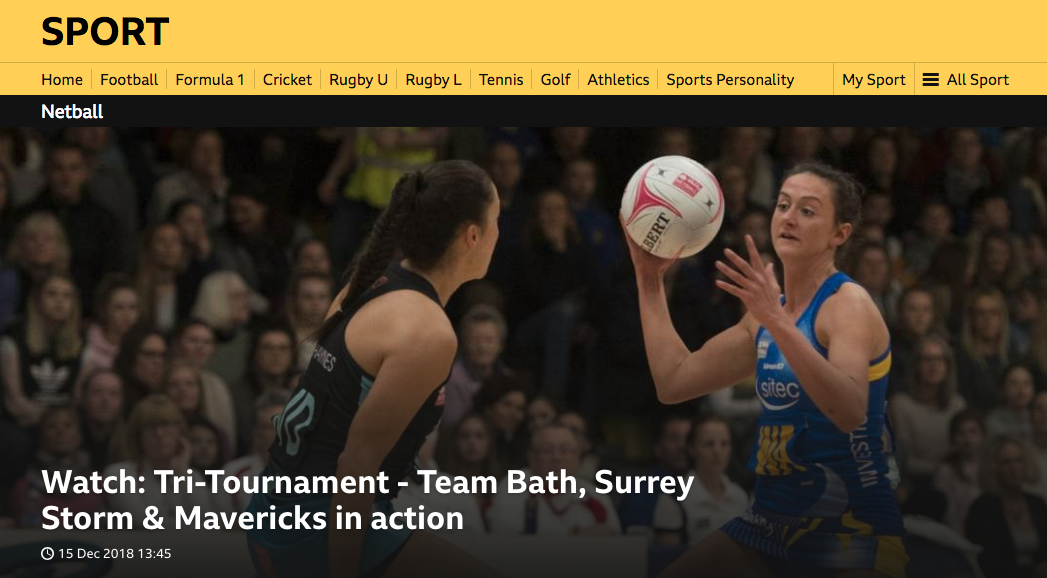 "The tri-tournament is an important stage of our pre-season preparations, giving us a final opportunity to try out combinations in a competitive match-day environment against top-quality opposition before the Superleague begins in January.
"We are looking forward to putting on a good show not only for our wonderful supporters in the Team Bath Arena but also for those enjoying the last live netball of the year on their connected TVs, computers, tablets and phones."
The tri-tournament, which gets under way at 2pm, will be a first run-out at the Team Bath Arena in four years for England superstar Serena Guthrie following her high-profile return to the Blue & Gold after a stellar spell in New Zealand and Australia.
She will be joined on court by fellow Commonwealth Games champion Eboni Usoro-Brown, one of a number of experienced senior players in the squad along with Mia Ritchie and Rachel Shaw.
Summer Artman, Laura Rudland and Amanda Varey are back in Blue & Gold after spells away, while it is a first opportunity for Wales international Leila Thomas and Australian duo Beryl Friday and Kim Commane to experience playing in front of the Team Bath crowd.
Completing the Sitec-sponsored squad are the exciting young talents of Imogen Allison, Chartie Curtis, Sophie Drakeford-Lewis and Abi Robson.
There will be some familiar faces amongst the opposition on Saturday, with Mavericks including the Corbin sisters – Kadeen and Sasha – in their squad along with University of Bath Natural Sciences student Tash Pavelin, who is on a year-long placement.
University of Bath graduates Nicole Humphreys and Yasmin Parsons, both of whom have played in Superleague for the Blue & Gold, are in the Surrey Storm squad.
Doors open at 1pm on Saturday and the BBC coverage, featuring Jennie Gow as lead commentator, begins at 1.55pm. Team Bath face Storm in the opening match at 2pm, then Storm take on Mavericks at 3.15pm before an action-packed afternoon concludes with the Blue & Gold against Mavericks at 4.30pm.
Team Bath Netball are sponsored by Sitec and supported by partners Mogers Drewett, Soldi and Netball South West. Centurion Chartered Financial Planners are supporting the team's performance analysis and people development capabilities, Viper 10 are their Sportswear Supplier and Skins provide the team with compression wear.
Tri-tournament squads for Saturday
Team Bath Netball: Imogen Allison, Summer Artman, Kim Commane, Chartie Curtis, Sophie Drakeford-Lewis, Beryl Friday, Serena Guthrie, Abi Robson, Mia Ritchie, Laura Rudland, Rachel Shaw, Leila Thomas, Eboni Usoro-Brown, Amanda Varey.
benecosMavericks: Karyn Bailey, Steph Collard, Kadeen Corbin, Sasha Corbin, Beth Ecuyer Dale, George Fisher, Georgia Lees, Lindsay Keable, Gabby Marshall, Dani McFarlane, Lauren Nicholls, Tash Pavelin.
Surrey Storm: Mikki Austin, Sigi Burger, Jessica Dale, Rhea Dixon, Leah Goss, Emily Gulvin, Yasmin Hodge England, Katy Holland, Nicole Humphreys, Lorraine Koweleska, Laura Morton, Yasmin Parsons, Emily Porter, Alima Priest.