Posted 21st Oct 2018
LISTEN: Stacey Francis reflects on Fast5 All-Stars and Team Bath's contribution to the netball world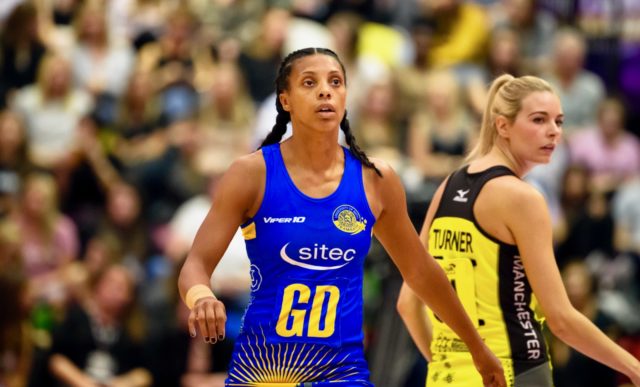 Stacey Francis says she loved being back with Team Bath Netball this month and has been reflecting with pride on the Blue & Gold's legacy within the netball world.
The legendary defender, a key member of all five Team Bath Superleague-winning squads and University of Bath Hall of Fame for Sport inductee, put on the famous colours once again for the recent British Fast5 All-Stars Championship.
"It was awesome," she told The Netball Show podcast. "I am Team Bath through and through. I played for them for an awfully long time and it was great to slot straight back into that team environment and work with Jess [Thirlby] and Anna [Stembridge] again, I think they are two of the best coaches I have worked with. There were some familiar faces [in the squad] from when I was there but some up-and-coming talent too."
Being back in the Team Bath environment for the first time in four years brought back plenty of memories for Francis, who was part of the Blue & Gold set-up when the national Superleague competition was established in 2005.
A host of players from that time are still having a major impact on the game as both players and coaches, with Thirlby, Pamela Cookey, Rachel Dunn, Geva Mentor and Tamsin Greenway all part of the inaugural Superleague squad under the guidance of legendary coach Lyn Gunson – another Hall of Fame for Sport member.
"It's easy to forget the legacy that Team Bath and the players that have come through that programme have created," said Francis, who now plays for West Coast Fever in Australia's Suncorp Super Netball competition.
"The team and environment was always a fantastic place to be and the players [that came through] are ones that people will always remember. It's credit to the likes of Lyn Gunson and the people that put that first Team Bath programme together.
"The contribution that Team Bath players will make to the world of netball as a whole isn't going to stop any time soon."
Listen to the full interview with Viper 10 Ambassador Stacey Francis here: