Posted 4th Jun 2018
Brilliant Blue and Gold make amends for Sirens setback to move back into top four of Vitality Superleague table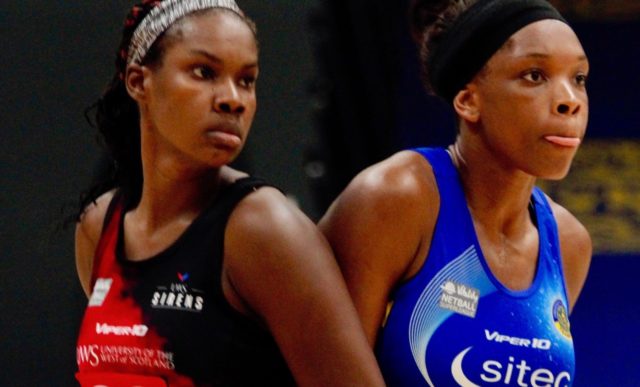 Team Bath Netball moved back into the top four of the Vitality Netball Superleague as an excellent all-round team performance secured an impressive 60-34 victory over UWS Sirens.
The Sitec-sponsored Blue and Gold, fresh from a vital 54-45 victory over top-four rivals benecosMavericks on Friday, set the tone during a phenomenal first quarter as they stormed into a 17-4 lead.
Scottish franchise Sirens, who had inflicted a surprise defeat on Team Bath in Glasgow nine days ago, kept battling during a physical encounter but the home side played with great intensity throughout and were able to extend their advantage in the second half to boost their goal-average.
The win puts Team Bath level on points with third-placed Manchester Thunder and just three behind Loughborough Lightning and Wasps Netball – their opponents at the Team Bath Arena on the next two Fridays (June 1 and 8, click here to buy tickets).
Anna Stembridge, Team Bath Netball Superleague Head Coach, said: "The way we played was much, much better than when we faced Sirens nine days ago. The ball speed was excellent and we felt composed.
"Credit to Sirens for the way they came back at us in the second quarter but I'm proud of the way the girls handled it. Overall it was a good performance but there are a few creases we can iron out ahead of Loughborough on Friday.
"It's absolutely critical that our fans continue to get behind us. They were brilliant against Mavericks, they turned out again tonight and we could really do with them being here with us for the next two home games."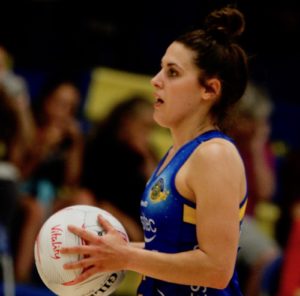 Player of the match Mia Ritchie, who received her Wild About Flowers prize bouquet from Blue and Gold legend Pamela Cookey, added: "We took a lot of confidence from the Mavericks game on Friday and really wanted to put out back-to-back performances, which we did tonight.
"We feel are coming into form at exactly the right time. We believe we can go all the way and the fans believe it as well, we've just got to keep putting in those performances game in, game out."
Sirens included three former Blue and Gold stars in their starting line-up – Shantal Slater at goal-shooter, Rachel Dunn at centre and captain Claire Brownie at wing-defence.
They went into tonight's match having won two of their past three Superleague matches, including a 51-43 victory over Team Bath at the Emirates Arena in Glasgow nine days ago.
The Blue and Gold had been caught cold in that match but were clearly determined not to let that happen again as they quickly established their dominance in a one-sided first quarter.
A flurry of flying interceptions from the all-action Layla Guscoth, Imogen Allison and Ritchie secured a host of turnovers for the hosts, who were ruthless in attack thanks to the flourishing combination between Kadeen Corbin and Sophie Drakeford-Lewis.
Brownie was switched back to goal-defence as Sirens tried to stem the flow but Team Bath, moving the ball with speed and confidence, were in total control as they finished the quarter with a 17-4 lead.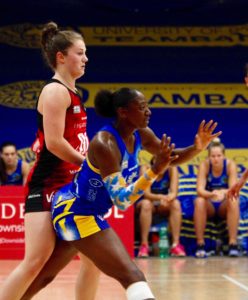 Guscoth and Eboni Beckford-Chambers were giving Sirens' attack of Slater and Vanessa Walker no breathing space in the circle but the visitors were able to battle their way into the contest in a much more competitive second quarter.
It was a feisty, physical affair and it was only a Corbin penalty shot with the last action of the quarter that ensured Team Bath edged the second period 12-11 to take a 29-15 lead into half-time.
With goal average potentially playing a decisive part in the final Superleague standings, the Blue and Gold knew they had to up the ante in the third period if they were to increase their winning margin.
They did just that as some energetic and athletic attacking, epitomised by the indefatigable Rachel Shaw, saw them embark on a nine-goal scoring streak midway through the quarter.
They went on to take a 47-23 lead into the final period and continued to pull away in the closing stages as Chelsea Lewis, Paige Reed and Tash Pavelin all came off the bench to contribute to the victory.
The Blue and Gold have two more massive home matches over the next two Fridays – against second-placed Loughborough Lightning on June 8 and table-topping Wasps Netball on June 15. Both start at 7.30pm and tickets are available now by clicking here.
Team Bath Netball are sponsored by Sitec and supported by partners Mogers Drewett, Investigo and Netball South West. Centurion Chartered Financial Planners are supporting the team's performance analysis and people development capabilities, Viper 10 are their Sportswear Supplier and Skins provide the team with compression wear.
Match stats
Team Bath Netball starting 7: GS Kadeen Corbin, GA Sophie Drakeford-Lewis, WA Rachel Shaw, C Mia Ritchie, WD Imogen Allison, GD Layla Guscoth, GK Eboni Beckford-Chambers. Replacements: Chelsea Lewis, Tash Pavelin, Paige Reed, Abi Robson, Zanele Vimbela.
Changes: Q4: Lewis – bench to GS; Corbin – GS to GA; Drakeford-Lewis – GA to bench; Pavelin – bench to WD; Allison – WD to bench; Reed – bench to GA; Corbin – GA to bench.
UWS Sirens starting 7: GS Shantal Slater, GA Vanessa Walker, WA Nicola McCleery, C Sara Bayman, WD Claire Brownie, GD Emily Nicholl, GK Nicole Aiken Pinnock. Replacements: Kelly Boyle, Ella Gibbons, Bethan Goodwin, Bethany Sutherland.
Changes: Q1: Sutherland – bench to WD; Brownie – WD to GD; Nicholl – GD to bench. Q3: Boyle – bench to WA; McCleery – WA to bench; Goodwin – bench to GA; Walker – GA to bench.
Quarter-scores: Q1 17-4. Q2 29-15 (12-11). Q3 47-23 (18-8). Q4 60-34 (13-11).
Attendance: 550.