Posted 1st Jun 2018
Home fans roar Blue and Gold to vital victory over benecosMavericks in pulsating Vitality Superleague clash
Team Bath Netball reinvigorated their challenge for a semi-final spot after overcoming top-four rivals benecosMavericks 54-45 in a pulsating Vitality Superleague showdown on Friday.
The Sitec-sponsored Blue and Gold went into the match three points adrift of their fourth-placed rivals and knowing that victory was essential after last weekend's surprise setback against UWS Sirens.
They looked to have the points safely in the bag as they took an eight-goal lead into the final quarter thanks to superb performances right across the court but Mavericks, spearheaded by a 100 per cent shooting rate from Karyn Bailey, refused to accept defeat and cut the gap to two with six minutes still to go.
A magnificent interception from captain Eboni Beckford-Chambers helped Team Bath regain the initiative and, roared on by an outstanding home crowd, they went on to record a vital victory.
Team Bath Netball Superleague Head Coach Anna Stembridge said: "It's always a great game between ourselves and Mavs, and tonight's contest really delivered. Mavs are a class side so we had to be good tonight and I'm proud of the way the girls responded.
"We stayed composed when Mavs got to within two and stuck to our gameplan, we didn't deviate and we were absolutely clinical when we had possession. We absolutely needed that win and we're right in the mix but let's focus on one game at a time."
There have been some classic encounters between Team Bath and Mavericks over the years and, given the importance of this fixture in the race for the top four, this one promised to be no different.
It lived up to all expectations with the tone being set in the first quarter as both teams quickly hit their stride. Shooters Kadeen Corbin and Bailey went goal for goal before tremendous mid-court pressure from Mia Ritchie and Imogen Allison forced the first turnover of the game, which Team Bath capitalised on to move into an 8-5 lead.
They had further chances to pull away but couldn't take them and Mavericks took advantage to level the scores, only for the Blue and Gold to regain the initiative and restore their three-goal margin.
Back came Mavericks again to make it 14-14 with 30 seconds to go but a Corbin goal edged Team Bath ahead once more and she doubled the lead with the last shot of the quarter after Allison brilliantly intercepted the Mavericks centre-pass.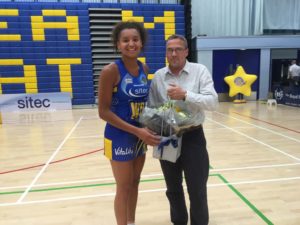 Wild About Flowers Player of the Match Allison was in inspired form and it was another stunning intercept from the wing-defence which allowed the hosts to extend their lead after an evenly-matched start to the second quarter.
Corbin and Sophie Drakeford-Lewis were also linking well in attack, fed superbly by the outstanding Ritchie and Rachel Shaw, as Team Bath opened up a seven-goal lead before Mavericks capitalised on a couple of mistakes to cut the home side's advantage to four.
Chelsea Lewis, who came on for Drakeford-Lewis late in quarter two, scored the last goal of the half to put Team Bath 30-25 up and then rattled off four in a row at the start of quarter three to give the hosts a healthy advantage.
The lead grew to double figures but a tremendous battle saw the momentum swing once again in Mavericks' favour as they scored six unanswered goals to get right back into the contest.
The home fans sensed the turning tide and turned up the volume, roaring their team on and helping them to get the match back on to an even keel before, with two minutes to go and with Drakeford-Lewis back in attack, they pulled away once more to take a 43-35 lead into the final quarter.
Any thoughts that the match was over were swiftly dispelled as four goals in quick succession saw Mavericks halve the gap. The tension rose in the Team Bath Arena as the visitors kept chipping away at the lead and, with half of the quarter remaining, the lead was down to two.
Team Bath needed a game-changing moment and they got it when Beckford-Chambers soared to get her fingers to a Kalifa McCollin shot and instigate an attack that led to Drakeford-Lewis finally netting the hosts' second goal of the quarter.
The captain led by example again moments later to produce another stunning turnover and, roared on by the delighted home crowd, Team Bath were able to regain some breathing space before clinically killing the game off to eventually win by a nine-goal margin.
The Blue and Gold are back in action on Monday (7.30pm) when they welcome UWS Sirens to the Team Bath Arena. Tickets for that match, and the forthcoming games against Loughborough Lightning (Friday 8th) and Wasps (Friday 15th) are on sale now – click here for details.
Team Bath Netball are sponsored by Sitec and supported by partners Mogers Drewett, Investigo and Netball South West. Centurion Chartered Financial Planners are supporting the team's performance analysis and people development capabilities, Viper 10 are their Sportswear Supplier and Skins provide the team with compression wear.
Match stats
Team Bath Netball starting 7: GS Kadeen Corbin, GA Sophie Drakeford-Lewis, WA Rachel Shaw, C Mia Ritchie, WD Imogen Allison, GD Layla Guscoth, GK Eboni Beckford-Chambers. Replacements: Chelsea Lewis, Tash Pavelin, Paige Reed, Abi Robson, Zanele Vimbela.
Changes: Q2: Lewis – bench to GS; Corbin – GS to GA; Drakeford-Lewis – GA to bench. Q3: Drakeford-Lewis – bench to GA; Corbin – GA to GS; Lewis – GS to bench.
benecosMavericks starting 7: GS Karyn Bailey, GA Kalifa McCollin, WA Sasha Corbin, C Gabby Marshall, WD Michelle Drayne, GD Lindsey Keable, GK Razia Guashie. Replacements: Summer Artman, Steph Collard, Clare Drakeford, Zara Everitt, Alice Travis.
Changes: Q2: Everitt – bench to WD; Drayne – WD to bench. Q3: Artman – bench to GK; Quashie – GK to bench; Quashie – bench to GK; Artman – GK to bench.
Quarter-scores: Q1 16-14. Q2 30-25 (14-11). Q3 43-35 (13-10). Q4 54-45 (11-10).
Attendance: 800.