Posted 15th May 2018
Fun in the sun as Bath school pupils get to learn from Blue and Gold superstar Eboni Beckford-Chambers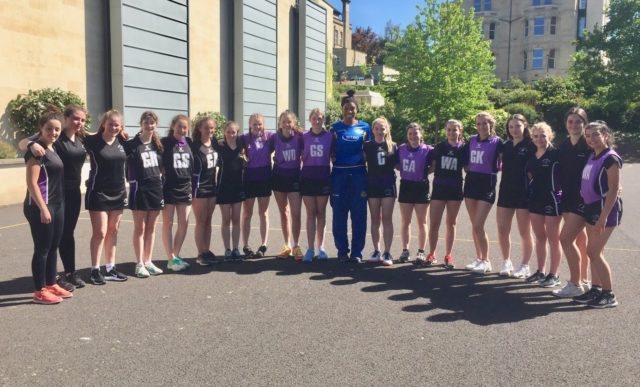 Keen netballers at Hayesfield Girls' School in Bath got to learn from a local Commonwealth champion on Monday when Team Bath Netball captain Eboni Beckford-Chambers paid them an inspirational visit.
The England Netball star, fresh from attending Sunday's Bafta Television Awards with her victorious Roses team-mates, put on a masterclass in the sun for pupils in Y9 and Y10 focusing on assertiveness in both defence and attack.
She also took part in a question and answer session about pursuing a healthy lifestyle and how she juggles her sporting and legal careers – Beckford-Chambers is a trainee solicitor in the Dispute Resolution team at West Country legal firm Mogers Drewett, which helped to fund the Hayesfield session and other school visits across the South West as the Education Partners of Team Bath Netball.
"I love doing these school visits with Mogers Drewett because it is always great to see the girls and their enthusiasm," she said. "I remember what it was like playing netball as a youngster and looking up to the England girls, so if I can help to inspire them to pursue their dreams then these visits will have made a difference."
Hayesfield pupil Tilda said: "It was really exciting to have Eboni here and useful to see how she trains and also how she handles having a job alongside her netball."
Schoolmate Charlotte added: "We are so privileged to have such an amazing netball player come to school to teach us."