Posted 2nd May 2018
Commonwealth champ Eboni Beckford-Chambers goes back to school to inspire young netball players on and off court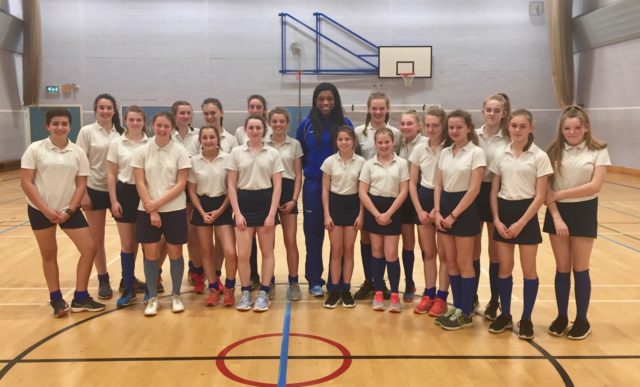 Eboni Beckford Chambers, the Team Bath netball star who is fresh back from winning Commonwealth Gold with England, made her first school visit since that triumph at the Blue School, Wells, today courtesy of her employers Mogers Drewett.
West-Country legal firm Mogers Drewett, which is headquartered in Bath and has a network of offices around the South West, and which sponsors Team Bath, is helping to fund educational visits in schools across the South West region to champion healthy lifestyles and team work.
"The visit couldn't have come at a better time," said Sam Holland one of the teachers at the school. "Our students are very, very excited about the visit and getting to see and hold Eboni's gold medal."
Beckford-Chambers ran a coaching session for the students of Year 8 and 9 with a focus on possession and keeping the ball around the circle before taking part in a question and answer session about both her sporting and legal careers.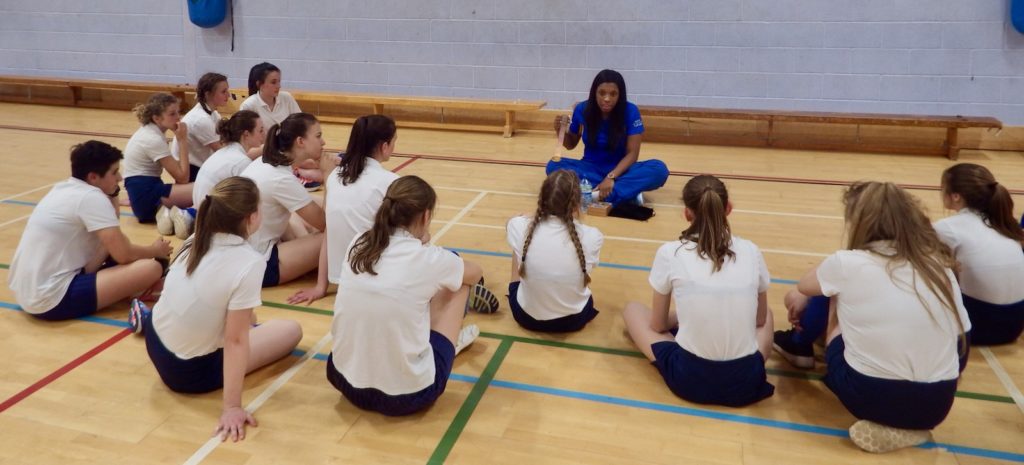 She said: "It was great to see the girls in action and their enthusiasm. Hopefully I can inspire them not only to continue their academic studies but also their sporting careers – that's the message we want to convey, that you don't have to give up one to focus on the other.
"The girls said they had never imagined they would be able to hold a gold medal, so to be able to come here and share that experience with them is a really big thing for me. I was once a school pupil looking up to the England girls, wishing and wanting to wear that red dress with pride.
"If these visits impact even one girl to pursue their dreams, whatever that might be, it will have made a difference."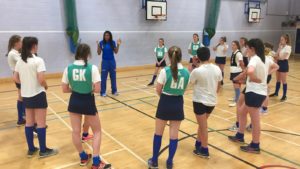 Blue School pupil Millie said: "It was interesting to see how Eboni balances her work and sport, and to hear that when she first started netball she wasn't instantly the best player, that she worked to get where she is."
Schoolmate Annabel added: "Holding Eboni's gold medal was amazing. We watched England win on television and then to see the actual medal was incredible, it was a very special moment."
Beckford-Chambers is a trainee solicitor in the Dispute Resolution team at Mogers Drewett and also takes a key role in local initiatives that encourage the younger generation to lead active lifestyles.
Meanwhile, Team Bath take on Celtic Dragons in their first home game since the Commonwealth break on Friday, centre-pass 7.30pm at the Team Bath Arena at the University of Bath. Beckford Chambers and fellow Games gold-medallist Kadeen Corbin will be celebrated on court before the match starts.
Team Bath have a run of seven home games in May and June – two of which will be televised by Sky Sports. Big crowds are expected as netball experiences the bounce of the dramatic Commonwealth win – click here to buy your tickets.
Team Bath Netball are sponsored by Sitec and supported by partners Mogers Drewett, Investigo and Netball South West. Centurion Chartered Financial Planners are supporting the team's performance analysis and people development capabilities, Viper 10 are their Sportswear Supplier and Skins provide the team with compression wear.
For more information about Mogers Drewett, visit www.mogersdrewett.com.