Posted 5th Jan 2018
Blue and Gold are "super-excited" for first test of 2018 in televised tri-tournament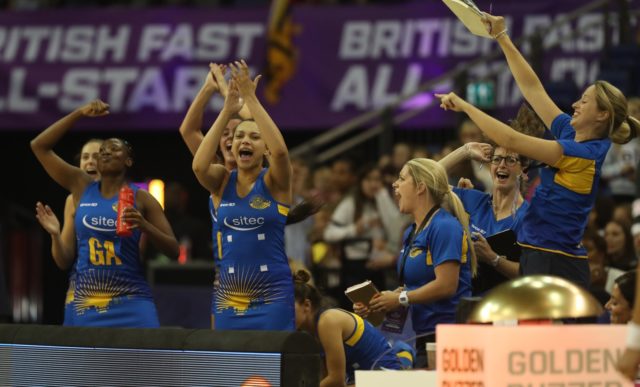 Team Bath Netball are "super-excited" about the prospect of testing themselves against top-class opposition in front of a sell-out crowd and a global audience at this weekend's eagerly-anticipated tri-tournament.
BBC Sport are live streaming Saturday's tournament featuring the Blue and Gold, West County rivals Severn Stars and 2017 Superleague champions Wasps via their app, website and the Red Button on connected televisions  – click here for full details of how to watch.
An 800-strong crowd will also be in the Team Bath Arena to watch the first domestic netball of 2018, a massive year for the sport which also includes April's Commonwealth Games in Australia.
Anna Stembridge, Team Bath Netball Head Superleague Coach, said: "We are all super-excited for Saturday and I think the fact it is being shown live by the BBC is a massive statement as to where the sport is heading. There has been a lot of hard work behind the scenes to make this happen and it has been great to see such a positive response to the news from netball fans.
"It was amazing for the tournament to sell out a month before. It just goes to show how supportive our fans are and the appetite for netball, both in the South West and the country as a whole.
"There is a real excitement about the Superleague this year, all of the franchises have recruited well and the fact we can name 15 players in a squad means there are more opportunities for youngsters to make their mark.
"These pre-season tournaments are really important to the coaches and the players as they give us an opportunity to test out different combinations in match situations. The fact that these matches will be played in front of a sell-out crowd and a BBC Sport audience only adds to their value – you simply cannot recreate that kind of situation and atmosphere in training."

There will be three matches for netball fans to enjoy on Saturday – Sitec-sponsored Team Bath take on Severn Stars at 2pm and Wasps at 4.30pm, with the other two teams facing off at 3.15pm. All will be shown live by BBC Sport with commentary from Jennie Gow and David White.
"The home fans will recognise a fair few of the players in the Stars and Wasps squads from their time here," said Stembridge.
"Stars have brought in Sam Cook, Laura Rudland and Rosie Allison, who all played for Team Bath in the Superleague, and they have also recruited Shona O'Dwyer and Ella Powell-Davies, two players who impressed in our U21 squad.
"Sophie Carter and Nicole Humphrys are also in the Stars squad – they are University of Bath students and part of the successful BUCS 1st team with our own Sophie Drakeford-Lewis, Imogen Allison and Tash Pavelin.
"Wasps recruited superbly last season and have done so again by signing Jade Clarke, England's most capped international, so these two matches are going to provide a great test of where we are as a squad with a month to go until the Superleague season starts.
"We will be looking to give all of our squad some court-time and it will be exciting to see Kadeen Corbin back in the Blue and Gold at the Team Bath Arena. I'm also looking forward to seeing the likes of Tash and Abi Robson making the step up."
The live stream is accessible via the BBC Sport app, the BBC Red Button and on the BBC website by clicking here.
Fans who missed out on a seat in the Arena for this tournament can still buy tickets for the main Superleague season. Season tickets providing admission to all nine Superleague matches at the Team Bath Arena in 2018 are also available priced £85 for adults and £55 concessions –  click here to purchase or for further details.
Saturday's schedule
1.00pm – Doors open, refreshments and merchandise available.
1.55pm – Live coverage begins on BBC Sport.
2.00pm – Team Bath Netball v Severn Stars.
3.15pm – Severn Stars v Wasps Netball.
4.30pm – Team Bath Netball v Wasps Netball.
5.30pm – Post-match pictures and autograph opportunities with the players.
Team Bath Netball are sponsored by Sitec and supported by partners Mogers Drewett, Investigo and Netball South West. Centurion Chartered Financial Planners are supporting the team's performance analysis capabilities, Viper 10 are their Sportswear Supplier and Skins provide the team with compression wear.