Posted 2nd May 2023
Blue & Gold denied by strong Strathclyde Sirens' performance but will take positives into next match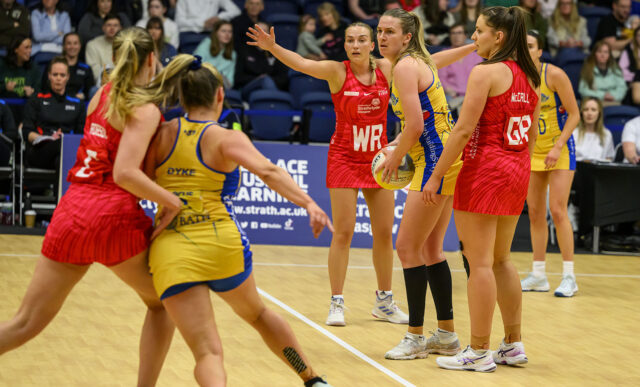 Monday 1st May saw Team Bath's Super League Netball squad face Scotland's only Netball Super League club – Strathclyde Sirens, this time on the Sirens' home turf.
With the teams being just one place apart in the 2023 Netball Super League positions, it was always going to be a tough match and the Sirens got off to a flying start.
For our Haines-Watts sponsored squad, it was a Super League debut for Phoebe Maslen, who stepped in for Imogen Allison who is resting a minor niggle.
The Sirens put on a solid team performance from the start, with some slick shooter-to-shooter connection between Niamh McCall and Bethan Goodwin, to see them take an early lead. Team Bath kept up a good defence, but the first quarter saw the Sirens pulling away to take a 19-11 lead.
In the second quarter the Sirens kept the pressure on and Team Bath responded well, however, with the Sirens playing with increasing confidence, the half-time score reflected this, with the Sirens increasing their lead to 34-22.
With Goodwin and McCall rarely missing the target, Sirens continued to build on their lead. Some impressive shooting from Team Bath's Sophie Kelly in Q3 and some long-range conversions kept the Blue & Gold in the match, to see the third quarter finish at 50-36.  The Sirens kept up the intensity and a solid performance in the final quarter saw them capitalise, to take the win 69-47.
Team Bath Netball's Head Coach Asha Francis commented ''We didn't play with the freedom and confidence that we do when we perform well. The Sirens looked comfortable and came out firing, which left us chasing the game.
''Ali Wilshier and Betsy Creak were dogged throughout but ultimately the team couldn't find that second gear.
The focus will now be on our next match and how we approach our preparation to ensure that we start the game with intent. Every player needs to execute their role to the best of their ability and make sure the fundamentals are executed well.''
Team Bath next faces Surrey Storm away on Saturday 6th May before returning on 12th May to the Team Bath Arena where they will play Manchester Thunder in front of a sell-out crowd!
Picture Credit: Craig Watson