Posted 21st Apr 2023
Thrilling Super League Contest sees Team Bath battle it out to victory over Celtic Dragons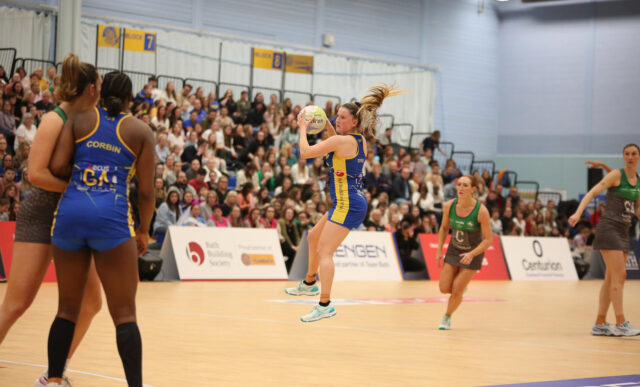 The two sides went toe-to-toe in a thrilling contest in front of a boisterous crowd at the Team Bath Arena. The Haines Watts-sponsored Blue & Gold finally prevailed in an end-to-end game with Celtic Dragons, with Team Bath clinching the win, 56 to Celtic Dragons' 53.
Dragons, who this week appointed former Australian Diamonds captain and coach Jill McIntosh as their new Head Coach, competed well and went into the first quarter four goals up.
But Team Bath showed tremendous resolve to outscore Dragons in the other three to earn three important points.
Asha Francis, Team Bath Netball Head Coach, said: "From the second quarter onwards we really saw the way that we want to play.
"The big message at half-time was that we couldn't drop off. I wanted them to give me everything.
"We don't want to give teams space or allow them time to breathe. Then the errors start to come from the opposition.
"It's another step forward for us towards the team we want to become. We now want to take this momentum on the road."
Team Bath were up against four former players, including University of Bath graduate Rachel Dunn who swiftly cancelled out Kadeen Corbin's opener.
The teams went goal-for-goal early before Dragons pulled 12-6 ahead thanks to goal shooter Dunn and Gabby Sinclair's clinical finishing.
Team Bath reduced the arrears to four before the end of the first quarter and introduced Jayda Pechova as goal keeper who added more solidity against the tricky Dragons' attack.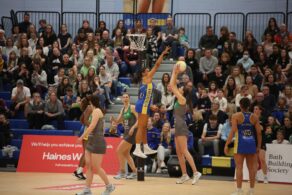 Pechova's attempted interception on Sinclair just fell short and helped the goal attacker put Dragons 25-19 up, but the hosts rallied with five unanswered points to find a way back in into the contest, Bethan Dyke's speedy centre pass concluding with Corbin's lay-up shot during a confident spell.
Ali Wilshier cleverly located Betsy Creak under the post to level it up at 32-32 at half-time after a pulsating 15 minutes.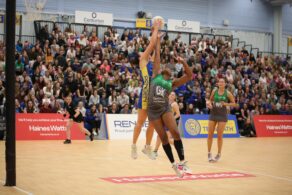 Dragons made five alterations before the third quarter which was more error-strewn from the visitors as Bath gained control, Imogen Allison starting a move with Corbin feeding on a loose ball to set up Creak, who made it 39-33. Impact player Hannah Passmore had a goal disallowed for contact on Shaquanda Greene-Noel to leave the scores at 43-42 ahead of a mouth-watering final quarter.
A rapid interchange of goals left the crowd enthused with Corbin nudging Team Bath ahead at 47-46 following a superb interchange with MVP Dyke.
Georgia Rowe, on her first outing of 2023, levelled the scores at 53-53 for Dragons but the last three minutes saw the hosts gain superiority with three goals, Passmore wrapping up the scoring with 20 seconds remaining.
Interceptions by the determined Pechova and Caroline Mtukule in the final attack for Dragons spurred the crowd further as they could relax in the closing stages with Team Bath over the line.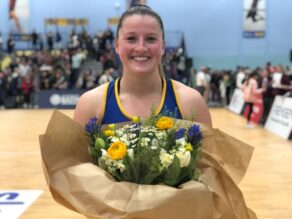 After their run of five successive home games, Team Bath now have a short break before back-to-back away matches against Strathclyde Sirens on Monday 1st May (7.30pm) and title contenders Surrey Storm on Saturday 6th May (6pm).
They then return to the Team Bath Arena on Friday 12th May for their final home match of the season against defending champions Manchester Thunder. Centre-pass is 7.30pm and more than 1,000 tickets have already been sold – remaining tickets are available to purchase at netball.teambath.com/tickets.
Team Bath Netball is supported by its Principal and Pathway Partner, chartered accountants Haines Watts; Bath Building Society and Rengen Developments, who are overall Team Bath Partners; Centurion Chartered Financial Planners; Ecus Ltd, our environment partner; and PDS Coaching, who provide performance mentoring. Team Bath's suppliers include O'Neills and 2XU.
Match stats
Team Bath Netball starting combination: GS Betsy Creak, GA Kadeen Corbin, WA Ali Wilshier, C Bethan Dyke, WD Imogen Allison, GD Lily-May Catling, GK Summer Artman. Impact players: Jayda Pechova, Caroline Mtukule, Kirsty Harris, Sophie Kelly, Hannah Passmore.
Celtic Dragons starting combination: GS Rachel Dunn, GA Gabby Sinclair, WA Laura Rudland, C Hannah Leighton, WD Clare Jones, GD Ella Powell-Davies, GK Shaquanda Greene-Noel. Impact players: Shona O'Dwyer, Ally Housley, Zoe Matthewman, Annabel Roddy, Georgia Rowe.
Quarter scores (Team Bath first): Q1 15-19; Q2 32-32 (17-13); Q3 43-42 (11-10); Q4 56-53 (13-11).
Most Valuable Player: Bethan Dyke.