Posted 5th Mar 2023
Blue & Gold seeking consistency after frustrating West Country Super League derby defeat at Severn Stars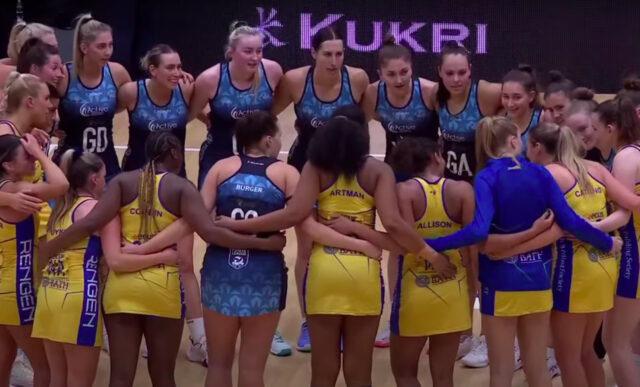 Asha Francis said she was frustrated by the lack of consistency shown by her Team Bath Netball side as they were beaten 67-70 at West Country Super League rivals Severn Stars.
The Haines Watts-sponsored Blue & Gold were looking to build on the positives of their first win of the season against Strathclyde Sirens and went into Saturday's derby with three clear priorities – "making sure we have options, making sure we execute and making sure we are scanning and knowing where our team-mates are".
They did that for periods of the match but couldn't put a sustained run together, while Stars showed greater consistency across the court and won all four quarters.
Team Bath Head Coach Francis said: "We didn't do the three things we said we would commit to doing consistently this evening, so we ended up on the wrong side of the score.
"There were bits where you thought 'that looked so great' and I know why it was great, because we had options, we were scanning and we executed the passes. It's now about how we make that last for longer and how we keep to those principles when things are tight."
Team Bath forced the first turnover during a confident start to take an early three-goal lead but Stars quickly turned that on its head as player of the match Rebekah Airey and vastly-experienced player-coach Jo Trip took control defensively.
The visitors were finding it hard to feed their shooters and went into the break 17-12 down. They made several changes in the second quarter with former Stars goal-keeper Summer Artman, Sophie Kelly and Hannah Passmore all entering the fray but Stars were able to stretch their lead to 30-22.
Team Bath continued to enjoy good periods of play but struggled to maintain that momentum and went on to lose the remaining two quarters 16-10 and 21-18 as Stars wrapped up a 67-50 victory.
The two sides meet again at the Team Bath Arena on Easter Saturday (8th April, 4pm centre-pass) – tickets for that game are available by clicking here.
Next up for Team Bath on Friday (7.30pm centre-pass) is a home game against Surrey Storm, who remain top of the Super League table despite suffering their first defeat of the season on Saturday – a 52-47 reverse at London Pulse. Tickets are sold out but fans can watch the action live on Sky Sports Mix and Sky Sports YouTube.
Match stats
Severn Stars starting combination: GS Sigi Burger, GA Grace Namana, WA Jess Shaw, C Gabby Marshall, WD Sarah Macphail, GD Rebekah Airey, GK Jo Trip. Impact players: Jess Haynes, Lucy Herdman, Issy Eaton, Ruth Hughes, Lily Smith.
Team Bath Netball starting combination: GS Kadeen Corbin, GA Betsy Creak, WA Bethan Dyke, C Ali Wilshier, WD Imogen Allison, GD Lily-May Catling, GK Jayda Pechova. Impact players: Summer Artman, Annie O'Rourke, Kirsty Harris, Sophie Kelly, Hannah Passmore.
Quarter scores (Severn Stars first): Q1 17-12. Q2 30-22 (13-10). Q3 46-32 (16-10). Q4 67-50 (21-18).