Posted 10th Feb 2023
Here's how to watch live as Team Bath Netball get their 2023 Super League season under way against Loughborough Lightning on Sky Sports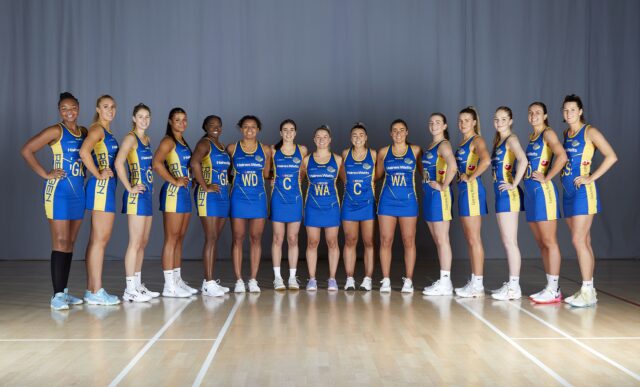 Saturday marks not just the start of a new season but "the first step on a journey" for Team Bath Netball as they get the 2023 Super League campaign under way.
A new-look Blue & Gold squad, sponsored by Haines Watts, will be first on court at Nottingham's Motorpoint Arena as they face old rivals Loughborough Lightning in the opening match of the traditional Season Opener event (11am centre-pass).
Five players are in contention to make their Team Bath debuts, while Saturday's match will also be a first Super League fixture as Head Coach for Asha Francis.
There has been a lot of change but Francis is delighted with how the squad has bonded together during a busy and productive pre-season, and cannot wait to see how the hard work in training over the past four months translates to the court.
"There is the usual mix of anticipation and nerves going into the new season, that never changes, but there is also a sense of excitement at seeing what this group can achieve," she said.
"We won't know where we are until we get out on court and test ourselves but what I can confidently say is we will have done everything we possibly can to be prepared and ready.
"We are approaching this season as the first step on a journey. We are not measuring success simply by the win and loss column, we are embedding a new team and forging a new mindset. All of the players have embraced what we are doing, what we are trying to build, and I am excited to see how they develop over the coming weeks and months.
"The biggest thing for me is that this team shows its grit, its fight, its connectivity; the way we are going to look after each other, the way we are going to back each other up. We are a team of 12 rather than being a team of seven or eight."
With new signing Caroline Mtukule's visa currently being processed, training partner Annie O'Rourke has stepped up to the match-day squad.
Saturday's fixture will be shown live on Sky Sports and YouTube, here's the link to bookmark:
Team Bath match-day squad: Imogen Allison, Summer Artman, Lily-May Catling, Kadeen Corbin, Betsy Creak, Bethan Dyke, Kirsty Harris, Sophie Kelly, Annie O'Rourke, Hannah Passmore, Jayda Pechova, Ali Wilshier.