Posted 3rd May 2022
Team Bath Netball's Imogen Allison, Sophie Drakeford-Lewis, Layla Guscoth and Tash Pavelin in England programme for big season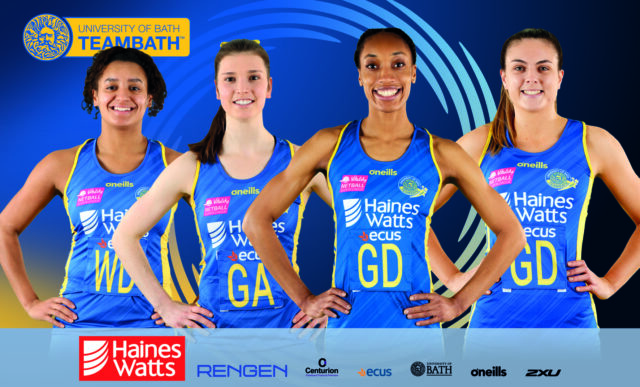 Team Bath Netball's Imogen Allison, Sophie Drakeford-Lewis and Layla Guscoth have once again been named in the England Vitality Roses programme for the 2022-23 season – and there is a first Futures call-up for Tash Pavelin too.
Allison, Drakeford-Lewis and Guscoth, who are all part of the Haines Watts-sponsored Blue & Gold leadership team, have retained their places in the senior England squad for a huge season which starts with the Birmingham 2022 Commonwealth Games and culminates with the 2023 Netball World Cup in South Africa.
Defender Guscoth, with 36 caps, was part of the Roses squad for the 2019 World Cup in England, while mid-courter Allison and goal-attack Drakeford-Lewis – who have eight and 11 senior caps respectively – helped England win bronze at the 2017 Netball World Youth Cup in Botswana.
Drakeford-Lewis said: "I'm really pleased to be named in the Roses squad again, it is going to be such an exciting year. There is so much talent and competition in this country at the moment that you never take your place for granted."
Stepping up to the senior Roses ranks for the first time, having previously represented her country at U17 and U21 level, is defender Pavelin. She is training to be an accountant with Bath firm Pearson May and has been selected for the Futures programme, which allows players to focus on their dual careers while gaining exposure to high-level training and international match-play experience.
"I'm delighted to be selected for the Roses programme," said Pavelin, who has excelled in all three defensive positions for Team Bath over the past three seasons and has been a regular starter at wing-defence in recent weeks.
"I've been really pleased with my performances and it's nice to get that validation. Being able to play across the three positions helps me provide versatility to the squad and I'm looking forward to the opportunity of continuing to improve and learn with England.
"I am particularly grateful to Pearson May for their support. I really enjoy working there and when I said I wanted to put myself forward for England consideration they fully backed me."
Anna Stembridge, Team Bath Netball Superleague Head Coach, said: "Congratulations to Imo, Sophie, Layla and Tash on their well-deserved selections. Competition for places in the England squad is incredibly fierce, there are so many talented athletes in contention, so just getting selected is a fantastic achievement.
"Layla is the best goal-defence in the Superleague and probably internationally right now, and is always striving to be better still, while Imo and Sophie have shown over the past couple of years, domestically and internationally, that they can consistently produce top performances at the very highest level.
"I am delighted for Tash too. She played for England at age-group level so was always a talent but I think she has taken her game to a whole new level over the past couple of years. Her preferred position is goal-defence but she has embraced the challenge of playing at wing-defence this season and has really excelled against some of the league's best wing-attacks like Liana Leota and Natalie Metcalf.
"Tash is very smart, quiet and unassuming, and I believe, with this opportunity and the support of her club and her employer, she is going to get better and better."