Posted 29th Apr 2022
Team Bath edge thriller in dying seconds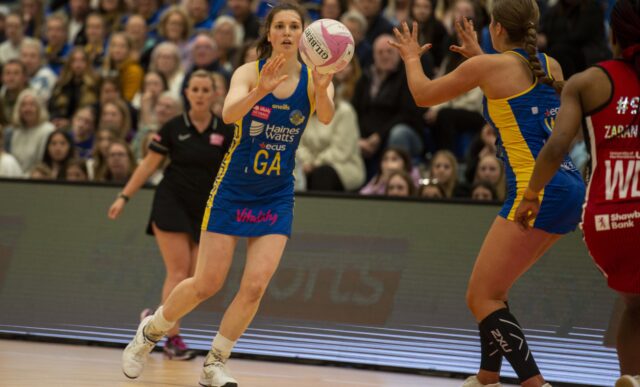 Team Bath kept their fans in almost cardiac suspense until the final seconds of Friday's Vitality National Superleague clash with Saracens Mavericks before edging the thriller by a single goal, 50-49 at the Team Bath Arena.
With a continuing place in the league's top four at stake and a long history of classic match-ups between the two sides, the crowd anticipated and received a peach of a game in which Bath came back from three-down with three-minutes to go to win the final quarter and the game.
"It was amazing, I am so glad to say that we won the game and that we came out on top", said Team Bath captain Imogen Allison
The ceiling almost burst off the University of Bath's Sports Training Village as the home side sealed the deal with a Kim Borger score and kept the opposition from replying. South Africa international Phumza Maweni was named Player of the Match. Her turn-overs proved pivotal in the final period.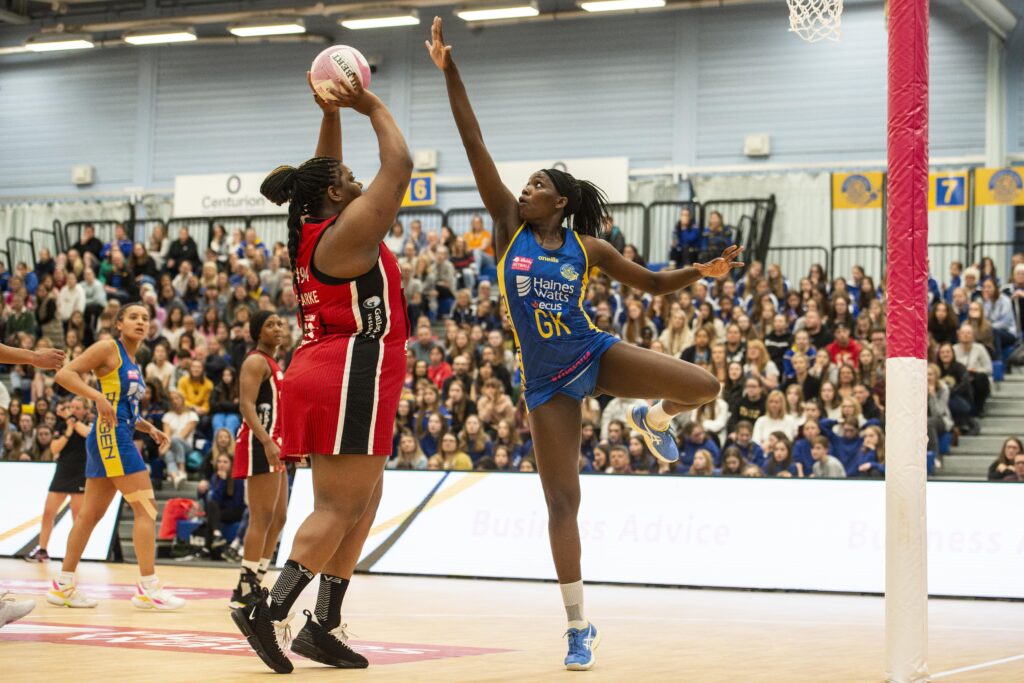 Earlier, it had all been about who could "be more clinical with possession" according to Anna Stembridge, the Team Bath coach after the game.
It was also about who could turn that possession into ball to their respective shooters. For much of the match Mavericks had the upper hand into metronomic shooter Britney Clarke and the effervescent crowd-pleaser and former Team Bath legend Kadeen Corbin at goal-attack.
Somewhat ironically, therefore, it was a Clarke miss which turned the tide in the final quarter, allowing the Haines Watts and Rengen-backed home side and their ecstatic fans to see a wedge of hope.
Not even the width of a silicon chip earlier separated the sides for much a match in which the two sides were drawn at 26-26 apiece at half-time.
Team Bath were back up to full strength today – bar the loss of the recently retired England captain Serena Guthrie – after a period marked by injury and Covid absences.
Mavericks, featuring former Team Bath players and sisters Kadeen and Sasha Corbin, were today without two of their big names in New Zealander Temalisi Fakahokotau, a defender, and Ine-Marie Venter a shooter. They were replaced by Bella Bayliss and Odiri Atirene in Saracens squad.
Team Bath took a while to settle but turned a 4-7 deficit at seven minutes gone into a 13-9 lead five minutes later. The Blue and Gold high-wattage defence of Roses star Layla Guscoth at goal-defence and Maweni at goal-keeper, had earlier threatened turnovers without result. The momentum switched, though, when they and the whole Bath defence, including Tash Pavelin at wing-defence, left Kadeen Corbin with nowhere to go and out of time.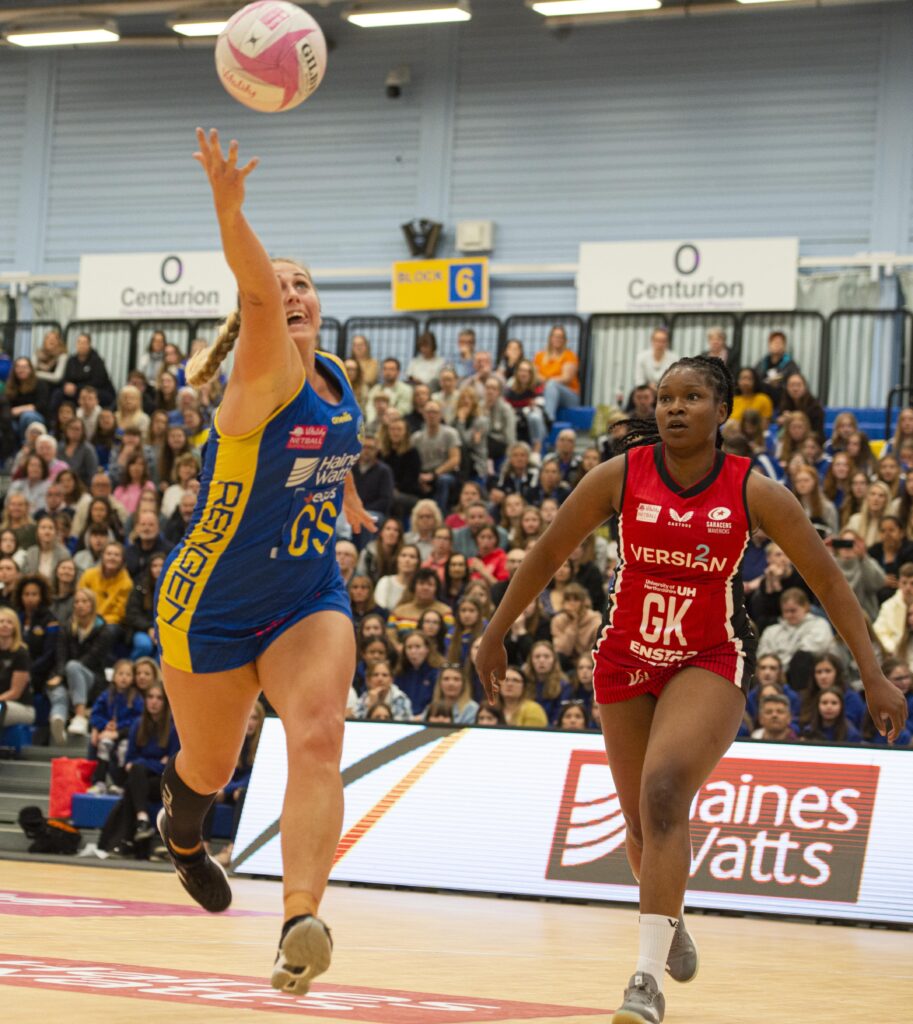 Kim "the claw" Borger scrapped and won ball in the circle from rapidly switched feeds between Kirsty Harris at wing-attack and Allison at centre. A final short-exchange with Sophie Drakeford Lewis at goal attack moved the home side to 15-12 at quarter-time.
Mavs coach Sam Castle swapped on Gabby Marshall, recently in the England squad, for Zaranyika at wing-defense for quarter two giving Harris a different challenge. The quarter saw Team Bath open with a turn-over before some super-brilliant flashes of play from Kadeen Corbin helped Mavs to close the gap at 18-18 after five minutes.
Not to be outdone her home counter-part, Drakeford-Lewis, countered with her own flying intercept which helped Bath create a two-goal cushion – only to see it eroded but then rediscovered when Allison produced a much-needed intercept to maintain momentum in front of a vocal and supportive crowd.
A rare Corbin missed shot helped the home side to a three-goal lead with six minutes to go to half-time but the vagaries continued as Mavericks came back to 21-21 and led momentarily at 25-26.
Somehow the Team Bath attack held out against some physicality in defence from Mavs to land a final goal to square the score at 26-26 at half-time. The match was truly beginning to live up to its billing.
Neither side could get the upper hand in a tense and crowd-quietening third quarter. The score slowly ticked from end-to-end belying the intense effort from both teams, especially their mid-courts and dynamic movement in both circles.
Sisters Rachel and Jess Shaw entered the fray at wing-attack and centre for the Blue and Gold in this quarter injecting pace and different angles of attack. Bath recovered from 32-34 down to lead 36-35 only to see that buffer squashed with Mavericks leading 40-36 at three-quarter time.
Just when the deal seemed to be sealed for the visitors who led by 42-46 with five minutes to go, Clarke missed a goal, Maweni turned-over twice and Team Bath came back from three goals down in deafening noise, to a stunning win at 50-49, denying Mavericks the chance to equalise.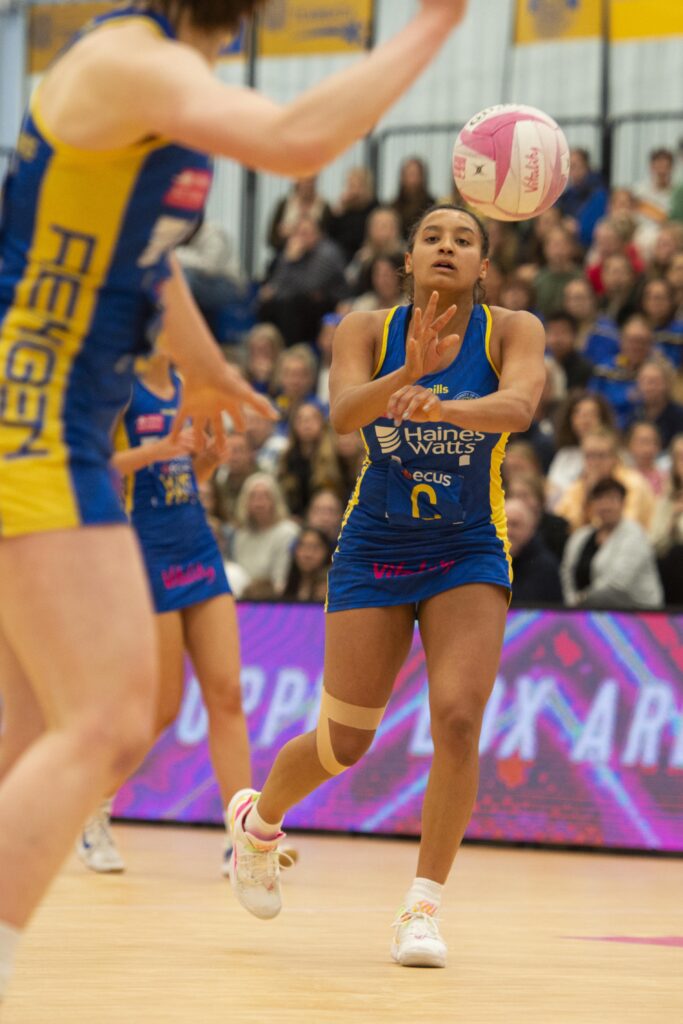 Asked about the deciding difference Allison said: "I think we just kept calm and kept patient and I think that's something we struggled with in the middle but in the end when we kept getting interceptions and it really came through".
Next up for Team Bath is an away fixture against Manchester Thunder on Monday. They next play at home on May 20th – their last match of the league phase – against Wasps with the first centre pass at 19.30. Tickets for this match at the Team Bath Arena are on sale now. Visit netball.teambath.com/tickets for more information
Team Bath Netball is supported by its Principal and Pathway Partner, chartered accountants Haines Watts; Rengen Developments, who are an overall Team Bath Partner; Centurion Chartered Financial Planners and Ecus Ltd, our environment partner. Team Bath's suppliers include O'Neills, 2XU, Pulseroll and HALO Hydration.
Match stats
Team Bath starting 7: GS Kim Borger (c), GA Sophie Drakeford-Lewis, WA Kirsty Harris, C Imogen Allison (capt), WD Tash Pavelin, GD Layla Guscoth, GK Phumza Maweni. Replacements: Lily-May Catling, Jess Shaw, Rachel Shaw, Betsy Creak, Hannah Passmore.
Changes: Q3 Rachel Shaw – WA, Kirsty Harris – B; Jess Shaw – C, Imogen Allison – B.
Saracens Mavericks starting 7: GS Britney Clarke, GA Kadeen Corbin, WA Sasha Corbin, C Beth Ecuyer-Dale, WD Aliyah Zaranyika, GD Jodie Gibson, GK Razia Quashie
Replacments: Gabby Marshall, Georgia Lees, Chloe Essam, Bella Baylis, Odiri Atirene.
Changes: Q2; Marshall – WA, Zaranyika – B.
Quarter scores (Team Bath first): Q1 15-12. Q2 11-14 (26-26). Q3 10-14 (36-40). Q4 14-9 (50-49).