Posted 25th Apr 2022
Fans, players and coaches gather to say 'Thank You Serena' during emotional on-court tribute to retiring Team Bath and England Netball great Serena Guthrie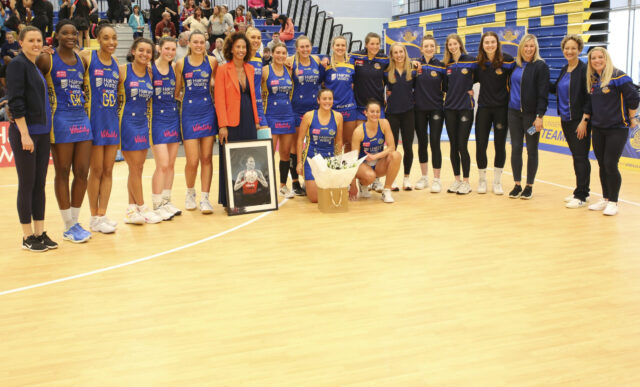 Team Bath Netball's fans, players and coaches had chance to celebrate the incredible career of Serena Guthrie during a special presentation following Saturday's Vitality Superleague win against Severn Stars.
On-court tributes to the England skipper, who is retiring to focus on family life, came from current Blue & Gold captain Imogen Allison, England team-mate Layla Guscoth and Team Bath Head Coach Anna Stembridge, while video messages flooded in from around the world from players and coaches past and present…
Allison summed it up when she said: "On behalf of all the players we want to congratulate you on you amazing career, Serena. You are such an amazing team-mate as well. Serena brings passion to the court but off-court she is a friend to everyone here.
Stembridge added: "Serena is sensational, an angel in disguise. When we talk about Serena we talk about a game-changer not only for Team Bath but her country. She has been part of all the milestones that have changed the international landscape. Serena leaves a legacy and the impact she has had on all of us is immense. The thing that makes me most proud about Serena is her ability to connect with everyone and bring out the best in everyone around her."
Guthrie said: "I don't think I was expecting all this. Thank you to my team-mates and thank you to Stars for sticking around, too. It's been an amazing journey that I've had being a part of Team Bath. My first Team Bath memory is as a 14-year-old and I'm now 32 so it's been a huge part of my life. I am so glad to have the privilege to finish my career at this club. It's been amazing to be able to share this journey."
The 2018 Commonwealth Games gold medallist had a parting shot for the crowd, saying: "Don't you stop supporting the Blue & Gold and I wish you all the best!"