Posted 11th Apr 2022
Team Bath in top-4 contention after home win against Pulse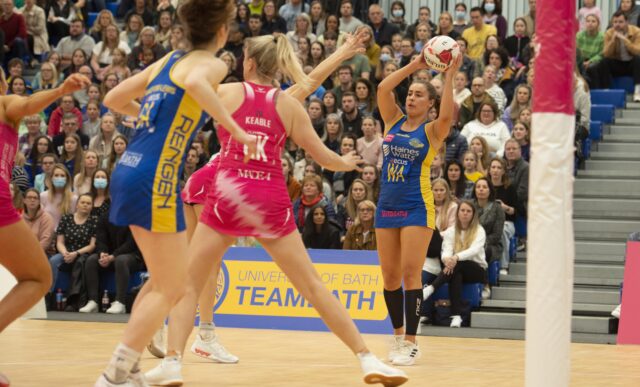 Team Bath drove home a timely 62-41 win over top-four spot rivals London Pulse on Monday night at the Team Bath Arena in the Vitality Netball Superleague.
Victory brought the Haines Watts backed squad equal on points not only with Pulse but also Saracens Mavericks as the battle for semi-final places intensifies.
Team Bath, sponsored by Rengen, were in combative form after an impressive away 41-66 win against Surrey Storm on Friday and used their first, third and final quarters with particular panache to beat Pulse after a lull in quarter two.
Defensive turn-overs from Phumza Maweni and Layla Guscoth were coupled with hard-working performances across the squad.
The win for Anna Stembridge's side was all the sweeter for being a reversal of an away loss to the Copper Box-based franchise during the Season Opener weekend.
"We still have a way to go", said Stembridge after the game, 'and I know it's cliched but we've had a really good, solid training block and this was a full squad performance just as it was on Friday.
"We're really pushing each other individually and collectively and we executed the game plan across four quarters on Friday and again tonight".
In the first 10 minutes of tonight's encounter the home side built an early lead at 7-2, highlights included a flying intercept from Tash Pavelin at wing-defence and a rocket feed from eventual Player of the Match, Kirsty Harris, to Kim Borger at goal-shooter.
A few stutters prevented the Blue and Gold from stamping their authority strongly and Pulse, settling into their rhythm and picking up the pace, twice moved back to within three goals of the lead.
With five minutes of the period remaining the Team Bath attack won some tough tussles with Pulse defenders Lindsay Keable and Zara Everitt to ease out their lead. Borger sealed out the period with a stunning long shot for 16-8.
Pulse coach Sam Bird switched up her team in the second quarter, using Alicia Scholes – daughter of football legend Paul Scholes – at wing-attack in a constantly revolving centre court as she fought to counter the homes side's strengths. With five minutes to go she also sent Keable and Rattu to the bench bringing on Jasmin Odeogberinat at wing-defence and Jayda Pechova at goal-keeper.
Whilst not immediately effective Pulse began to battle as they raised their tempo and morale and made it harder for the Team Bath attack to get the ball into the circle. The Blue and Gold seemed to enter a lull phase and the crowd quietened as Pulse came back within six goals at half-time, 26-20.
In the third quarter, Pulse swapped back in Tayla Honey at wing attack, moving Scholes to the bench. For Team Bath, Jess Shaw came on for Imogen Allison at centre and Harris moved to wing-attack.
Roared on by a now vocal-again home crowd Team Bath seemed to re-find their fizz and were soon 10 up at 33-23. Goal-keeper Maweni's two flying intercepts and netball's equivalent of an interception 'try' from shooter Borger were spectacular moments dotted across a hard-working unit in all areas.
With just under two minutes of the quarter remaining, Shaw, Harris, Borger and Drakeford-Lewis switched the ball left and right of the circle in some eye-catching interchanges to bring the score to 43-28. From here Team Bath looked set to dominate.
Just before the interval Betsy Creak made a cameo appearance at goal-shooter for Borger who was struck in the face accidentally. The Aussie Crowd favourite was back for the final period though and Team Bath brought up the 50 mark with five minutes gone in a crowd-pleasing phase packed with possession and athletic turn-overs.
Released from any real score-board pressure Team Bath slung the ball freely and tried some spectacular moves in the final six minutes before taking the win 62-41.
Harris was chosen as player of the match by a local panel which included England legend and now broadcaster Pamela Cookey. An excited Harris said: "I've been given a lot of opportunities this season and whenever that's happened I've just really tried to grab them.
"It was really good tonight we wanted to come out and carry on the performance from Friday and we did. We wanted to be on it in attack and defence for the full 60 [minutes] and this evening we had some dips this evening but we're doing it and we really applied the pressure in defence, too".
Next up for Team Bath, then, is a Spring Showdown fixture against Leeds Rhinos in Birmingham on Easter Sunday whilst their next home match will be against local rivals Severn Stars on April 23rd when the Arena will also pay tribute to Serena Guthrie, the England captain, who recently announced her retirement (centre pass at 16.00)
Tickets for this match and the other home fixtures at the Team Bath Arena are on sale now. Visit netball.teambath.com/tickets for more information.
Team Bath Netball is supported by its Principal and Pathway Partner, chartered accountants Haines Watts; Rengen Developments, who are an overall Team Bath Partner; Centurion Chartered Financial Planners and Ecus Ltd, our environment partner. Team Bath's suppliers include O'Neills, 2XU, Pulseroll and HALO Hydration.
Match stats
Team Bath starting 7: GS Kim Borger (c), GA Sophie Drakeford-Lewis, WA Kirsty Harris, C Imogen Allison (capt), WD Tash Pavelin, GD Layla Guscoth, GK Phumza Maweni. Replacements: Lily-May Catling, Jess Shaw, Rachel Shaw, Betsy Creak, Hannah Passmore.
Changes: Q3 Jess Shaw – C, Harris – WA, Allison – bench.
London Pulse starting 7: GS Olivia Tchine, GA Sacha McDonald, WA Ashleigh Dekker, C Tayla Honey, WD Ellie Rattu, GD Zara Everitt, GK Lindsay Keable. Replacements: Neil Berri, Jasmin Odeogberin, Jayda Pechova, Kira Rothwell, Alicia Scholes,
Changes: Q2; Dekker – C; Scholes – WA, Honey- bench, Odeogberin – WD, Pechova- GK, Rattu- bench Q3; Honey- Wa, Scholes – bench.
Quarter scores (Team Bath first): Q1 16-8. Q2 10-12 (26-20). Q3 43-31 (17-11). Q4 19-10 (62-41).
ENDS
Attached: Picture of Team Bath Netball v London Pulse in the Vitality Superleague. (1) player of the match Kirsty Harris (right) poised to make another telling feed CREDIT: Clare Green for Matchtight.
For further information and images, please contact the Team Bath press office at Matchtight Ltd on press@matchtight.co.uk.