Posted 13th Mar 2022
All-important points on the board from home win against Dragons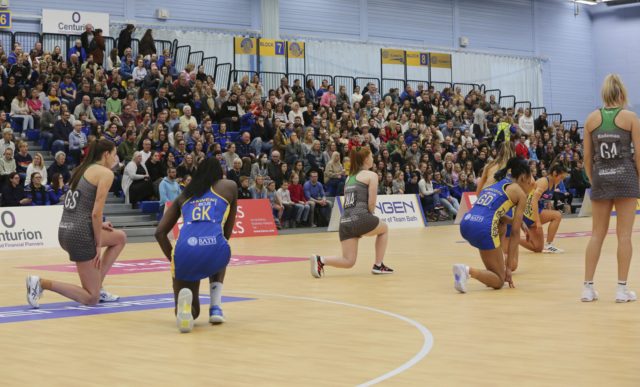 Team Bath put some all-important points on the board in the hunt for a top-four finish with a convincing home win against the Welsh Franchise, Celtic Dragons, at the Team Bath Arena, Sunday.
After labouring to eke out a lead in the opening two quarters, despite some clever passages of play, Team Bath unleashed a controlled attack to score 10 unanswered goals in the third period, going on to victory by 59-43.
Coach Anna Stembridge said: "Today we were seeking that four-quarter performance and today I think we probably got it for about three quarters. Credit to the girls, we spoke at half-time about what Dragons were going to bring to us and I felt we dealt with it in terms of their changes and tactically. We definitely upped our game in terms of dealing with the physicality.
"We definitely undulated a bit even in that third and fourth quarter, though, so we just need to deal with that.
'We need to be comfortable going goal-to-goal, we could have pushed on today a bit more in the second quarter and that's what I keep saying we need to find a point of difference to do that but credit to Dragons they were causing us difficulties and adjusting their game".
The Haines-Watts and Rengen-sponsored Team Bath squad now have just 24 hours to recover before they take on 2021 Champions Loughborough Lightning at the University of Bath Sports Training Village.
For today, Stembridge carefully husbanded her playing flock with the 24-hour double-header in mind, Kirsty Harris was once more elevated from the training partner ranks to the starting seven and Anya Le Monnier, a training associate, moved up to the replacements bench.
Dragons, captained by Nia Jones, arrived seeking to bounce back from a harsh defeat to Wasps on Friday but having shown their potential with a preceding, solid win against Stars in Round 6.
Team Bath's mettle had been tested but not found wanting 10 days before in a home classic – albeit a loss – to table-toppers Manchester Thunder. With the momentum growing with each round, Team Bath were looking to put down a marker and move up from 6th place before Monday night's game.
Arriving quietly in the wake of her pregnancy announcement this week but vocal in her support and advice to her team-mates, Team Bath legend Serena Guthrie was determined to help where she could alongside the 850 fans at the University of Bath.
Celtic Dragons, coached by Danielle Titmuss, featured South African goal-attack Lefebre Rademan as well as former Team Bath squad members Laura Rudland and Leila Thomas.
Both sides started at pace and traded blows in the opening quarter until Team Bath eased to a two-point margin at 6-4 with effective feeds to the ever-sharp Kim Borger.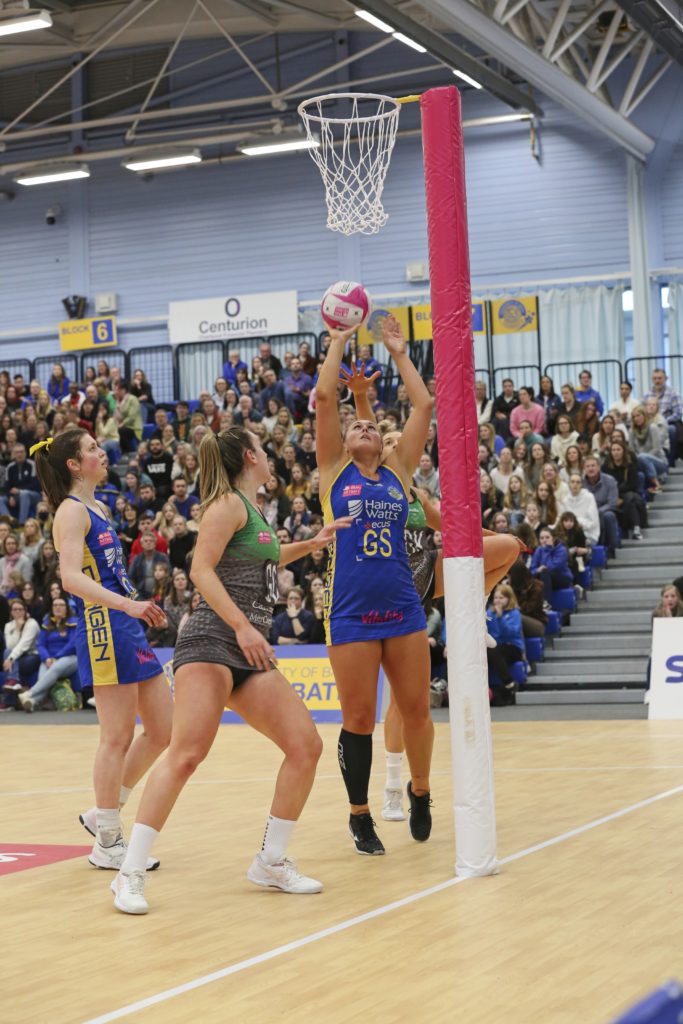 England International goal-attack Sophie Drakeford Lewis joined the shooting party as the home side went 7-5 up. Flashes of Team Bath brilliance, like an eye-watering rocket feed from wing-attack Kirsty Harris into Borger, were intertwined with handling errors and meant that Team Bath lost their four-goal buffer to go into the first break at 15-13.
A run of three and, later, four unanswered goals in the second half helped the home side to a 23-18 lead after 8 minutes of the second period – once again characterised equally by thrills and spills from both sides. In the home defence, Layla Guscoth at goal-defence and South African international Phumza Maweni, at goal-keeper, made some eye-catching tips and intercepts.
Tash Pavelin and Jess Shaw worked tirelessly in the mid-court for Team Bath with both Clare Jones and South African Rademan proving feisty and fast for the opposition. Team Bath switched Shaw sisters, Jess and Rachel, at wing attack partway through the quarter in which Harris had moved to centre from the outset and which Bath won to lead 28-21.
Quarter 3 proved the place and moment for the home side to wreak some fatal damage on the visitors scoring 10 unanswered goals to move from 30-22 to 40-22 in a ruthless display in which Rachel Shaw was once again in full flow. Coach Stembridge took the opportunity to put Lily-May Catling on at wing-defence, resting Pavelin and bringing the effervescent and rangy Besty Creak on in lieu of Borger at goal-shooter. By the three-quarter break Team Bath led 46-30.
Credit to Celtic Dragons who fought for every ball to the end – sometimes displaying the type of over-abundance which earned Nia Jones a caution. Secure of the win, the Blue and Gold coaching team made multiple changes to test out new combinations.
Kim Borger came back on for Drakeford-Lewis at goal-attack, Guscoth switched to goal-keeper and Maweni was substituted by Pavelin at goal-defence in a period in which the wider squad shone, including Lily-May Catling, at wing-defence, with a couple of well-fought intercepts to her credit.
The score-board gradually ticked-over with the home side still dominating before Team Bath closed out the win 59-43.
With Loughborough tomorrow in mind, Stembridge was particularly pleased at the opportunity to play a side who had a tall timber goal-shooter in Georgia Rowe and a very mobile goal-attack.
"That will have helped us prepare well for tomorrow as well as the 'middies' liking to play off the body. So, I think we need more of the same tomorrow but just making sure we do it for longer and across those four quarters", said Stembridge.
Sophie Drakeford Lewis as named Team Bath Player of the Match today, receiving a bouquet of flowers from Team Bath franchise manager Alicia John on court after the match.
Next up for Team Bath, then, is Monday's home clash with Loughborough Lightning, the reigning Superleague Champions, at the Team Bath Arena with first centre pass at 17.30
Tickets for this match and the other home fixtures at the Team Bath Arena during the 2022 season are on sale now. Visit netball.teambath.com/tickets for more information.
Team Bath Netball is supported by its Principal and Pathway Partner, chartered accountants Haines Watts; Rengen Developments, who are an overall Team Bath Partner; Centurion Chartered Financial Planners and Ecus Ltd, our environment partner. Team Bath's suppliers include O'Neills, 2XU, Pulseroll and HALO Hydration.
Match stats
Team Bath starting 7: GS Kim Borger (c), GA Sophie Drakeford-Lewis, WA Kirsty Harris, C Jess Shaw, WD Tash Pavelin, GD Layla Guscoth, GK Phumza Maweni. Replacements: Lily-May Catling, Imogen Allison, Rachel Shaw, Betsy Creak, Lily Jones.
Changes: Q2 Shaw – WA, Karris – C, Rachel Shaw – WA, Jess Shaw – B; Q3 Betsy Creak – GS, Kim Borger – B. Lily-May Catling – WD, Tash Pavelin – B. Q4 – Borger – GA, Drakeford Lewis – B, Jess Shaw – C, Harris – B, Guscoth – GK, Maweni – B, Pavelin – GD.
Celtic Dragons starting 7: GS Goergia Rowe, GA Rademan Lefebre, WA Shona O'Dwyer, C Clare Jones, WD Nia Jones (c), GD Annabel Roddy, GK Leila Thomas. Replacements: Shaquanda Greene-Noel, Lucy Howells, Laura Rudland, Katrina Short, Phillipa Yarranton.
Changes: Q3: Thomas – B, Greene-Noel – GK, Rudland – WA, O'Dwyer – B. Q4 Clare Jones – B, O'Dwyer – C.
Quarter scores (Team Bath first): Q1 15-13. Q2 13-8 (28-21). Q3 18-9 (46-30). Q4 13-13 (59-43).