Posted 4th Mar 2022
Team Bath Netball left to rue big last-quarter swing as Superleague leaders Manchester Thunder extend winning run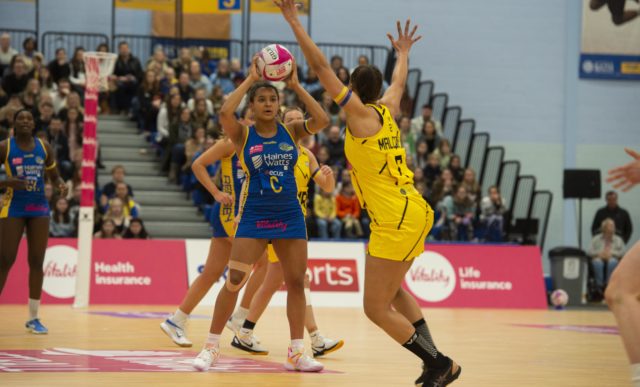 A ten-goal swing in the opening stages of the final quarter saw Team Bath Netball slip to defeat against Vitality Superleague table-toppers Manchester Thunder at the Team Bath Arena tonight.
The Haines Watts-sponsored Blue & Gold had treated a capacity crowd to some fantastic netball for the first 45 minutes, only for the league leaders to flip the game completely on its head in the next five minutes as they turned a 42-39 deficit at the end of Quarter 3 into a 49-42 lead.
Team Bath rallied once again in the closing stages but the damage had been done and it was Thunder who left with a 57-53 victory to make it seven wins in a row at the start of the 2022 season.
Anna Stembridge, Team Bath Netball Superleague Head Coach, said: "It's a hard one to articulate really. We were great for three-quarters of the game and I'm hugely proud of the performance we put out, it was some of our best netball so far this season.
"We won two of the four quarters and drew the third but unfortunately they've won it in those five minutes of the last quarter. To give them a run like we did, it's just not OK. We stopped doing the things that had worked well for us and allowed them to go out too far."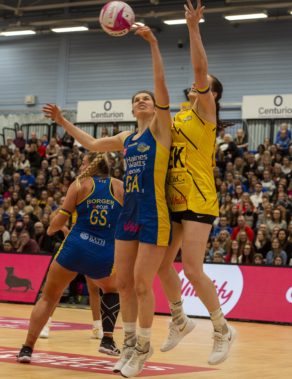 Captain Imogen Allison added: "It's disappointing. We did well to be leading the game and we believed we could see it out but they went on a run we just couldn't stop. We need to see how we stop those runs against us.
"We can take a lot of positives from the game, though, and the first three quarters are definitely something we should be proud of."
Past history between the teams suggested this would be a close-fought contest and so it proved in the first quarter, which went goal for goal for the opening five minutes. It was two interceptions from England defender Layla Guscoth which provided the platform for Team Bath to edge ahead, which – with Sophie Drakeford-Lewis in fantastic shooting form – they took full advantage of to move four goals clear.
The home side were fizzing the ball around confidently but Thunder seized on a couple of errors to make it a one-goal game again at the end of the first quarter, Team Bath holding a narrow 16-15 advantage.
The second quarter started positively for Team Bath as they regained their four-goal advantage but after that it became a tight, tense affair as both sides cranked up the defensive pressure. The hosts made a couple of changes in mid-court, with the Shaw sisters – Jess and Rachel – coming on at C and WA respectively, while Betsy Creak also entered the fray at GS as Team Bath adapted to the challenge being posed by Thunder, who once again closed to one goal with a minute of the half to go.
However, the Shaw sisters combined brilliantly to force a vital turnover that had the crowd roaring and Team Bath took full advantage to go into the interval with a 29-26 lead.
Thunder made some changes of their own at half-time, with player of the match Laura Malcolm moving to WD and Caroline O'Hanlon taking her place at C, and they had an immediate impact as they rattled off the first four goals of the third quarter, only for Team Bath to respond with three of their own.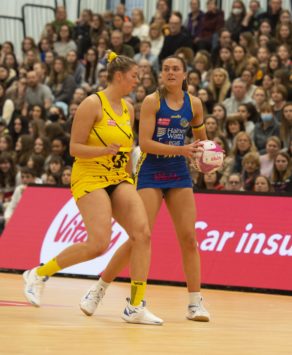 It was a start that set the tone for an absorbing period of play that saw mini momentum swings in both directions, with Team Bath stretching their advantage to six goals at one point thanks to some fantastic feeds and finishing under pressure from the Shaws, Drakeford-Lewis and Creak.
Home debutant Phumza Maweni, Guscoth and Tash Pavelin were also in fine defensive form but some attacking changes from Thunder helped them rally once again and they closed the gap once more, with the quarter finishing all square on 13-13 and Team Bath's lead remaining at three.
However, within five minutes of the restart, that lead had turned into a seven-goal deficit as a pumped-up Thunder side – inspired by some wonderful finishing from Eleanor Cardwell – scored ten times without answer to turn the game completely on its head.
With captain Allison back at centre and Kim Borger returning at shooter, Team Bath cleared their heads and fought their way back into the match with a four-goal burst of their own to have the crowd on their feet. However, try as they might, they couldn't cut the gap any further as Thunder saw out their seventh win of the season.
Next up for Team Bath in their March home run are two matches in as many days at the Team Bath Arena. First they face Celtic Dragons on Sunday 13th March (2pm) before taking on defending champion Loughborough Lightning on Monday 14th March (5.30pm) in a repeat of last season's Grand Final.
Tickets for those matches and the other home fixtures at the Team Bath Arena during the 2022 season are on sale now. Visit netball.teambath.com/tickets for more information.
Match stats
Team Bath starting 7: GS Kim Borger, GA Sophie Drakeford-Lewis, WA Kirsty Harris, C Imogen Allison, WD Tash Pavelin, GD Layla Guscoth, GK Phumza Maweni. Replacements: Lily-May Catling, Jess Shaw, Rachel Shaw, Betsy Creak, Lily Jones.
Manchester Thunder starting 7: GS Joyce Mvula, GA Eleanor Cardwell, WA Natalie Metcalf, C Laura Malcolm, WD Yasmin Roebuck, GD Shadine van der Merwe, GK Kerry Almond. Replacements: Yomi Eza-Wilson, Caroline O'Hanlon, Lois Pearson, Emma Rayner, Millie Sanders.
Quarter scores (Team Bath first): Q1 16-15. Q2 29-26 (13-11). Q3 42-39 (13-13). Q4 53-57 (11-18).