Posted 8th Feb 2022
Team Bath Netball trio provide engaging insight into life on and off court during entertaining 'meet the stars' evening staged by Rengen
Did you know that on the very same day Serena Guthrie came to netball trials at Team Bath, aged 16, she'd also been invited to football trials with a big, national club?
She chose to attend the netball ones, not because she preferred it as a sport but because she wasn't as good at netball and thought they would provide a better challenge. The rest, as they say, is history.
This is one of the insights which entertained and engaged an audience at Rengen House in Bath city centre on Monday – an evening of netball chat staged by Team Bath main partner Rengen Lettings and Developments.
Serena, now the Roses captain, has gone on to be one of the greatest mid-court players of all time, at both centre and wing-defence and one of the most-loved stars of Team Bath. Thank goodness, we suspect most netball fans are saying on hearing this, that she likes to challenge herself in everything she does.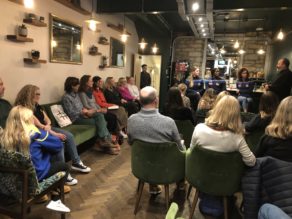 Phumza Maweni also admitted to a talent for football during the evening, as she was brought up "surrounded by boys" but says she now prefers playing tennis for fun. She also revealed that she came into netball very late and made her international debut for South Africa aged 28.
Phumza was asked by eight-year-old Bella to name the person who had most inspired her to play netball. Without hesitation she named former Team Bath stalwart and now Roses legend Geva Mentor. "She was one of the people I admired when I first played netball. I still do."
Mentor also provided early inspiration for fellow newcomer Lily-May Catling, who completed the Blue & Gold trio at the Rengen event. Both came through Bournemouth Netball Club. A slightly coy Catling also named Serena Guthrie as one of her early heroines of the sport. "She still is really," she joked, which made the audience smile.
Serena also spoke eloquently about how the sport had changed since she joined Team Bath as an unknown 16-year-old and of how the Vitality Netball Superleague was approaching the same level of presentation, playing standard and excitement as the leagues in Australia and New Zealand.
"We're getting there," she said. "The sport is definitely growing. Now we just need a few more resources so that we can have media travelling with us and giving the fans an insight into who we are as people."
Serena admitted to feeling that kind of attention intrusive when she first played in Australia but said she understands that fans need that kind of insight about the players as people and events, like the evening being staged by Rengen, all played their part.
Asked by the evening's compere about their most memorable moments in the sport, Phumza chose to talk about the way in which sport had opened up the ability to travel and understand new cultures.
Lily-May said it was the moment she got the call from Anna Stembridge to play for Team Bath this season. "Since I was younger and playing in the NPL for Team Bath I've always wanted to play in the Blue & Gold so that moment was very special."
Serena talked of feeling like The Beatles in Liverpool when she captained the Roses at their home World Cup in 2019. This was one of her biggest moments in a career which has had so many, with more yet to come.
All three encouraged the young players in the audience to keep on enjoying the sport to see where it could take them. They also would not be drawn on predictions this season in one of the most competitive Superleagues yet.
"We won one and we lost one at the weekend," explained Lily-May. "We learnt a lot from both experiences and, like we all said, we would rather have that close and exciting loss against Pulse at this end of the season rather than later on. We can take the learnings from that one and make the changes we need".