Posted 13th Jun 2021
Frustrating first quarter leaves Blue & Gold with too much to do as superb Saracens Mavericks complete Vitality Superleague double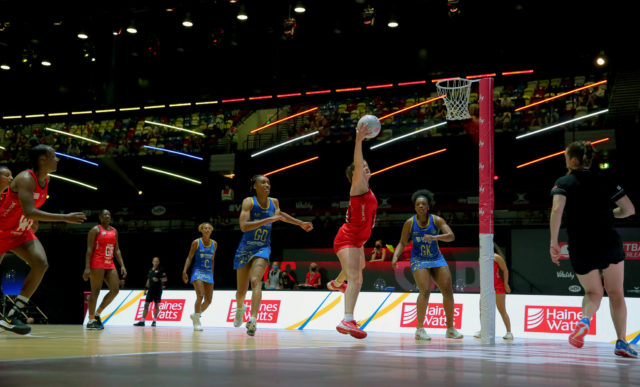 Top-four chasing Saracens Mavericks produced a fantastic all-round performance to inflict only the second defeat of the 2021 Vitality Superleague season on Team Bath Netball.
The Haines Watts-sponsored Blue & Gold were edged out by one goal when the old rivals met earlier in the season but they were on the back foot throughout today's match at London's Copper Box Arena.
Mavericks, who needed the points to maintain their semi-final bid, stormed into a seven-goal lead during a dominant first quarter which they stretched to ten at half-time and while Team Bath kept battling away, they were unable to close the gap and slipped to a 46-35 defeat.
Anna Stembridge, Team Bath Netball Superleague Head Coach, said: "We are definitely frustrated. We knew Mavericks would come out hard but we were just so hesitant in that first quarter. We let the scoreline blow out and you can't do that against a class side like Mavericks, we left ourselves with a mountain to climb.
"There were some good things, the fight in the second half was pleasing to see and I was really happy with the introduction of Betsy Creak at shooter and how Kim [Borger] and Sophie [Drakeford-Lewis] played out in front of her. We'll get back to training, look at that first quarter and be sure to address that. We still have our goal in mind and we're still on course, we just need to tidy some stuff up."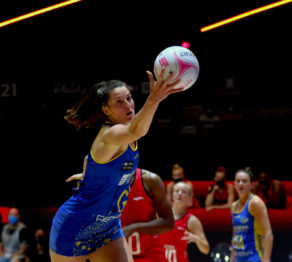 A blistering start by Mavericks saw them turn over the first centre pass and quickly open up a 5-1 lead against a Rengen-backed Team Bath side who were struggling to find space in attack against a well-drilled defence.
By contrast, Mavericks were looking slick going forward and they built the momentum throughout a one-sided quarter to open up a healthy 12-5 advantage.
Stembridge made a change in attack for the second quarter, with Borger moving to goal-attack and Creak – who was named in the Wales squad this week – coming on at goal-shooter.
However, it was Mavericks who continued to have the upper hand and they stretched their lead to 11 goals, with their confidence summed up by some brilliant long-range goals from Rengen Player of the Match Ine-Mari Venter and former Team Bath player Kadeen Corbin.
Drakeford-Lewis returned to court in the wing-attack position as Team Bath looked to shake things up but a disappointing half ended with them 23-13 adrift.
Jo Trip replaced Jodie Gibson at wing-defence in the first change of the game for Mavericks, who came under some concerted early pressure from a determined Team Bath side before regaining the initiative and extending their advantage to 30-15.
Team Bath kept battling away and began moving the ball with more fluidity during their best spell of the game, scoring five goals in quick succession to reduce the lead to ten again, but Mavericks had the final say to take a 33-22 cushion into the final quarter.
Clearly frustrated by their performance so far, Team Bath came out firing for the last 12 minutes but mistakes began to creep back in late on as they chased the game and Mavericks, despite losing Beth Ecuyer-Dale and Razia Quashie to injury in the closing stages, were able to see out an impressive 46-35 victory.
Team Bath play their final match of the regular Superleague season on Monday 21st June against second-placed Loughborough Lightning (7.15pm centre-pass) in a game that will determine which team finishes top of the table. It will be shown live on Sky Sports Mix and Sky Sports YouTube, links will be available here.
Team Bath Netball is supported by its Principal Partner, chartered accountants Haines Watts, who are also a pathway partner, and by Rengen and Centurion Chartered Financial Planners. O'Neills are Team Bath's official kit supplier and 2XU are their compression wear suppliers.
Match stats
Team Bath Netball starting 7: GS Kim Borger, GA Sophie Drakeford-Lewis, WA Rachel Shaw, C Serena Guthrie, WD Imogen Allison, GD Layla Guscoth, GK Eboni Usoro-Brown. Replacements: Summer Artman, Tash Pavelin, Abi Robson, Kirsty Harris, Betsy Creak.
Changes: Q2: Creak – bench to GS; Borger – GS to GA; Drakeford-Lewis – GA to bench, bench to WA; Shaw – WA to bench.
Saracens Mavericks starting 7: GS Ine-Mari Venter, GA Kadeen Corbin, WA Sasha Corbin, C Beth Ecuyer-Dale, WD Gabby Marshall, GD Jodie Gibson, GK Razia Quashie. Replacements: Chloe Essam, Georgia Lees, Steph Collard, Britney Clarke, Jo Trip.
Change: Q3: Trip – bench to GD; Gibson – GD to bench. Q4: Lees – bench to WA; S Corbin – WA to C; Ecuyer-Dale – centre to bench; Gibson – bench to GD; Trip – GD to GK; Quashie – GK to bench.
Quarter scores (Team Bath first): Q1 5-12; Q2 13-23 (8-11); Q3 22-33 (9-10). Q4 35-46 (13-13).
Rengen Player of the Match: Ine-Marie Venter (Saracens Mavericks).