Posted 9th May 2021
Bath on song to dominate Rhinos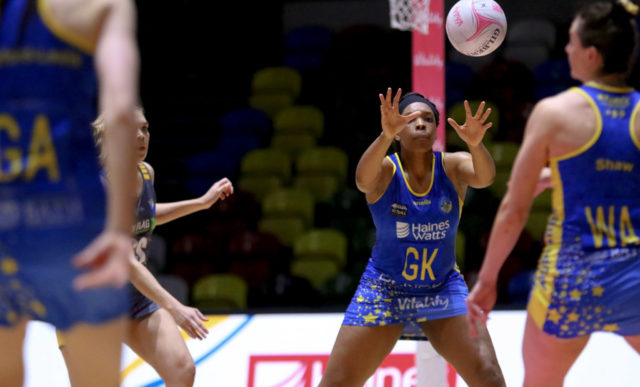 Table-topping Team Bath Netball showed their experience, energy and precision to take a second win over league-newcomers Leeds Rhinos this season at London's Copper Box Arena on Sunday.
Once again a strong second quarter, replicating the same pattern when the two sides last met exactly a month ago in the Vitality Netball Superleague, put the Haines Watts-sponsored side in the driving seat on their way to a 59-43 victory.
Team Bath goal-defence Layla Guscoth won the Rengen Player of the Match award for the part she played in neutralising Rhinos' rangy, target goal-shooter and main attack weapon, Donnell Wallam, alongside Eboni Usoro-Brown at goal-keeper. But this was a whole-team performance.
Rachel Shaw's work-rate and ability to take ball deep in the pocket and her feeding were eye-catching at wing-attack and the whole centre-court including Shaw, Imogen Allison and Serena Guthrie won an often-feisty tussle for possession. They also showed an ability, with shooters Kim Borger and Sophie Drakeford-Lewis, to change up the speed, tactics and direction of attack almost at will.
The neutrals had predicted a closer match-up but Bath were quickly in the zone and began to build. "We had to be on it from the first minute and that's what we did", said Guscoth. "We had a good weekend last weekend and this weekend should fill us with a bit of confidence, it's the home straight now and let's see what we can do".
Head Coach Anna Stembridge also talked of her side's inexorable build throughout the opening three quarters: "I think we really built the pressure, in terms of defensively. We talked about making sure that we were really clinical and mostly we were, but we're still looking for that full four-quarter performance" – a glancing reference perhaps to a stuttering passage of play partway through quarter four.
Both head coaches, Stembridge and Dan Ryan, had named unchanged sides with Stembridge including Dr Guscoth in her tried and trusted seven despite a preceding week of hospital night shifts.
For Rhinos, unbeaten in their three previous matches, the encounter was all about chasing down a place in the final four.  Team Bath, meanwhile, were seeking to improve on their previous two outings – both wins but after which coach Stembridge said the side "had things to improve and work on."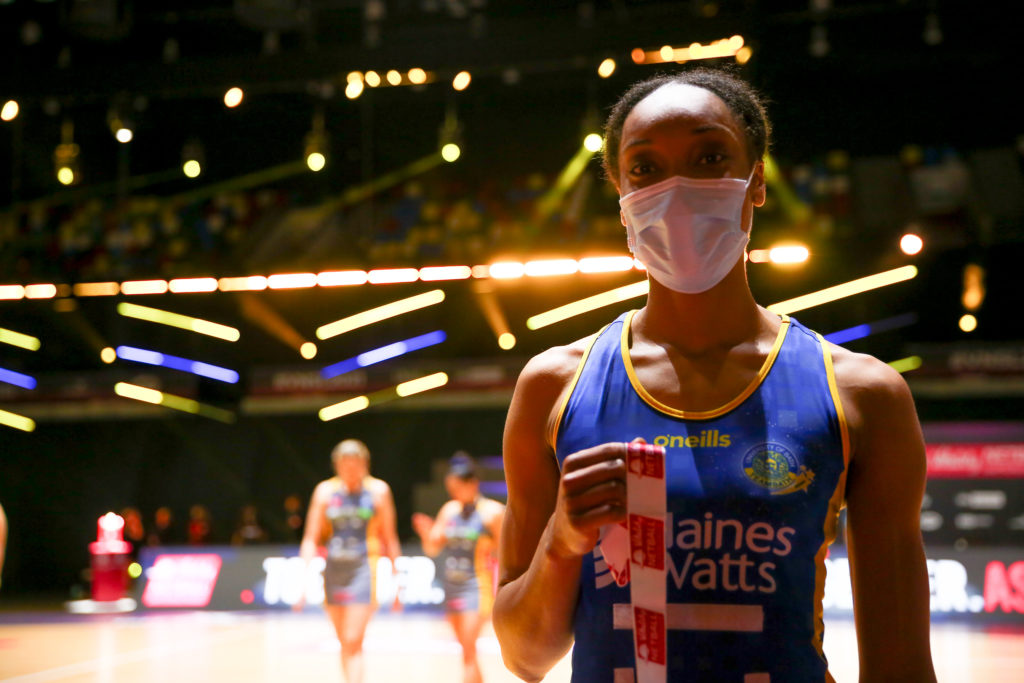 This time Team Bath, winners by 52-46 last time, started strongly, taking the first quarter 14-11, benefitting from three over-throws from Rhinos to Wallam – who was forced to over-stretch by the Bath defensive end – and a pair of sharp-witted intercepts from Shaw at wing-attack and Guscoth, within two minutes of the break.
In the second period, the intercepts came this time from Allison, Guthrie and Drakeford-Lewis. They underlined the way in which Bath's centre-court dominated and increased the pressure on their opponents who included England stalwart Jade Clarke and neutralised Rhinos' ability to feed Wallam, despite leaving Rhea Dixon at goal-attack free at times to receive and score.
Multiple shifts of direction at an elevated pace into the circle gave Bath the freedom to score five without answer to stretch their lead to 22-13 before closing out the quarter 31-19 in a feistily-contested period.
"It was full-on 7 on attack and 7 on defence," said Stembridge. "That was good to see. We were clear what we had to do to build the pressure and we saw that more consistently today.
"Our variation of pace of ball and how we moved the ball round, our changes of angle and lines were all thing we spoke of in advance."
Ryan earlier made some changes with former Bath player Fi Toner on at wing-defence from the second quarter but Bath dominated the early minutes of the third quarter and the lead could have been stronger if two Usoro-Brown turn-overs in defence had been converted.
Rhinos capitalised on the momentary Bath lapses with a scoring spell, from long balls to Wallam. They scored three without reply to narrow the gap but only briefly before Bath, down to six players, closed out at 59-43.
Ryan praised his opponents post-match: "Full credit to Team Bath, they were a class above today and we struggled to find our own quality and our own performance. I think that was a lot about Bath not allowing us to. It's now all about the response for us."
Team Bath's next match is on Sunday 16 May against Surrey Storm at 14.00, again at the Copper Box.
Team Bath Netball is the Superleague franchise for the South West of England and has Academy Training Centres in every district – Bristol, Cornwall, Devon, Dorset, Gloucestershire, Somerset and Wiltshire. The club is supported by its Principal Partner, chartered accountants Haines Watts, who are also a pathway partner, and by Rengen Developments and Centurion Chartered Financial Planners. O'Neills are Team Bath's official kit supplier and 2XU are their compression wear suppliers
Match stats
Team Bath Starting Seven
GS Kim Borger, GA Sophie Drakeford-Lewis, WA Rachel Shaw, C Serena Guthrie, WD Imogen Allison, GD Layla Guscoth, GK Eboni Usoro-Brown.
Changes: Q4 Artman to GK, Usoro-Brown to bench, Pavelin to GD, Guscoth to B.
Bench: Summer Artman, Betsy Creak, Kirsty Harris, Tash Pavelin, Abi Robson.
Leeds Rhinos Netball Starting Seven
GS Donnell Wallam, GA Rhea Dixon, WA Brie Grieron, C Jade Clarke, WD Emily Hollingworth, GD Vicki Oyesola, GK Tuaine Keenan
Changes: Q2 Toner – WD, Hollingworth – B.
Bench: Rosie Harris, Paige Kindred, Michelle Magee, Sienna Rushton, Fi Toner.
Quarter scores (Team Bath first): Q1 14-11; Q2 31-19 (17-8); Q3 43-28 (12-9); Q4 59-43 (16-15).
Rengen Player of the Match: Layla Guscoth.