Posted 3rd May 2021
Double Superleague Joy for Team Bath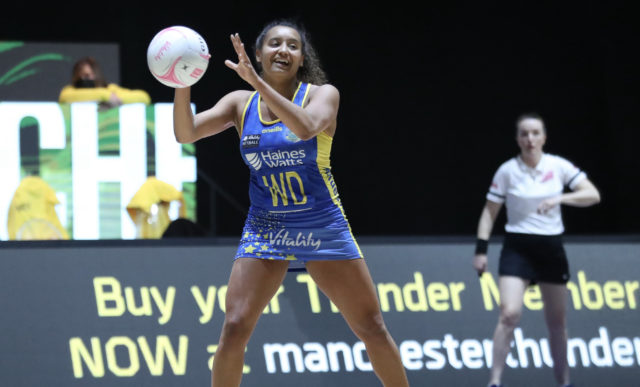 Team Bath twice came from behind on Monday to win one of the 2021 Vitality Netball Superleague's most enthralling encounters so far by 44-41 over perennial rivals Manchester Thunder, closing out back-to-back victories after Sunday's defeat of Wasps 41-37.
Bath centre and Player of the Match Serena Guthrie hailed the Haines Watts-sponsored side's victory as a 'championship performance' at London's Copper Box.
Trailing by five goals (17-22) at the second quarter mid-point before levelling 23-apiece at half-time. Guthrie said "we knew that we had to put our bodies on the line and die for the Blue and Gold".
"That was a championship performance', she added. "You have to build belief and that's why tonight's performance was really important for us".
Thunder took the early initiative in Monday's match, closing Bath down with physicality and accuracy. Team Bath had to work hard to get the ball through the mid-court to feed the attack and, under pressure, missed one or two opportunities.
Thunder, by contrast, capitalised on turn-over and found accurate shooters Joyce Mvalu and Ellie Cardwell with regularity, despite the close attention and best efforts of the Bath defensive duo of Eboni Usoro-Brown and Layla Guscoth. They led 14-9 at the quarter-break.
When the ever-accurate Bath shooter, Kim Borger, missed from a turn-over opportunity at 16-20, the Bath outlook looked bleak but somehow the Rengen-backed outfit remained resilient and found a crucial turn-over through Sophie Drakeford Lewis who later netted a pressure shot at 22-23 to bring the score level at half-time.
Bath again went behind in the third quarter in an increasingly robust contest which saw players flying and multiple contacts called including a caution for Cardwell when Thunder were 30-27 up. With a soaring work-rate and creativity, Bath found kept themselves within two at the three-quarter break 32-34.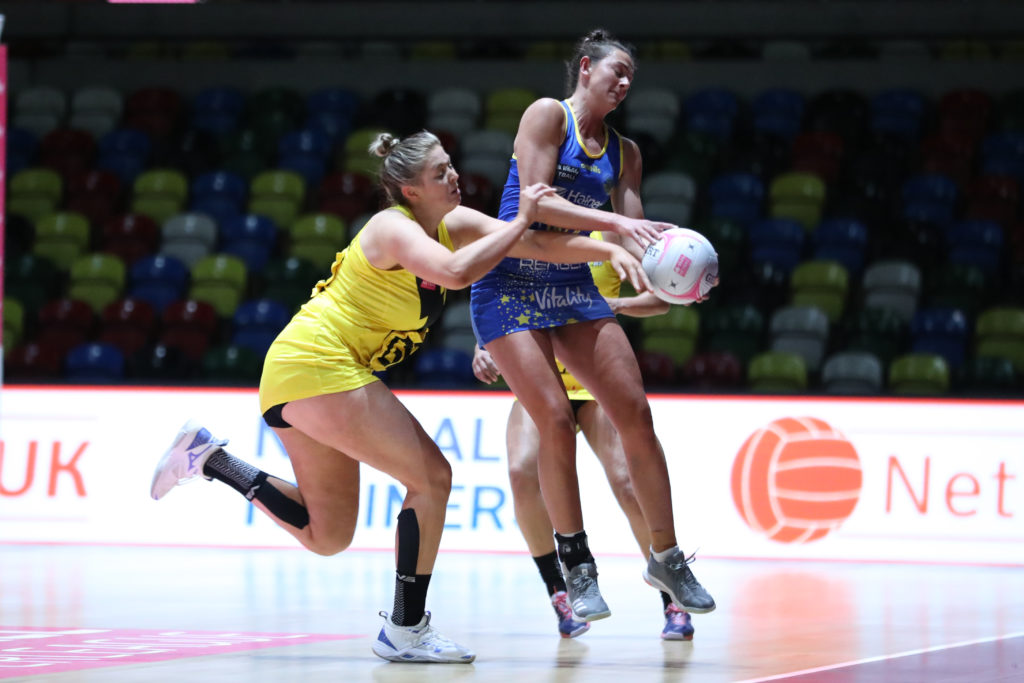 A converted Guscoth turn-over, a switch in attacking tactics from Borger and Drakeford Lewis meant Bath went ahead at 36-35 for the first time since the score was 3-2 in their favour in the opening 10 minutes. Two sparkling intercepts from Imogen Allison, backed by a flying Guthrie turn-over marked the moments at which Team Bath moved to a winning position before closing out the match at 44-41.
No wonder Team Bath coach Anna Stenbridge named Allison as her coach's player of the match: "For me, Imo was my 'man of the match' – not just defensively but also in attack. Her decision making and quick hands are just sensational. She has taken her game to a whole other level".
Stembridge also talked of her pride in the team and in their determination to stick to task in the face of huge pressure. "I am incredibly proud of the team but also credit to Thunder. They have a great coaching team and tactically they caused us some problems today in what was a really hotly-contested game".
By contrast, Team Bath were nine goals ahead (40-31) in the Wasps game on Sunday only to see their lead whittled down in a final five minutes during which Team Bath had a shaky period of play.
Stembridge said it was a worrying last few minutes in an otherwise good performance in both attack and defence against a classy Wasps outfit.
She said: "Would've liked to have seen us finish off, we got a bit sloppy in the last five minutes, but really proud of the girls and how they built and kept applying the pressure.
"We knew it was going to be tight, Wasps are a classy team, we were really clear on our game plan, but credit to them in the second quarter they tightened it up against us, so going into the third quarter we talked about opening it up, what we need to do to get quick ball speed and cherish possession."
Kim Borger was delighted with the victory and said, "Really good game, we needed it, building from Dragons last time. Some things we needed to address from last week. We anticipated it was going to be quite tough and physical, they're a quality side but I think we just need to be a bit more clinical in our turn overs."
Team Bath Starting Seven v Thunder
GK Eboni Beckford Chambers, GD Layla Guscoth, WD Imogen Allison, C Serena Guthrie, WA Rachel Shaw, GA Sophie Drakeford Lewis, GS Kim Borger
No changes
Manchester Thunder – Starting Seven
GK Kerry Almond, GD Emma Dovey, WD Laura Malcolm, C Amy Carter, WA Caroline O'Hanlon, GA Ellie Cardwell, GS Joyce Mvula
No changes
Quarter scores: 9-14, 23-23 (14-11); 32-34 (11-13); 44-41 (12-7).
Netball.co.uk Player of the Match: Serena Guthrie
Team Bath Netball starting 7: GS Kim Borger, GA Sophie Drakeford-Lewis, WA Rachel Shaw, C Serena Guthrie, WD Imogen Allison, GD Layla Guscoth, GK Eboni Usoro-Brown.
Replacements: Summer Artman, Betsy Creak, Tash Pavelin, Abi Robson, Abi Harris
Changes:
Q3: Guthrie to bench; Robson – bench to C; Robson to bench; Guthrie – bench to C;
Wasps Netball starting 7:
GS Rachel Dunn, GA Katie Harris, WA Iona Christian, C Amy Flanagan, WD Lily-May Catling, GD Fran Williams, GK Josie Huckle.
Replacements: Gezelle Allison, Leah Goss, Hannah Leighton, Ella Powell-Davies, Caroline Tarnowski
Changes: Q1: Huckle – GK to bench, Powell-Davies – bench to GK
Q2: Powell-Davies – GK to bench, Huckle – bench to GK
Quarter scores (Team Bath first): Q1 13-10
Q2 21-18 (8-8);
Q3 33-27 (12-9).
Q4 41-37 (8-10).
Rengen Player of the match: Layla Guscoth