Posted 2nd May 2021
Team Bath draw Wasps' sting to stay top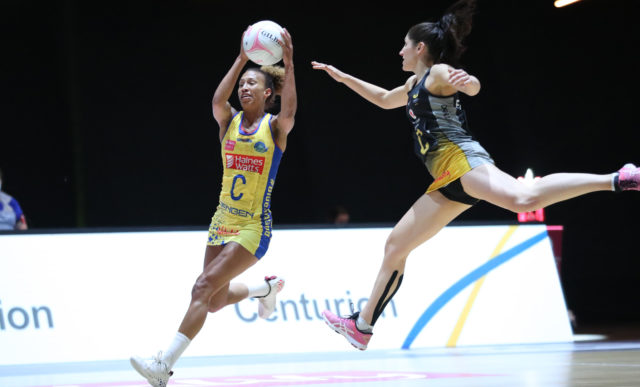 Team Bath maintained top spot in the Vitality Netball Superleague table Sunday evening with a largely-composed win 41-37 against Wasps Netball, marred only by a scrappy final five minutes.
Team Bath arrived at the Copper Box on a run to three wins since their only defeat of VNSL2021 against Mavericks. Wasps took to court having beaten Stars to bounce back after their loss to Lightning.
The Haines-Watt sponsored Blue and Golds were looking for a good performance in the first of two crucial matches this weekend – both against sides with top four ambitions.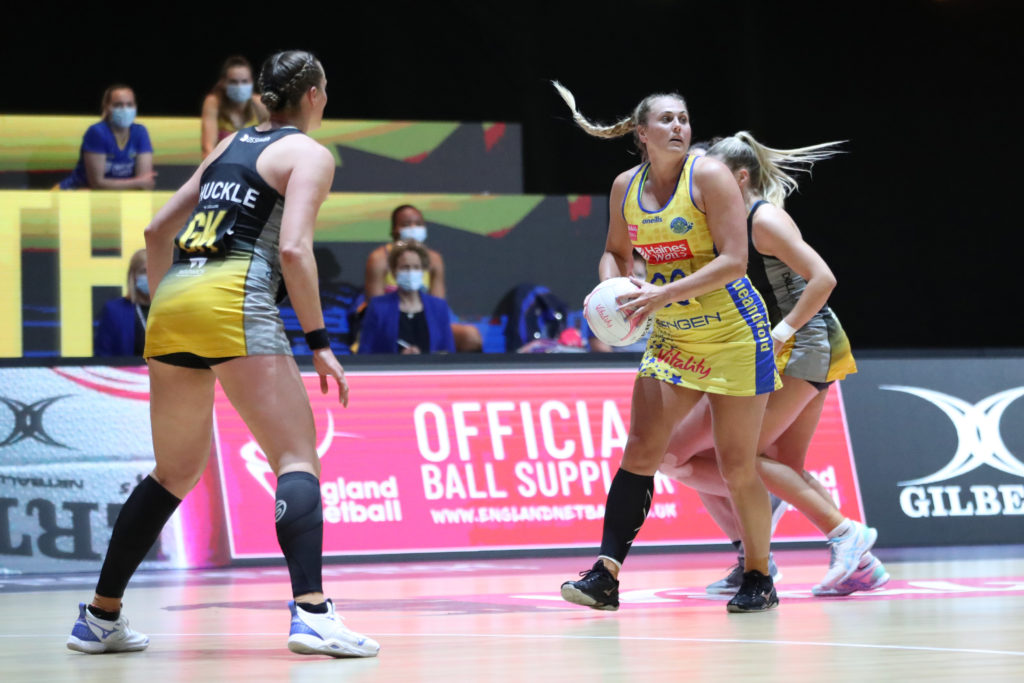 The game looked well beyond Wasps in the final quarter as Team Bath extended their lead to nine points (40-31) at one stage, but Mel Mansfield's side staged a late comeback. Team Bath Head Coach Anna Stembridge said it was a worrying last few minutes in an otherwise god performance in both attack and defence against a classy Wasps outfit. 

She said: "Would've liked to have seen us finish off, we got a bit sloppy in the last five minutes, but really proud of the girls and how they built and kept applying the pressure.  We knew it was going to be tight, Wasps are a classy team, we were really clear on our game plan, but credit to them in the second quarter they tightened it up against us, so going into the third quarter we talked about opening it up, what we need to do to get quick ball speed and cherish possession." 

Kim Borger was delighted with the victory and said, "Really good game, we needed it, building from Dragons last time and it's a really tough weekend with Thunder tomorrow. Some things we needed to address from last week. We anticipated it was going to be quite tough and physical, they're a quality side but I think we just need to be a bit more clinical in our turn overs." 

Rengen-sponsored Team Bath started with their habitual starting seven. Both teams took the knee before centre-pass, and it was more symbolic than ever during the weekend when sports teams and governing bodies are choosing to boycott social media in a united stand against online abuse.  

Team Bath worked the ball nicely in the first quarter, using the triangle very effectively early on in order to feed the ball into Kim Borger who was imperious during the opening twelve minutes. Wasps GK Josie Huckle had no answer as Borger scored 10 out of 10. Her footwork and handling was exceptional as was her combination play with Serena Guthrie.  Wasps switched Huckle for Ella Powell Davies to change it up.  Team Bath still reached the break 13-10 ahead in a quarter marked by a wonderful intercept from goal-defence Layla Guscoth, who was exceptional throughout, alongside Eboni Usoro-Brown.  

Wasps were more clinical in the second quarter in an attempt to upset the rhythm of Borger and Drakeford-Lewis, and Wasps ruffled the Blue and Gold at times.

It led to a cry of "discipline!" at one stage from Serena Guthrie. Katie Harris made a couple of decent scores for Wasps, whilst Rachel Dunn, who has played Superleague since its inception was involved in a number of tussles with Usoro-Brown. Wasps were able to go toe to toe with Team Bath in the second quarter with each side scoring eight goals meaning it was 21-18 at half time in what was unfolding as a passionate and entertaining contest. 

In line with Stembridge's ethos of hard work in both defence and attack at all times, it was in the third quarter that Team Bath attempted to put a stranglehold on the game – a quarter which had started with an eccentric moment as Abi Robson emerged at centre for Bath momentarily until Guthrie arrived back on the court seconds later. 

 For Wasps, Gezelle Allison impressed at goal-attack with her mobility around the court and accuracy from mid-range and Flanagan worked tirelessly in the mid-court in a battle with Guthrie. 

Team Bath entered the final quarter with a six goal advantage, leading 33-27 and, at one stage led 40-31 before some mis-thrown passes in attack gave Wasps an opening which they seized to move back to within four with a couple of minutes to go before the whistle came to give Bath victory by 41-37. 

Stembridge was also proud of how the club had decided to make a stand against online abuse and join the campaign across the weekend, "Online abuse should not be tolerated, and I think it's an important time we all stand shoulder to shoulder and we all have an important role in that. We have to make sure we do our bit." The Blue and Gold face Manchester Thunder at 5.15pm on Bank Holiday Monday.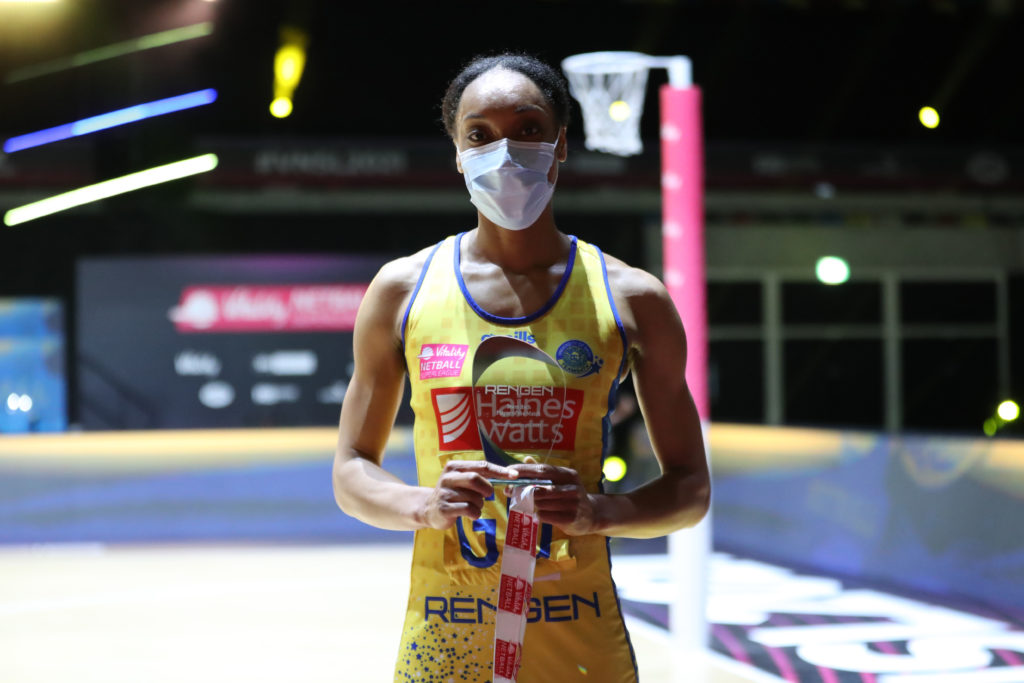 Team Bath Netball is the Superleague franchise for the South West of England and has Academy Training Centres in every district – Bristol, Cornwall, Devon, Dorset, Gloucestershire, Somerset and Wiltshire. The club is supported by its Principal Partner, chartered accountants Haines Watts, who are also a pathway partner, and by Rengen Developments and Centurion Chartered Financial Planners. O'Neills are Team Bath's official kit supplier and 2XU are their compression wear supplier.
Team Bath Netball starting 7: GS Kim Borger, GA Sophie Drakeford-Lewis, WA Rachel Shaw, C Serena Guthrie, WD Imogen Allison, GD Layla Guscoth, GK Eboni Usoro-Brown.
Replacements: Summer Artman, Betsy Creak, Tash Pavelin, Abi Robson, Abi Harris
Changes:
Q3: Guthrie to bench; Robson – bench to C; Robson to bench; Guthrie – bench to C;
Wasps Netball starting 7:
GS Rachel Dunn, GA Katie Harris, WA Iona Christian, C Amy Flanagan, WD Lily-May Catling, GD Fran Williams, GK Josie Huckle.
Replacements: Gezelle Allison, Leah Goss, Hannah Leighton, Ella Powell-Davies, Caroline Tarnowski
Changes: Q1: Huckle – GK to bench, Powell-Davies – bench to GK
Q2: Powell-Davies – GK to bench, Huckle – bench to GK
Quarter scores (Team Bath first): Q1 13-10
Q2 21-18 (8-8);
Q3 33-27 (12-9).
Q4 41-37 (8-10).
Player of the match: Layla Guscoth