Posted 25th Apr 2021
Blue & Gold show "character and grit" to overcome dogged Dragons at Copper Box Arena as Vitality Superleague season resumes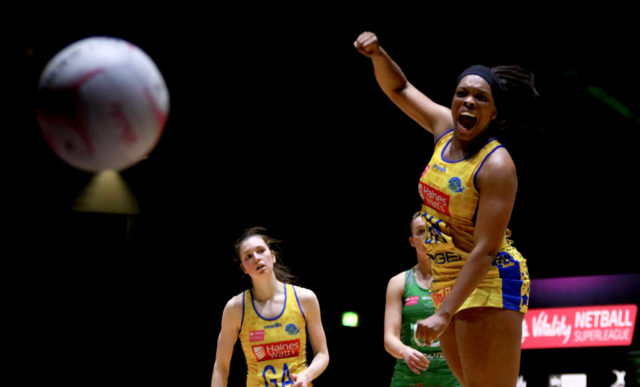 Anna Stembridge was pleased to see her players "show character and grit" as Team Bath Netball began the second half of the 2021 Vitality Superleague season with a hard-earned 51-34 win over Celtic Dragons.
Welsh franchise Dragons are yet to win a game this year but belied that status with a fantastic performance at London's Copper Box Arena and forced some uncharacteristically lax shooting from the Blue & Gold to lead 18-17 at half-time.
That provided the spark for Haines Watts-sponsored Team Bath to step up a gear during a clinical third quarter and they were finally able to put some clear ground between themselves and Dragons, opening up a 33-25 advantage which they built on during the final period to secure three more points.
All 12 players in the match-day squad got some court time too and Team Bath Superleague Head Coach Stembridge said: "We had to grind that win out and credit to Dragons, they had obviously done their homework. We've said this half of the season is going to be harder and ultimately we had to show character and grit today.
"Dragons came out hard and put us under a lot of pressure. We actually had more shots at goal than them [in the second quarter] but weren't sinking them, which is uncharacteristic for us."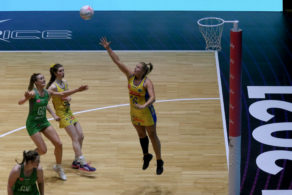 Goal-shooter Kim Borger provided the accuracy during the all-important third quarter, earning herself the Player of the Match award, and Stembridge said: "Kim played a big role in terms of the influence we needed, her calmness and tactically how we wanted to open up that shooting circle."
Borger added: "I think we just went back to what works well for Team Bath and that's our ball speed, our connections and being able to have that quick transition from defence. We were getting the turnover but we just weren't cementing it down the court, so we really tried to focus on that.
"Dragons had a fantastic game, that's probably the best I've seen them play and I really hope that's how they continue to go forward. For us it's a tough road ahead but I'm glad we had that battle so we know what we're up against in the second half of this season."
Rengen-backed Team Bath face two massive tests in less than 24 hours in the next round of fixtures as they take on fourth-placed Wasps on Sunday, May 2nd (6pm centre-pass), followed by third-placed Manchester Thunder on Monday, May 3rd (5.15pm centre-pass).
Both matches will be streamed live and for free on Sky Sports YouTube, links available at netball.teambath.com, with the Thunder clash also televised on Sky Sports Mix.
Team Bath Netball is supported by its Principal Partner, chartered accountants Haines Watts, who are also a pathway partner, and by Rengen and Centurion Chartered Financial Planners. O'Neills are Team Bath's official kit supplier.
Match stats
Celtic Dragons starting 7: GS Amy Clinton, GA Rebekah Robinson, WA Laura Rudland, C Shona O'Dwyer, WD Clare Jones, GD Abigail Tyrrell, GK Annika Lee-Jones. Replacements: Rebecca Baker, Lucy Howells, Annie O'Rourke, Christina Shaw, Leila Thomas.
Team Bath starting 7: GS Kim Borger, GA Sophie Drakeford-Lewis, WA Rachel Shaw, C Serena Guthrie, WD Imogen Allison, GD Layla Guscoth, GK Eboni Usoro-Brown. Replacements: Summer Artman, Tash Pavelin, Abi Robson, Kirsty Harris, Betsy Creak.
Quarter-time scores (Celtic Dragons first): Q1 9-11; Q2 18-17 (9-6); Q3 25-33 (7-16); Q4 34-51 (9-18).
Player of the Match: Kim Borger.