Posted 9th Apr 2021
Returning Imogen Allison inspires Blue & Gold to important Vitality Superleague success in first-ever meeting with Leeds Rhinos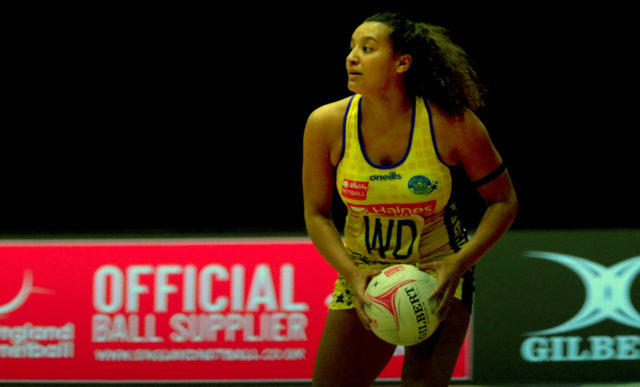 A strong second quarter, inspired by Imogen Allison's impactful return from injury, set Team Bath Netball up for a 52-46 win in their first-ever Vitality Superleague meeting against Leeds Rhinos on Friday.
There was no separating the teams during a first quarter that finished locked at 10-10 but the introduction off the bench of England international Allison, who had missed the previous week's single-goal defeat to Saracens Mavericks with an ankle knock, helped to turn the game in Team Bath's favour.
The Haines Watts-sponsored Blue & Gold tightened up in defence and were able to open up a 25-20 lead at half-time, which they extended to 39-33 after a third quarter which saw Summer Artman also come on to good effect.
Rhinos, who are enjoying an impressive debut season in the Superleague, fought hard throughout and briefly closed the gap to three goals during the final quarter but Team Bath stepped up a gear again to snuff out the comeback threat. Watch highlights of the match here:
Player of the Match Allison said: "It was a hugely important win. We really wanted to push on [after the Mavericks game] and show everyone what we are about. Rhinos put out a tough, tough performance and it was hard but we stuck together."
Team Bath Netball is supported by its Principal Partner, chartered accountants Haines Watts, who are also a pathway partner, and by Rengen and Centurion Chartered Financial Planners. O'Neills are Team Bath's official kit supplier.
Match stats
Leeds Rhinos starting 7: GS Donnell Wallam, GA Rhea Dixon, WA Brie Tyler Grierson, C Jade Clarke, WD Emily Hollingworth, GD Vicky Oyesola, GK Paige Kindred. Replacements: Amelia Hall, Rosie Harris, Tuaine Keenan, Michelle Magee, Sienna Rushton.
Team Bath Netball starting 7: GS Kim Borger, GA Sophie Drakeford-Lewis, WA Rachel Shaw, C Serena Guthrie, WD Tash Pavelin, GD Layla Guscoth, GK Eboni Usoro-Brown. Replacements: Summer Artman, Imogen Allison, Abi Robson, Kirsty Harris, Betsy Creak.
Quarter scores (Leeds Rhinos first): Q1 10-10; Q2 20-25 (10-15); Q3 13-14 (33-39). Q4 13-13 (46-52).
Age Partnership Player of the Match: Imogen Allison (Team Bath Netball).
Picture credit: Ben Lumley