Posted 1st Apr 2021
Another epic battle expected as Blue & Gold face old rivals Saracens Mavericks in Easter Sunday Vitality Netball Superleague clash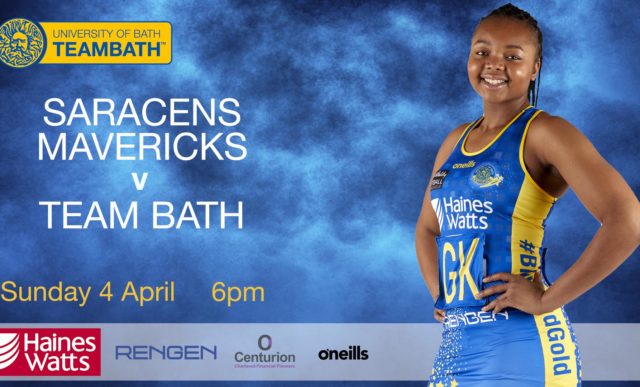 One of the Vitality Superleague's longest-standing rivalries will be renewed on Easter Sunday when Team Bath Netball's unbeaten start to the 2021 season faces a tough test from Saracens Mavericks (6pm centre-pass).
The clubs are founder members of the Superleague and met in four of the first five Grand Finals, with Team Bath coming out on top after some memorable battles.
Both teams have made strong starts to the current campaign, with the Haines Watts-sponsored Blue & Gold top of the table after eight wins from eight while Mavericks are fourth after just one defeat in their opening seven matches.
There are plenty of links between the two clubs. Blue & Gold stars Summer Artman, Sophie Drakeford-Lewis and Layla Guscoth have all played for Mavericks, while the Hertfordshire-based club are coached by former Team Bath captain Kat Ratnapala and Camilla Buchanan, and feature University of Bath alumni Kadeen and Sasha Corbin in their experienced squad.
Anna Stembridge, Team Bath Netball Superleague Head Coach, said: "There is a lot of history between the two clubs and it is always a bit of an epic match when we meet. We know each other pretty well in terms of style and the way we try to combat each other, so I think it's going to be a great game.
"Mavericks are renowned as one of the strongest defensive units in the league and we're looking forward to testing ourselves against that quality of opposition."
Team Bath defender Artman added: "We can't complain about going eight from eight but, Bath being Bath, we always want to push on and there is always something we can improve on game to game. Each team we play this far into the season has a bit more information to come at us with but we absolutely relish that challenge."
Sunday's match at the central venue in Wakefield will be streamed live on YouTube by Sky Sports. Watch here:
Team Bath Netball is supported by its Principal Partner, chartered accountants Haines Watts, who are also a pathway partner, and by Rengen and Centurion Chartered Financial Planners. O'Neills are Team Bath's official kit supplier.