Posted 26th Mar 2021
Blue & Gold looking forward to next 2021 Vitality Superleague challenge from young and 'fearless' London Pulse side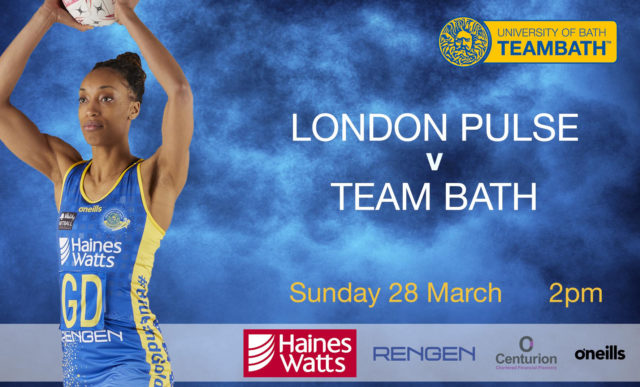 Anna Stembridge is expecting another strong test of her squad when Team Bath Netball take on London Pulse in Round 8 of the 2021 Vitality Netball Superleague on Sunday (2pm centre-pass).
Pulse have only one win on the board but their defeats to Surrey Storm, Strathclyde Sirens and Saracens Mavericks were by narrow margins, and they have a number of talented young England players in their ranks.
Haines Watts-sponsored Team Bath have won their opening seven matches but Superleague Head Coach Stembridge said they will not be underestimating the challenge awaiting them in Wakefield this weekend.
"I think it's going to be another great game," she told BBC Radio Bristol's The Sports Store. "Pulse have a really talented pool of athletes and some of the best England U21 athletes in their squad. They are rangy, reactive and pretty fearless, defensively they go hunting for the ball so for us it's going to be about playing in a smart and cohesive manner, playing for each other and not just in isolation.
"We are seeing a more competitive league across all the teams so we are not underestimating anyone.
"It sounds really cliched but we are taking things game by game, quarter by quarter, and I think that is a really important approach for us to take. We're just enjoying being out there on court and want to put out performances that not only we can be proud of but our fans can too.
"We've had some good feedback about the girls looking in good spirits and for me that's probably something I'm more proud of than the wins. That epitomises our culture and what we are about as a club."
Stembridge also reflected on the season so far and her pride in the Team Bath young guns who have been excelling in Blue & Gold – listen to the full interview on BBC Sounds by clicking here (start at 20mins).
Sunday's match against London Pulse will once again be available to watch live and for free via the Sky Sports YouTube link below:
Team Bath Netball is supported by its Principal Partner, chartered accountants Haines Watts, who are also a pathway partner, and by Rengen and Centurion Chartered Financial Planners. O'Neills are Team Bath's official kit supplier.
Picture credit: Ben Lumley