Posted 13th Mar 2021
A professional win sees Team Bath remain unbeaten in 2021 Vitality Superleague as they overcome Severn Stars in West Country derby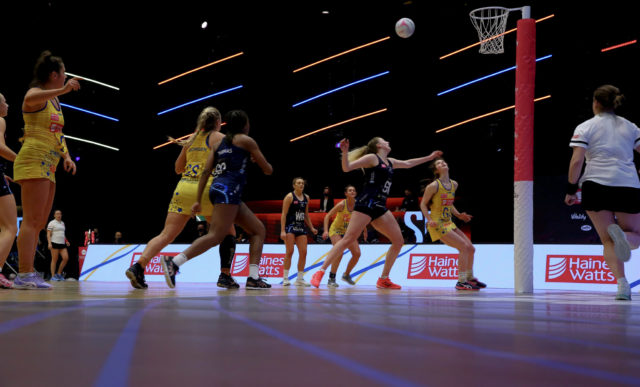 Following their stunning victory over Manchester Thunder on Friday evening, Team Bath Netball were straight back into action with a local derby clash against Severn Stars on Saturday.
It was a professional performance to win 49-30 and preserve their unbeaten record this season but not one which hit the exhilarating heights of the night before's stunning 60-35 win over 2019 VNSL champions Thunder.
The Haines-Watt sponsored Blue and Golds were re-joined in Wakefield by their Head Coach Anna Stembridge, sidelined the day before by a potential Covid situation which proved a false alarm.
Opponents Severn Stars were also coming into the contest following a victory on Friday, when they edged out Surrey Storm 49-46 – their first of the 2021 campaign.
Following Saturday's win, coach Anna Stembridge said, "It was definitely a physical encounter, it wasn't pretty netball and I said to the girls a bit of an ugly win. Credit to Stars. To be honest, I'm just happy to get various combinations out. We were quite wasteful at times, which was disappointing, some of the basics were not done as well as I'd like, but it's hard to come off the back of the performance last night to get yourself back up quickly. But that's the nature of the league, we need to look at it and address it accordingly."
It was an assessment which Serene Guthrie agreed with, "It's a tight turn around, we knew we had to take a full squad performance this weekend. It was great to see Betsy (Creak) get a start, Jess Shaw come in, Abi Robson and Tash (Pavelin) as well. They deserve a spot to show what they can do and I thought they all had great games today."
Rengen-sponsored Team Bath made three changes from the starting seven who were so impressive against Manchester Thunder. Betsy Creak came in at GS for Kim Borger, after her 39 from 39 shooting heroics on Friday evening, whilst also coming into the line-up were Jess Shaw and Tash Pavelin at wing-attack and goal-defence for Rachel Shaw and Layla Guscoth respectively.
Both sides started quite scrappily and Shaw and Creak suffered some disconnects and it took some time for Creak to settle for her first goal. That said, neither side were really able to take control, although Team Bath began to take the ascendancy, with some rapid intercepts from Pavelin, to move from 5-3 to win the quarter 10-4.
Borger was introduced at the start of the second quarter for Creak and she was on the scoresheet within twenty seconds of the re-start. Severn Stars were able to capitalise on some loose Team Bath play in the quarter and at one stage pulled themselves back to within four goals.
It was a brief moment of optimism for the side that have never beaten Team Bath in Superleague, as an important goal from Borger at 14-9, was the catalyst for a period of play where they were able to pile on the pressure. Imogen Allison, at wing defence, shone too, as Team Bath won the quarter 14-6 to lead 24-10 at half time.
The third quarter allowed Team Bath to look at a variety of different combinations. Stars made the better start to this quarter in which Layla Guscoth and Abi Robson were introduced in the defence but with Guscoth and Usoro-Brown demonstrating why they are the best defensive partnership in the business, it was a short-lived period of hope for Severn Stars.
It was Team Bath, then, who led 36-18 with 12 minutes to go. Summer Artman came on for Usoro-Brown in the final quarter in which Stars, playing more direct to Georgia Rowe in the circle, showed why Usoro Brown called them "spirited' in her post- match interview.
Team Bath still edged the final quarter 13-12, though, with Borger again demonstrating her strength, movement and quality of footwork in attack, being fed at pace by the hard-working and mobile Rachel Shaw, on at wing-attack with sister Jess moving to centre to replace Guthrie who was rested.
Saturday's win means Team Bath have now won five out of five at the start of this campaign. They are the only unbeaten side in the division and have a game in hand on league leaders Loughborough Lightning.
Imogen Allison was delighted with the two wins but knows there is still room for improvement, "We kept our composure, but we have some things to work on. It's good to have back-to-back wins and we're just keeping calm, not putting too much pressure on ourselves."
The Blue and Gold are back in action in round seven next Sunday at 4pm against Surrey Storm who had earlier in the day been defeated by Loughborough Lightning.
Team Bath Netball starting 7: GS Betsy Creak, GA Sophie Drakeford-Lewis, WA Jess Shaw, C Serena Guthrie, WD Imogen Allison, GD Tash Pavelin, GK Eboni Usoro-Brown.
Replacements: Summer Robson, Layla Guscoth, Rachel Shaw, Summer Artman, Kim Borger
Changes:
Q2: Creak – GS to bench; Borger – bench to GS;
Q3: Allison – WD to bench; Robson – bench to WD; Pavelin – GD to bench; Guscoth – bench to GD
Q4: Artman – bench to GK; Usoro-Brown – GK to bench; Guthrie – C to bench; J Shaw – WA to C; R Shaw – bench to WA
Severn Stars starting 7:
GS Georgia Rowe, GA Paige Reed, WA Beth Dyke, C Lucy Harris, WD Nia Jones
GD Iman Thomas, GK Lucy Herdman.
Replacements: Dee Bolakoro, Chloe Carchrie, Issy Eaton, Malysha Kelly, Jane Taylor
Changes: Q1: Harris – C to bench; Thomas – GD to WD; Jones – WD to C; Bolakoro – bench to GD
Q2: Reid – GA to bench; Taylor – bench to GA; Jones – C to bench; Harris – bench to C
Q3: Bolakoro – GD to bench; Thomas – WD to GD; Taylor – GA to bench; Reid – bench to GA; Jones – bench to WD
Quarter scores (Team Bath first): Q1 10-4
Q2 24-10 (14-6);
Q3 36-18 (12-8).
Q4 49-30 (13-12).
Rengen Player of the match: Eboni Usoro-Brown