Posted 12th Mar 2021
Full team effort earns Blue & Gold an eye-catching 25-goal win over Manchester Thunder in Vitality Netball Superleague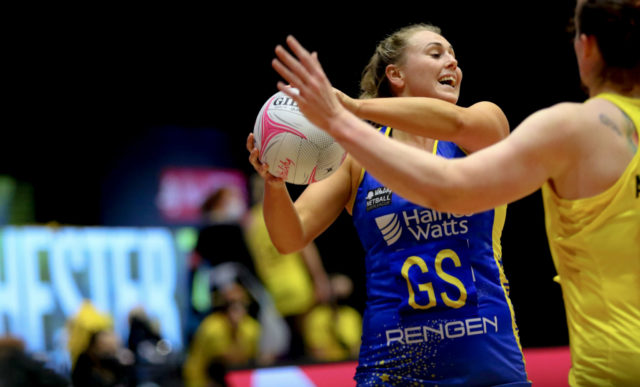 A dominant performance from start to finish ensured that Team Bath Netball are now the only unbeaten side in the 2021 Vitality Superleague season after a comprehensive victory over defending champions Manchester Thunder.
Following a fortnight break from action, Team Bath won every quarter to record a 60-35 success on Friday evening to make it four wins out of four in the 2021 campaign. 
The Haines-Watt sponsored Blue & Gold were maybe expecting a tougher evening's action as they faced the only other side unbeaten so far this season. 
But Thunder were stunned by an impressive onslaught from a Team Bath side who were missing their Head Coach Anna Stembridge who is isolating after a family member developed potential Covid-like symptoms. 
Jo Vann took charge of the side in Wakefield and said: "It's a strong message for sure but we are also conscious there's some more big games coming our way. It's important we take it one at a time.
"We're absolutely delighted with the performance and the scoreline – excellent efforts in defence, the turnovers created, the ball we won across the court. We're really proud of the performance, and the whole wider squad who contributed vocally out there."
Rengen Player of the Match Kim Borger was delighted with the victory and said not having their Head Coach in the building was not a significant disadvantage.
"Anna being Anna she planned for this, months and months ago so we had that plan in the mix," said the shooter. "We still had her here, on the iPad at quarter time and the half time huddle, very much present! We didn't let it affect us on the court."
Rengen-sponsored Team Bath started with Borger alongside the in-form Sophie Drakeford-Lewis  – a duo who both went on to record outstanding 100 per cent shooting stats in the match.  Rachel Shaw was favoured at wing-attack and Eboni Usoro Brown started at goal-keeper, testament to her continuing return to form after the birth of baby daughter, Savannah.
It was actually Manchester Thunder who started the brighter and raced into an early lead. They led throughout the opening exchanges but seemed to lose some rhythm when Emma Dovey needed to be replaced in the first quarter after an injury.
This required a reshaping of their line-up and Team Bath were able to capitalise. Inspired by Borger who was very impressive in 'owning' the baseline and grateful for a key turnover from Layla Guscoth they draw level. Team Bath then went on to hold a narrow 12-11 advantage at the end of the first quarter. 
In the second 12 minute period, Manchester Thunder grew increasingly frustrated as they had no answer to Team Bath's guile and slickness in all areas of the court. Borger, together with Drakeford-Lewis, worked wonders in the shooting circle as Team Bath scored nine times without reply. With Manchester Thunder getting their only joy from wide areas, Team Bath did real damage and led 28-19 at half time.
The third quarter was always going to be crucial, but if Team Bath expected a reinvigorated and refreshed Manchester Thunder side after the break, it didn't happen as again they dominated. Guscoth was brilliant at times, whilst Drakeford-Lewis often found herself uncontested in the first phase of play allowing Team Bath to continue to pile on the pressure.
Off the ball, Imogen Allison was tireless at wing-defence in neutralising her opponent and Guthrie dominated at centre.
Again it was a 16-7 quarter victory for Team Bath, who are supported by people development partner, Centurion Chartered Financial Planners, who led 44-26 at the end of the third. In the final quarter, Betsy Creak replaced Borger at shooter and Jess Shaw replaced her sibling at wing-attack whilst Robson replaced Allison at wing-defence.
And, it was the same story in the final twelve minutes as Team Bath played exceptional netball. Manchester Thunder once again lost a player through injury as Rebekah Airey limped off, but they continued to fall short in the key battles.
Team Bath ran out 60-35 winners in the end against an increasingly dispirited opposition who will now look to regroup ahead of their fixture against Wasps on Saturday.
"We didn't play like Thunder tonight", said Thunder coach Karen Greig. "But full kudos to Bath. They put on a performance tonight".
Vann, Team Bath coach on the night in Stembridge's absence, backed by Natalie Roddy, said: "It's testament ot Anna's excellent coaching that the team could play like that. She empowered us to go out and do that".
The night certainly belonged to Team Bath, who are next back in action on Saturday afternoon against Severn Stars, who had beaten Surrey Storm in their first victory of the season, earlier in the day.
Player of the Match Kim Borger, who scored 39 goals from 39 shots, knows that this evening's result has sent a strong message to their title rivals, "We've got a target on our back now. I say bring it on. We're up for the challenge, as you can see tonight, a 25-point win in a top of the table clash. Expect exciting things from us!"
The Blue and Gold face local rivals Severn Stars at 4pm on Saturday.
Team Bath Netball starting 7: GS Kim Borger, GA Sophie Drakeford-Lewis, WA Rachel Shaw, C Serena Guthrie, WD Imogen Allison, GD Layla Guscoth, GK Eboni Usoro-Brown.
Replacements: Summer Artman, Betsy Creak, Tash Pavelin, Abi Robson, Jess Shaw
Changes: Q4: Borger – GS to bench; Creak – bench to GS; R Shaw – WA to bench; J Shaw – bench to WA; Allison – WD to bench; Robson – bench to WD
Manchester Thunder starting 7:
GS Joyce Mvula, GA Eleanor Cardwell, WA Laura Malcolm, C Amy Carter, WD Rebekah Airey
GD Emma Dovey, GK Kerry Almond.
Replacements: Berri Neal, Caroline O'Hanlon, Lois Pearson, Alicia Scholes, Ella Standring
Changes: Q1: Dovey – GD to bench, O'Hanlon – bench to C, Carter – C to WD, Airey – WD to GD
Q2: Dovey – bench to GD, Carter – WD to C, Airey – GD to WD, O'Hanlon – C to bench, Carter – C to bench, Malcolm – WA to C, O'Hanlon – Bench to WA, Berri Neal – Bench to GA, Eleanor Cardwell – GA to GS, Joyce Mvula – GS to bench
Q3: Malcolm – C to bench; Carter – bench to C; Almond – GK to bench; Airey – bench to GK; Airey – GK to bench; Almond – bench to GK;
Q4: Mvula – bench to GS; Cardwell – GS to bench;
Quarter scores (Team Bath first): Q1 12-11; Q2 28-19 (16-7); Q3 44-26 (16-7); Q4 60-35 (16-9).
Rengen Player of the match:  Kim Borger