Posted 19th Jan 2021
Fantastic five Blue & Gold players taking part in Vitality Netball Legends Series between England and Superleague All Stars this week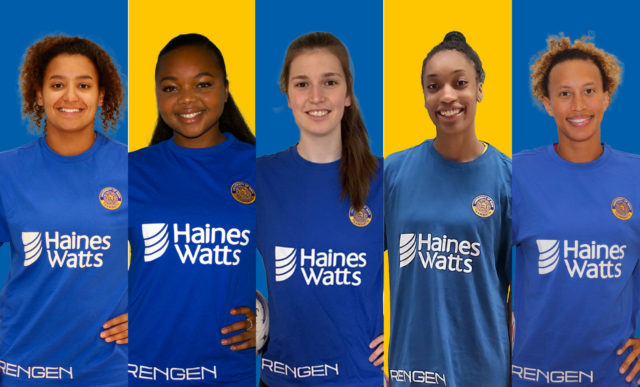 Five Team Bath Netball players will be involved in an exciting three-match Vitality Netball Legends Series taking place this week between the England Roses and an international Superleague 'All Stars' side.
Serena Guthrie will co-captain a Roses squad that also includes her Blue & Gold team-mates Imogen Allison, Sophie Drakeford-Lewis and Layla Guscoth.
Summer Artman, who has been a training partner with the Roses this month, features in the All Stars squad for the matches taking place on Wednesday, Friday and Sunday (January 20th at 6pm, 22nd at 6pm and 24th at 6.30pm).
Also in the All Stars squad are University of Bath alumna Yasmin Parsons and former Team Bath player Fi Toner.
The Legends Series, which will be played behind closed doors but broadcast live on Sky Sports, replaces the originally planned Jamaica series that was postponed due to extended restrictions to travel between the two nations.
Guthrie said: "A huge thank you to England Netball and the Vitality Netball Superleague clubs for supporting this exciting concept at such short notice. It is a proud moment for English netball to see everyone pulling together and showing a united front for the good of the game.
"Without the support of the clubs, we wouldn't have any matches this month – it's that simple. This series is bigger than all of us, it's about the fans, the players, the clubs and the whole netball community. We couldn't be prouder to be a part of it all."
Anna Stembridge, Team Bath Netball Superleague Head Coach, added: "The Legends Series is a really exciting concept and we are really pleased to see so many of our players involved in such a high-quality match-play environment ahead of the new Superleague season."
Jess Thirlby, Vitality Roses Head Coach and former Team Bath player and coach, said: "This series will provide vital exposure for both netball and women's sport as a whole and will enable the Vitality Roses to gain valuable on court time as we look towards the Birmingham 2022 Commonwealth Games.
"We have a real wealth of talent in the Vitality Roses squad and the Vitality Netball Superleague clubs, and I am sure netball fans the length and breadth of the country will be excited to see live elite netball and their favourite players for club and country return to the court for what promises to be a brilliant series of netball."
Team Bath Netball is supported by its Principal Partner, chartered accountants Haines Watts, who are also a pathway partner, and by Rengen and Centurion Chartered Financial Planners. O'Neills are Team Bath's official kit supplier.